Released on the 4th of September, fans have been able to experience the most recent edition of 2K Studio's iconic basketball simulation, NBA 2K21, for just over a month now. But is this edition, which looks more like an incomplete stopgap for the current generation of consoles than anything, worth your time and money? Your best bet is to check out our review of the game, taking you from playground courts to the big time alongside legends of the game, including the late Kobe Bryant, who sadly left us much too soon on 26th January 2020.
Genre: Sports Simulation

Release Date: 4th September 2020

Platform: PC, Xbox One, PS4, & Nintendo Switch

Developer: Visual Concepts

Publisher: 2K Games, 2K Sports

Price: $59.99 (Standard version), $99.99 (Mamba Forever version) available on

Amazon

Played on: PS4
For some years now, tradition has it that a new NBA 2K is released to coincide and cash in on the excitement over the new season of basketball. However, and you may be all to familiar with what's about to come, 2020 is a year unlike any other, due to the impact of COVID-19. In essence, the game is being released just as normal, even though the 2020 NBA season is still drawing to a close in the bubble down in Orlando.
Perfected gameplay, but with a divisive edge this year
NBA 2K21's gameplay isn't a whole lot different this year. If you look at it on a larger scale, it appears sharp, realistic, challenging, and just as well-thought out as always, whether you're into the simulation or the arcadey side of the game. As a whole, everything is perfectly set up for all types of gamers, besides the one thing you need to get right a basketball game, and a change that distinguishes it from last year's edition: the shooting mechanics. While fans loved shooting in NBA 2K20, this year, the devs have decided to change how you get buckets by making shooting harder and a lot more challenging, which can be felt in every game mode and difficulty level.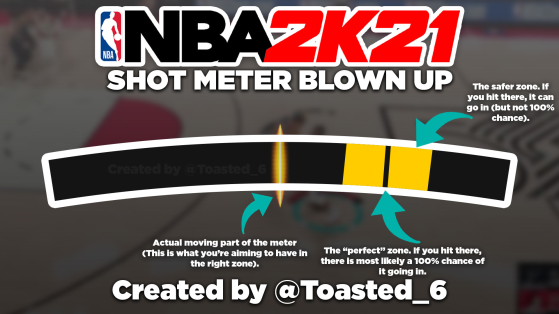 In NBA 2K21 currently, you need to be real sniper to be able to shoot right and have a good feel for your shooting gauge. The bar can be divided into 3 elements: a very fine cursor that moves from left to right and lets you aim for one of the two areas in the bar, those being the safe zones — represented by the yellow zones — and the perfect zone — which can be found between the two safe zones. The final goal is simple in practice, but it isn't easy in reality: landing your cursor in the perfect zone gives you a green shot that is 100% guaranteed to land in the hoop. If you end up in the yellow zones when shooting, your shot may still come off, but it's a lot less likely than a perfect shot. This system was criticised during community feedback and the developers are now under pressure to adjust the shooting mechanic by making it easier for all difficulties besides Hall of Fame (the equivalent of very hard).
But aside from that specific point, the gameplay feels perfect, just like normal, with a veritable trove of moves to pull off if you want to imitate some legends of the court. All the signature moves you could want have been faithfully recreated in the game, from Michael Jordan's fadeaway, to Kareem Abdul-Jabbar's Skyhook, to Kyrie Irving's crossovers. You can spend hours mastering all the game has to offer, and the feeling of self-improvement whilst playing the game is immensely satisfying.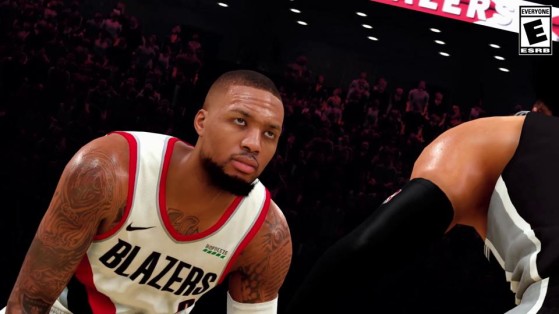 For the graphical side of the game, we're still bearing witness to a masterclass in realism, despite some discrepancies when it comes to the faces on some player models. On one hand, you've got the likes of Damian Lillard, who is a perfect incarnation of his real-life counterpart, and on the other, you've got Steph Curry, who is a bit less recognisable. This is all a bit of a shame when you really take stock of potential of 2K Games' graphics engine. One thing should be kept in mind however: the 2021 edition of NBA 2K falls in a transitional period between this generation of consoles and the next. There's a very good chance that the game will look a whole lot better on PS5 and Xbox Series X in the coming weeks. Therefore, it's a good idea to think that (on the current generation of consoles) 2021 has very few improvements over the 2020 edition.
Just as much content as before, but a lack of innovation
So, what are the real strengths of NBA 2K21 when it comes to new content? To be honest, not a whole lot…Players can once again experience a career mode that is just as fun as ever to plough through, but which doesn't bring anything new to the table compared to its predecessor. While your pathway to university does seem a lot more polished, it still ends up feeling sloppy.
The My Career builder mode has made it's return and is better than ever, letting players have more of a say when it comes to customisation this time round. My League and My GM are back once again but they haven't been changed at all, besides a roster update for this season. Only My Team has benefitted from some new content; this mode now features teams like the 2012 and 2016 Team USA, as well as the following legendary sides: The '16-17 Golden State Warriors, the '08-09 Utah Jazz, the '04-05 Indiana Pacers, and, in a homage to Kobe Bryant, the '09-10 Los Angeles Lakers.
While some may be put off by its scaled-down and extremely minimalist menus, it should be said that My Team is the real highlight of NBA 2K21, following the addition of a 40-day season mode that allows you to gain season levels and unlock a wealth of new rewards. There's a system of challenges that is updated daily, a plethora of game modes dedicated to My Team, and, as always, plenty of cards for players to get their hands on through overtly pay-to-win means. The devs hope all this will be enough to satisfy players, whether they play offline or online.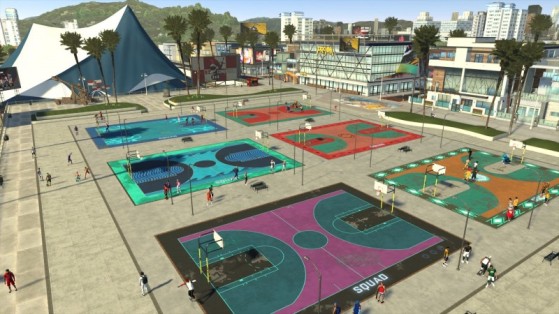 Let's touch on the multiplayer mode for a moment, as it is much improved this year, featuring servers that lag less and are a whole lot more stable than in previous iterations. Players will find passing the time online immensely more enjoyable and less frustrating this time around. The only gripes we had were with the ragequit system, which unfortunately penalises you if your opponent leaves mid-game by not giving you any rewards. Ultimately, to cap off this segment about online play, The Neighbourhood makes its return in a new map called 2k Beach and looks more colourful than ever. This new spot is the perfect play to spend time with your custom player by taking on your friends, running the court, or trying out every activity on offer. However, once again there aren't any major improvements to speak on in this mode, which may drive some 2K veterans away.
A New Generation of Hoops
It's hard not to fixate on the lack of content on offer in NBA 2K21 despite the franchise appearing to look towards the next generation of consoles, that being the PS5 and the Xbox Series X. The fact that the game — in its current state and on the current generation of consoles — costs a hefty $59 can't be overlooked given that it's essentially a glorified update for 2K20. The 'Mamba Forever' version is also on sale for $99 and that also provides players with a code that can be redeemed for a next-gen copy of the game. If you don't opt for that version, you'll have to shell out for a full-priced copy of the game when the Xbox Series X and PS5 are eventually released. A more reasonable price — like $40 for example — for the current version of the game would have been widely appreciated. That would justify what is basically an oversized 2K20 DLC and would allow 2K Games to sell the game at full price on next-gen consoles. You really have to ask yourself what the actual advantage is of buying the game on the current gen instead of just waiting several months to experience the game in its best state. At least if you picked up the 'Mamba Forever' edition, you'll have a guaranteed copy of the game for the next generation of consoles, which itself might be the most sensible decision if you're feeling impatient.
To conclude, here is the list of progressions that will be reset or preserved in the transition from the current gen to the next gen.
MyCareer mode: Rest from PS4/Xbox One to PS5/Xbox Series X

Virtual Currency used: Restored from PS4/Xbox One to PS5/Xbox Series X

MyTeam mode (MT Cards & Tokens): Saved from PS4/Xbox One to PS5/Xbox Series X

MyLeague mode: Reset PS4/Xbox One to PS5/Xbox Series X

MyGM mode: Reset PS4/Xbox One to PS5/Xbox Series X
Keep in mind that your progression in different game modes will either be reinstated or saved as detailed above. In addition, saving will only work when transferring between the same brand of console, that's to say that if you've been playing on PS4, you can regain your progress on PS5 (most notably on MyTeam) but it won't work if you're trying to play on Xbox Series X.
Riding on the coattails of greatness, NBA 2K21 remains an excellent basketball game and is certainly the best in its field. Nevertheless, you can't shy away from the fact that this year's edition is lacking in new features, which is certain to cause a large part of the community to stay well away, owing to the game's physical and digital price. On the other hand, there's a well-crafted MyTeam on offer with almost an unlimited lifespan, though micro-transactions continue to plague 2K and pose questions on the future of the game from an economics standpoint. The gameplay is as high-level as ever; it's enjoyable and challenging and pushes players to improve themselves, despite having more complex shooting mechanics this time around that will take time to master. The lack of care or interest in NBA 2K21 makes is disposal when a next-gen version is on the horizon.
Everything it offers it does well...
Graphics and animations are still ahead of the competition
MyTeam is full stuffed to the brim with content
Multiplayer servers more stable in 2K21
Gameplay is still challenging and well-crafted
The Neighbourhood feels better designed this time round
...but there's nothing here that wasn't in NBA 2K20
Career mode too similar to last year
Menus look way too simplistic
Micro-transactions are too intrusive
Changes to shooting are divisive and a hot topic in the community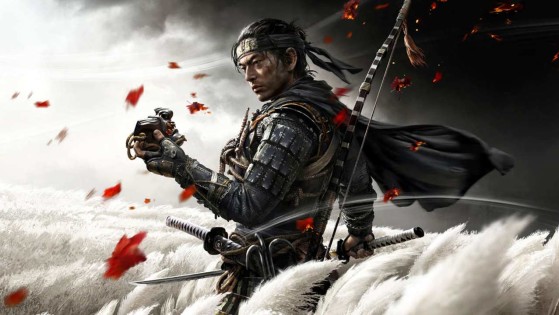 The latest from Sucker Punch doesn't fail to remind us of Sekiro and Assassin's Creed, with its mixture of katana duels and discrete takedowns between phases of exploration. Does it hit the mark? Find out in our review.