Hostilities on the pitch resume for another season in FIFA 20, and with its direct competitor already out there warming up, it's left to EA Sports annual update to win back the hearts of its fans following an underwhelming result last time out.
Does this promising new edition mean that gameplay is more balanced and worthy of being classified as a true football simulation? This is what we expect of FIFA 20, and signs are already promising in terms of content and support.
Defence in the Spotlight
At the absolute heart of a football sim, whether inciting frustration or giving total pleasure, is the gameplay. It varies from season to season, and either divides people or is unanimously praised. It was the latter that was felt following the demo event in Berlin in July, with a slower pace putting construction and reflection in the spotlight.
Not surprisingly, the final game is different. It's faster, but not to the same degree as last year's entry. Alongside more inertia, it gives rise to a rhythm that is finally quite balanced — at least enough to appreciate the emphasis it puts on one-on-one situations. This applies to both attack and defense, with the latter most affected by the changes.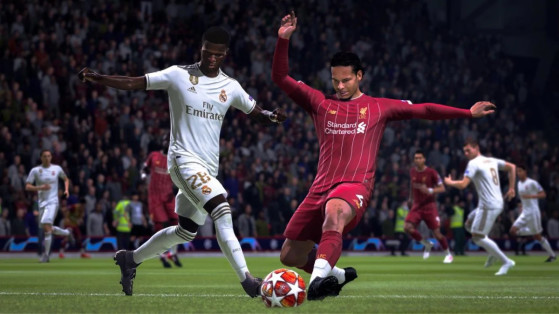 With diminished second-player pressing efficiency (RB or R1) to encourage one-on-one situations, and a defensive AI less enterprising that in previous games, the slightest mistake will prove costly. In short, that's a good thing, because it marks the return of a more manual (and less assisted) defence that will require practice to master.
However, once learned, a certain satisfaction is felt after each recovered ball. It's a feeling that is accentuated thanks to the work done on tackling and interception animations, which appear much more credible. They also result much less in favourable counter-attacks, which often led to confusion between AI players and ended in fluke goals being scored.
Far from being perfect, the defence will reward the more diligent and thoughtful player at the expense of one who simply lets the AI defend for them — and this is something to be emphasized.
"But what about the attack," I hear you ask? Well, it has to be said that few changes have been made in this regard, or are less significant overall. On the other hand, some old game mechanics have been revisited while others are introduced, allowing players to renovate their style of play.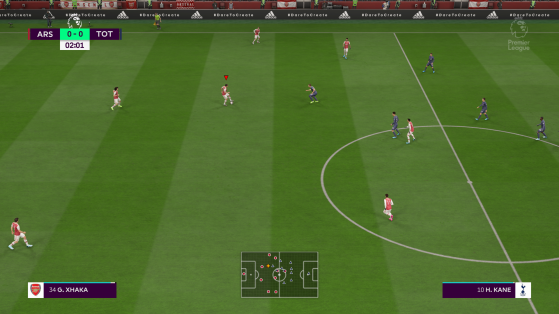 The 'strafe dribbling' (L1 or LB + left stick) mechanic — which is not unlike the 'double trigger' of FIFA 17 — allows you to hold the ball up in the middle of the park while you search for a way through your opponent. Abusing this will not do players any good, however, as an opponent who is able to defend will still be able to steal the ball relatively easily.
Is this the end of 'timed finishing'? It's unlikely at high levels, but given the difficulty in executing this mechanic this year, you should disable it sooner rather than later — especially as finesse strikes are already efficient enough. Speaking of disabling, we could have done without the new ball push mechanic (double tap the Sprint button), as it could well be the broken mechanism of FIFA 20.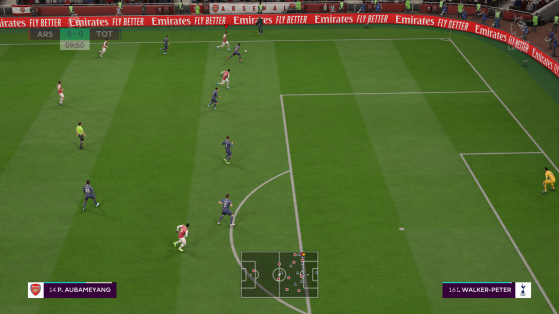 This will replace the 'El Tornado' centre, which is unfortunately not as effective as in last year's outing — generally the case for all possible acrobatic moves. We would have liked this to be the same for the famous 'script kickoff', but sadly it isn't. Also on the menu are new mechanics for free kicks and penalties.
It's hard to say how these mechanics are without considerable practice, but on paper they offer a wider range of possibilities. However, they do require some learning in order to be mastered, and aren't really for beginners.
Finally, it's necessary to address the excellent new ball physics, which offer a much less arcade feel overall. They combine perfectly with the inertia discussed above — but also with the new control animations, the behaviour of balls that adapt to their trajectory, rebounds, and the power of shots. They bring more authenticity to the game — which is a little lean on paper, but ultimately very enjoyable.
Gimme one of everything, chef
After having got as close to the turf where the action takes place, it's now time to take a little tour of the stadium and tackle the content FIFA 20 offers off the pitch.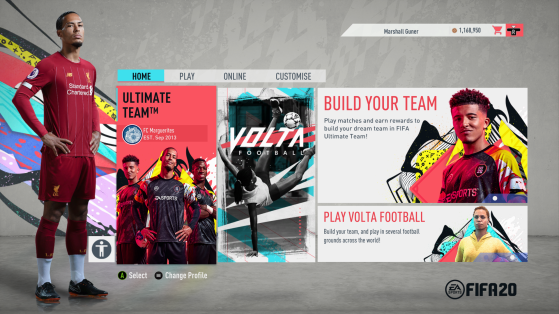 In terms of licensing, EA is obviously ahead of the market with FIFA. However, the US giant has seen a major license stolen by its competitor, PES, who secured exclusive rights to the Juventus brand.
While you will have to settle for 'Piemonte Calcio' in FIFA 20, you can breathe easily — Ronaldo and co. still retain their names and likenesses. Apart from that, FIFA 20 contains the same playable teams as last year, and adds to the catalogue the Romanian Liga I.
So, there's nothing particularly notable to report on that front, but EA Sports have had other projects under construction this season — including Career Mode, a fan favourite that has helped shape the series over the years.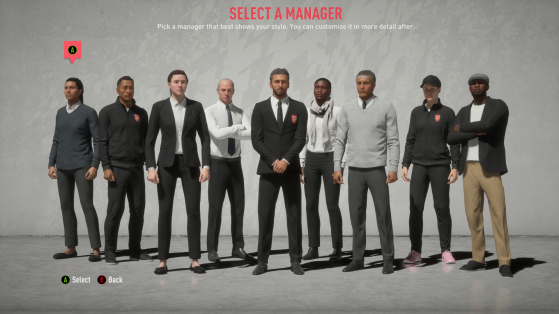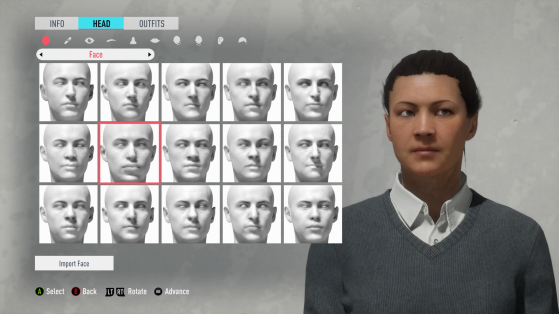 This mode has benefitted from a little attention from the developers, with work done to highlight the immersion of the mode. Starting with creating your manager — which can be either male and female — you can customise your avatar in your own image before taking office. It's as much about looking after your appearance before the spotlight of the press conference is upon you.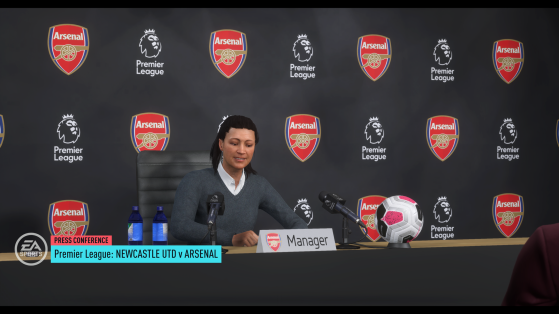 Paying attention to your image is one thing, but choosing the right words is another. What you say now directly affects the morale of your squad, and plays a vital role in the performance of your players — either individually or collectively.
The role of manager takes on a new dimension this time out, and you'll have to find the right words — not just in public, but also in private when solicited by your players. This comes in the form of the new 'Player Chat' option added to the traditional mailbox.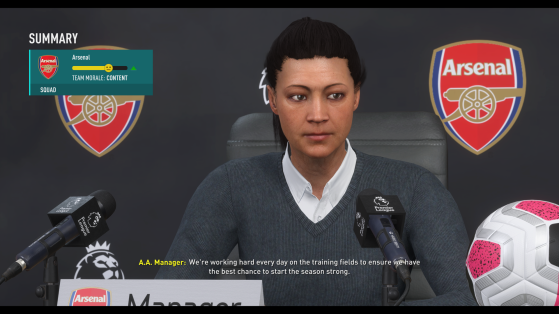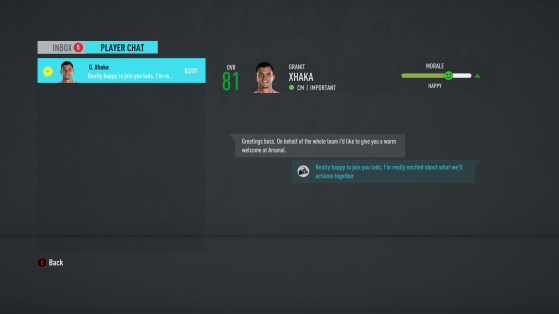 In terms of navigation and menus, there are no changes to report. However, the official branding of the various major leagues, as well as European competitions under license (Champions League and Europa League), offer a not-insignificant authenticity.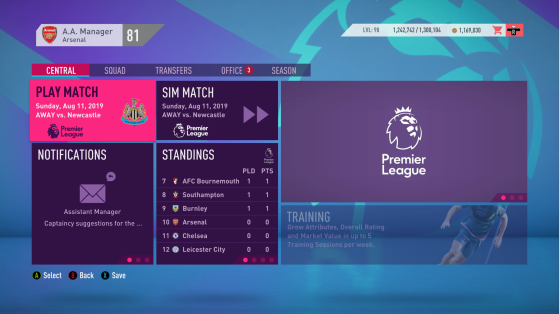 Finally, a note on another addition — Dynamic Player Potential. This is a system which affects the evolution curve of players from one season to the next. Simply put, the more players play games, the more their potential increases — depending on their performances, of course. Conversely, poor performances will result in a downward trend in their potential rating.
We need more hands-on time with this system to properly judge its effectiveness. One or more seasons must be completed to get a concrete idea of the impact it will have on a career, but on first look it just adds to the authenticity of Career Mode. It's clear that more effort has been put into it this season, to the delight of FIFA purists.
Returning, regular features include the quick-start Kick-Off mode, which welcomes two new rules (King of the Hill and Mystery Ball), solo seasons both online and co-op, FIFA Ultimate Team (which we will get to) and the pro club mode.
Validated by the Street?
In place of The Journey, the story mode featuring Alex Hunter, FIFA 20 introduces the Volta mode. A spiritual successor to the popular FIFA Street series of games, Volta finally unites the branches of the FIFA family and embodies a perfect balance between the simulation approach of the parent and the unconventional action of the child.
EA Sports doesn't offer a real return to the essential elements of the Street genre, but instead offers a playground for the uninitiated, satisfying those who want a little more lightness in their games. It's a smart marketing choice — one which may disappoint fans of arcade action, but an enjoyable break from the game all the same.
That being said, Volta has many perks, both in terms of the mode and the content it offers. As mentioned above, you don't need to learn and master a whole range of combinations or moves specific to Volta in order to succeed, since it is built upon the backbone of classic FIFA.
On the other hand, a real progression in terms of level awaits those who fully invest themselves in Volta.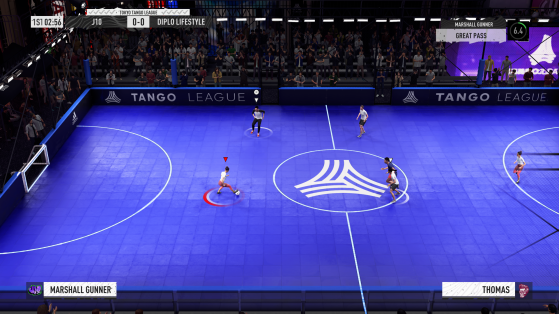 The smaller pitch means players will take part in 3v3, 4v4, or 5v5 matches. The dynamics of the mode are rather different to the classic game, but EA Sports have thought to facilitate the execution of moves so that you never get caught without a way out in the smaller spaces — something which could have made the game extremely frustrating.
However, this is not the case, and the balanced rhythm of encounters even gives way to certain phases of play straight out of football school.
The gameplay is generally convincing, but that's not the case for Volta's 'story mode'. It serves as a tutorial, but struggles to keep the player involved due to a scenario that is far too predictable and misinterpreted by the actors in the campaign.
Your quest for a world championship at Jayzinho's club J10 is ultimately only a pretext to stage your avatar and grasp the basics before beginning your progression.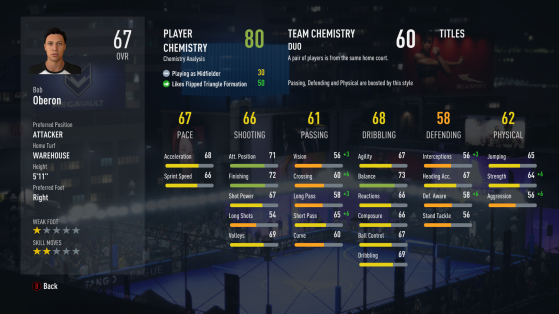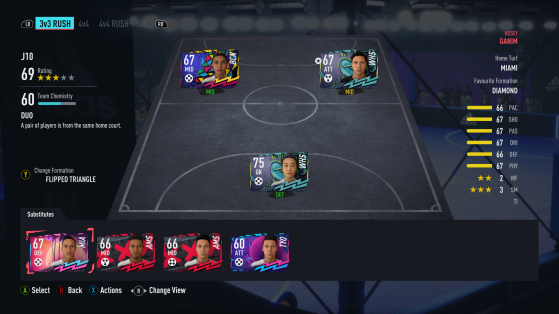 While your player will benefit from various statistics that will evolve as you play, just as will those of your teammates, team management is essential in Volta.
After each victory, you have the opportunity to recruit a new player from the defeated team, allowing you to gradually strengthen your ranks. Since players have different attributes and positions, you will need to make the right choices to build the best possible teams for each type of match (3v3, 4v4 etc).
We advise you to consult our dedicated guide to team progression and management in Volta to fully understand this system — which draws parallels with EA's flagship Ultimate Team mode.
Street football returns with the all new VOLTA game mode coming to FIFA 20. Here's all the info you need before you hit the streets.
Overall, this system provides some depth, but one that is likely to run out of steam. Volta's real strengths ultimately lie in the way it handles fashion and the refreshing environments it offers, with no less than 17 different stadia.
In order to get the most out of the mode, you'll have to turn to the Volta Tour mode, for singleplayer fans, and Volta League for the more competitive among you — but however convincing it may be, it could prove quite repetitive with time.
Fun or Ultimate Tryhard?
Since the arrival of FUT Champions and Division Rivals, FIFA's Ultimate Team mode has quickly become an ultra-competitive playground — leaving more casual fans on the sidelines, those who used to test teams in the bronze, silver and gold competitions and find nuggets nobody knew about, just for fun.
Absent for several seasons now, this lighter aspect of the mode partly resurfaces this season, with the arrival of FUT Friendlies — and with the redesign of objectives.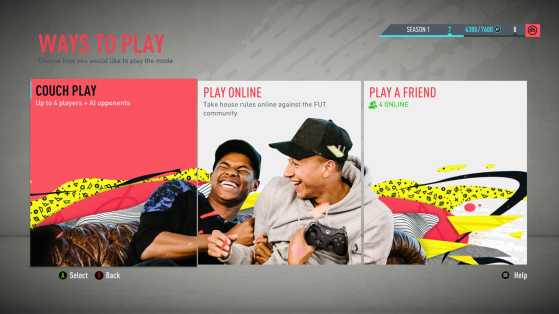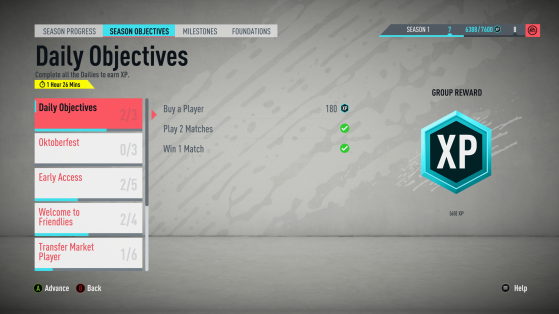 The new Kick-Off introduced last year with custom rules makes its debut here in Ultimate Team. You now have the opportunity to play against your friends locally or online, or another player with your FUT squad.
Custom rules such as 'Collective Max' and 'Swaps' are only available for Ultimate Team, but you can also find other Kick-Off rules — including the new 'Mystery Ball', which we particularly liked thanks to the various stat bonuses it gives the ball carrier, resulting in ultra-dynamic and enjoyable matches.
All this is a good thing, because playing casually won't just allow you complete relaxation compared to the grind of standard FUT, but will allow you to complete some of the seasonal objectives in the process — increasing your levels in the new 'battle pass' that has arrived with FUT 20.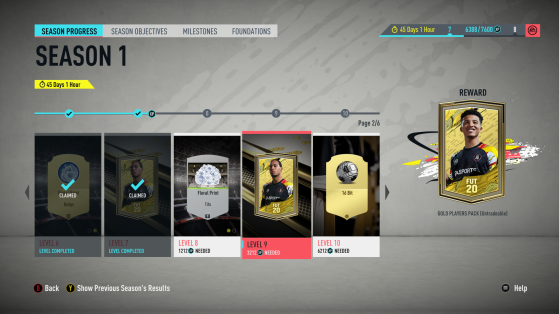 The latter is the result of a redesign of the objectives, which now take on an entirely different dimension. Your old manager tasks are no longer limited to a few boring objectives and your management actions — or those performed in-game — will allow you to progress and unlock even more rewards.
These will be allocated via the so-called 'battle pass', which will go through several iterations throughout the year — with one 'season' lasting around sixty days. This is how long you will have to reach the highest levels, which goes hand-in-hand with better rewards.
You'll therefore have a choice this year — go full tryhard, or give yourself a moment of casual bliss and go down this route, without missing out on rewards.
In another change, Ultimate Team also welcomes a new team management interface. It's rather confusing at first, but becomes much more intuitive as you get used to it, saving you a considerable amount of time in the process.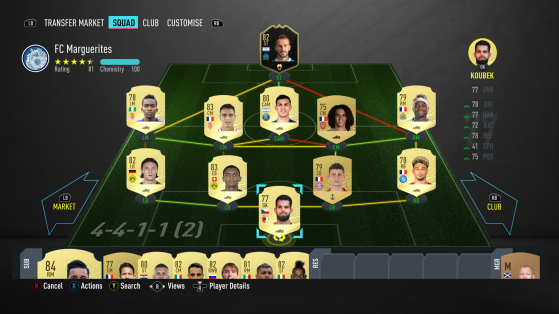 However, that's not all — a more complete customisation of your club is now possible, with tifos, celebrations and stadium themes introduced this year. In short, FUT gains variety, opening the door to more casual players while continuing to reward regular players as before. It's an appreciated balance, overall — will you choose fun, or become the ultimate tryhard?
After a highly criticised edition last time out, EA Sports seem to have taken into account community feedback — but it's difficult to place FIFA 20. Apart from the real work done on defending, it looks more like an improvement on its predecessor than the complete renewal people craved, and is betrayed by not having enough new features or mechanics. Nevertheless, FIFA 20 offers the usual gargantuan content to its players, with particular care given to Career mode, the arrival of Volta, and a more competitive FUT mode. Overall, FIFA 20 is an excellent candidate for your first eleven, but more needs to be done in future for the series to become the first name on the team sheet once again.
Return of a more manual defense
The end of 'tornado centres' and a 'timed finishing' more complicated to master
New features in Career mode
Volta — a good alternative game...
A more competitive FUT mode
The ever-present 'script'
Repetitive, with a Story mode to forget
...for the most part purely visual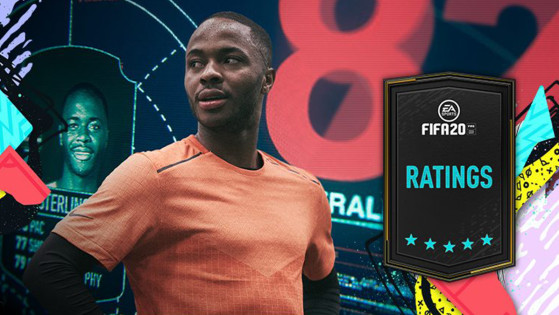 EA Sports has unveiled the Top 100 highest-rated card in FIFA 20 Ultimate Team. Check out the list of cards and their statistics.