Genshin Impact has had a blistering start, with more than 10 million players in pre-registration for the miHoYo-developed title.
There are currently 23 playable characters that can join your Traveller, all with their own unique gameplay, strengths and skills.
Because of the variety, we're offering two different tier lists, one focused on combat and the other on exploration and dealing with puzzles.
Tier List for Combat
Tier List for Exploration
Tier List for Combat
NOTE: This tier list does not take into account abilities that are useful for exploration, such as Mona's waterwalking. Our rankings break down the list as following:
S-Tier characters pick themselves, really,

A-Tier are great, either alone or augmenting the S-tier.

B-Tier will service you just fine in combat.

C-Tier are only to be used if you absolutely have to.

Amber... *cue sad music*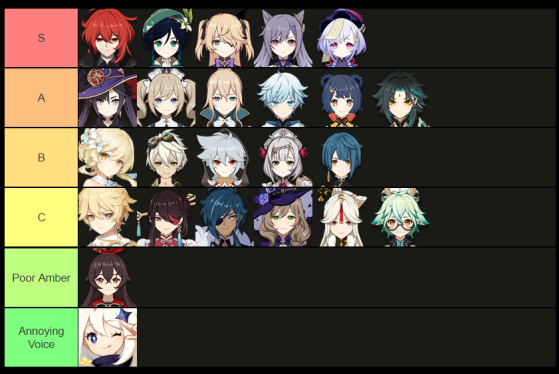 Tier List Last Updated: October 19
S-Tier Characters

Diluc
If you've pulled Diluc, he needs to be in your team. It doesn't get much more straightforward than that.
His Elemental Skill Searing Onslaught can be cast three times in a row for pretty significant Pyro damage, while his Elemental Burst Dawn is a humongous AoE attack that can clear waves should you be swarmed at close quarters.
In short, he's probably going to be your main man on the battlefield. Plus, his blasé attitude to the rather stuffy Knights makes him uber-cool.

Venti
Venti is another five-star pull you can obtain, and as such he's a top character to have in your team.
He'll absolutely replace the Traveler as your go-to Anemo character, and his crowd-control abilities will help you dominate the battlefield.
His Elemental Burst Wind's Grand Ode offers fantastic synergy with that of Diluc, for example — pull all your enemies in with the vortex, then unleash the Phoenix for huge elemental-chain damage!

Fischl
Having Fischl in your team is all about taking advantage of everyone's favourite birb, Oz.
Starting off by unleashing your feathery friend means it's super simple to create Elemental Reactions that involve Electro, including Overloaded and Electro-Charged, for damage amplification.
Plus, a little Lightning Smite never hurt anyone... except your enemies!

Qiqi
You're going to need Cryo in your team at some point, and Qiqi is undoubtedly the best of that frosty bunch.
Her Elemental Skill Herald of Frost deals damage AND heals your team, while those heals can be ramped up even more by applying the Elemental Burst's Preserver of Fortune debuff. Simply hit an affected enemy to see that life regenerate!
In short, she's the ideal support to round off your squad!
Keqing
This Electro swordswoman brings the shock factor thanks to her ability to easily chain Elemental Reactions.
Keqing is simple to grasp as a melee fighter, and thanks to mobility buffs is ideal for darting in and out to deal damage at short or medium ranges.
Some pretty hefty AoE damage thanks to her Elemental Burst, Starward Sword, is also pretty useful!
A-Tier Characters

Xiao
Want damage? Pick Xiao.
This newcomer is capable of some pretty sizeable chaos with his spear, and can take some punishment too thanks to his Lv.4 Constellation, which increases DEF by 100% when below 50% health.
Offensively, he benefits from up to six normal melee strikes, while his Elemental Skill, Lemniastic Wind Cycling, is a fantastic way to dart through enemies.
His real selling point though is the Bane of All Evil Elemental Burst. Although it drains your HP when active, you'll gain attack range and damage - meaning this Anemo character is wonderful for switching in for a little shock and awe.

Jean
Jean is the Acting Grand Master of the Knights of Favonius, and as such she just has to be decent, right?
More a support than attacker, Jean synergises well with others - in particular Diluc, so she's a great choice for a balanced lineup.
Her Anemo-based Elemental Skill, Gale Blade, is great for setting up enemies for a takedown by stronger fighters, while her Elemental Burst, Dandelion Breeze, will absolutely turn the tide of battle thanks to its superior healing power.

Mona
Mona is one of those who is pretty handy as an all-round character, and this largely comes from her ability to control the battlefield.
Her Hydro-based Elemental Skill, Mirror Reflection of Doom creates a welcome diversion for tanking enemies, culminating with a handy AoE explosion, and can be held to create space between you and your opponents.
Her Elemental Burst, Stellaris Phantasm, sets up Elemental Reactions utilising Wet very well, meaning someone like Diluc can come in and deal even more punishment thanks to Vaporize.

Xiangling
Xiangling's position in this tier list ultimately depends on whether you use Diluc or not, as having two Pyro characters adds a nice little 25% bonus to ATK that benefits the red-haired warrior greatly.
However, she's also quite a nifty fighter in her own right, nimble and able to dart through opponents either as a means of escape or to set up combos.
Her Elemental Skill Guoba Attack is great for tanking up stationary enemies, but her Elemental Burst, Pyronado, is even better for clearing out waves of close-range enemies that may be overwhelming you.

Barbara
Not really someone you'll depend on for damage output, Barbara is a dependable mage whose Hydro-based healing will be crucial in those drawn-out boss fights.
Her Elemental Skill, Let the Show Begin, is great for setting up combos that use the Wet reaction, such as Electro-Charged or Frozen, while her Elemental Burst, Shining Miracle, is a massive AoE heal that can help the party reset and keep on fighting.
Her Lv.6 Constellation, Dedicating Everything to You, can even revive and fully-heal a fallen party member providing she's not on the field, which is a fantastic get-out-of-jail-free card in a boss fight!

Chongyun
Chongyun is an exorcist, so let him banish the spirits of bad battles!
In short, this silver-haired character is all about dealing as much Cryo damage as possible. His Elemental Skill smashes the ground, dealing AoE damage, and creates a field in which all further damage from melee weapon-based characters is converted to the cold element for a short while. This is great for bursting enemies down,
His Elemental Burst, Cloud-parting Star, is seriously impressive, summoning three giant blades to pound enemies and knock them up into the air.
Other Characters
While the characters above are who we believe to be the strongest, others aren't entirely useless and can be helpful in a bind.
For example, Razor can be very useful in solo-grinding early on, thanks to some solid DPS and a giant spirit wolf that aids you in battle, while Bennett can mix up his basic attacks and even pinch-heal other party members.
In terms of Geo characters, Ningguang can be useful in zoning enemies with her Jade Screen ability, while Noelle provides some much-needed shielding for when you need a straight-up tank.
Even Amber can be useful in a battle, if set up correctly — while she's become a meme in the community, did you know her Fiery Rain Elemental Burst can scale beyond 600% damage, as well as granting movement speed and ATK buffs?
Like any tier list, this tier list is subjective, and draws on our playing experience and the power and usefulness of the different characters in combat.
This ranking will evolve over time with the arrival of new characters or following possible balance changes.
All tier list images courtesy of TierMaker. Check them out and make your own tier lists!