Fishing is a brand new feature in Assassin's Creed Valhalla that may appeal to those who love the tranquility and distraction that fishing can bring. In this guide, we explain how to use the Fishing Hut in the best possible way!
How to unlock fishing
If you think you need to buy an accessory or complete a quest, you are seriously wrong. Everything lies in the progress of your Ravensthrope "Camp". When you arrive in England, your mission is to increase the influence of your city by building businesses and houses for members of your settlement.
After a few Lootings, you should have more than enough raw material and resources to unlock the Fishing Hut which gives you the joys of fishing!
How to fish
Find a shoal of fish by a lake or river

Get to the water's edge and use the action wheel to grab your net

Aim at the shoal of fish and shoot

Wait patiently for the fish to bite

Once the fish bites, do it with "R2" or "RT"

Then hammer your "X" or "A" key to bring the fish towards you and direct the fish to your position with the directional keys

Once the animation is over, it's won, you have the fish in your pocket!
The Fishing Hut and its rewards
Arth and his grandfather are very fond of fish and will reward you when you bring them fish to the hut.
Take the time between two battles to catch some fish to have rewards such as:
Runes

Crafting materials to improve your weapons / equipment

Tattoo designs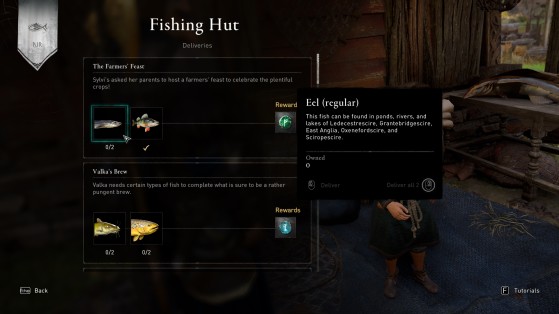 Of course, this isn't money, but additional content to change the appearance of Eivor, or something to improve your weapons and equipment for a future battle. To receive these rewards, simply return to Anth in Ravensthorpe and give him the fish you have. Once you have fulfilled one of his expectations, he will reward you as promised with a quality item.
Legendary fish
So, you aren't going to have a phenomenal battle in the water against a fish exceeding all the expectations of the marine world, but you have the possibility of catching so-called prodigious fish.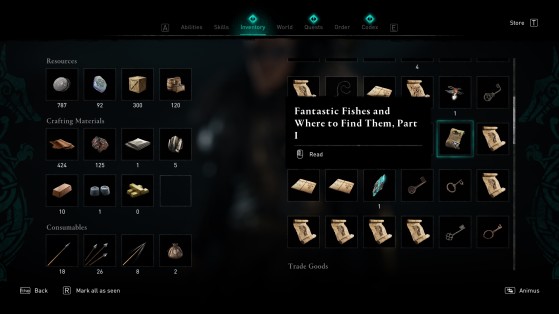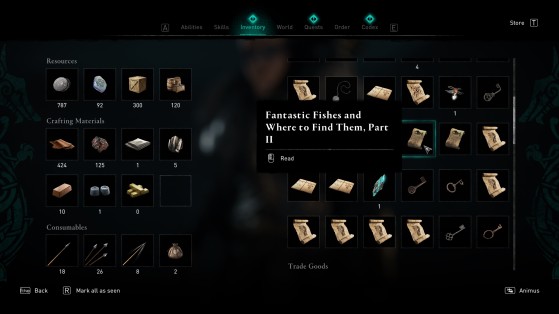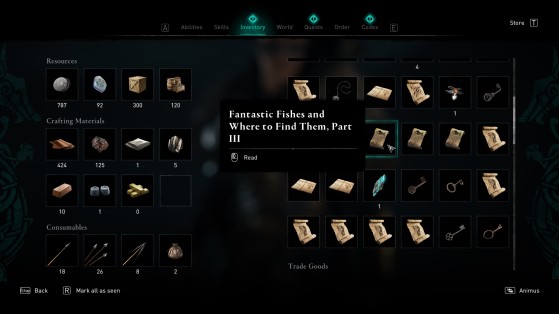 Like the treasure maps, the fish are located in places which are very briefly explained. To find out the location of these high-quality fish, you will have to go to the merchandise store in your city and scroll through the long list of tattoos to buy to finally come across the list and the brief location of the legendary fish.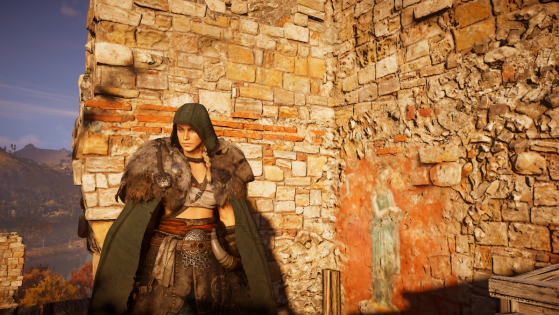 Artifacts are collectibles or consumables such as tattoos or treasure maps scattered all over the map. In this Assassin's Creed Valhalla guide, you are given the location of all the artefacts from England in the Ledecestrescire region.
Original content by Camille"Effylia" Bouin.