The second season of post-launch content for Black Ops Cold War and Warzone has gone live across all platforms. 
With a variety of new content launching across both titles, the new season also includes the addition of a new set of Seasonal Challenges that can be unlocked by ranking up.
Find a complete list of all the Season 2 Challenges below!
Black Ops Cold War and Warzone Season 2 Challenges
Protective Overwatch
Use a Sniper Rifle to kill an enemy who is injuring a teammate 10 times.
Hot Drop
Kill an enemy shortly after skydiving 25 times.
Guerilla Warfare
Get 100 Eliminations using a weapon that you have picked up.
Clean Kill
Kill an enemy without taking damage 100 times.
Suppressing Fire
Get 500 Eliminations with LMGs.
Incendiary Warfare
Get 15 kills with Molotovs.
Cybersecurity Threat
Using the Spycraft or Spotter Perk, kill an enemy with a hacked Field Upgrade.
Shelled
Score 50 Point Blank kills with Shotguns.
Arms Dealer
Acquire 50 Scorestreaks or Killstreaks from Care Packages, Supply Caches, or Buy Stations.
Brap Brap
Get 100 multi-kills with SMGs.
Good Ammunition
Kill 50 enemies using ammo acquired from the Assault Pack or Munitions Box.
Deception
Kill 25 enemies that are near your active Decoy Grenade.
Bump in the Road
Use Proximity Mines to destroy 10 enemy ground vehicles.
Toxic Behavior
Kill 50 enemies with gas or who are affected by gas.
Well Rounded
Get a kill with at least two different weapons without dying 100 times.
Looting and Pillaging
Replenish ammo 250 times while using the Scavenger Perk.
Bullseye
Get 10 kills with the Tomahawk or Throwing Knife.
In Their Heads
Iron Sight Assassin
Get 300 Eliminations using weapons without a scope or optic attachment.
Anti-Vehicle
Destroy 75 enemy ground vehicles
Season Two Master
Complete all Season Two Challenges.
Season 2 Challenge Master Rewards
Once all the challenges have been completed, players will unlock an exclusive Calling Card. 
Check it out below.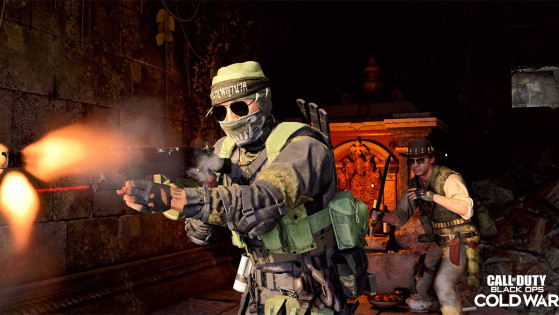 The Machete is a melee weapon that was added as part of Season 2 for Call of Duty: Black Ops Cold War and Warzone. In this guide, find out how to unlock the weapon.