Subtitled the Uncrowned Lord of the Ocean, Beidou is one of the characters available in Genshin Impact.
A claymore wielder, she is aligned with the Electro element. She's great as an support DPS thanks to her damage mitigation, so we've built her accordingly.
You can get Beidou from the Thunder Sojourn event added in 2.0, or from the Wanderlust Invocation banner. 
The best weapons for Beidou in Genshin Impact
We've gone with Wolf's Gravestone as Beidou's main weapon, thanks to the bonus to ATK and effectiveness against low-health enemies. 
Sacrificial Greatsword is a decent shout for the chance to end Elemental Skill cooldown, for more shield uptime.

Wolf's Gravestone
Wolfish Tracker
Increases ATK by 20/25/30/35/40%. On hit, attacks against opponents with less than 30% HP increase all party members' ATK by 40/50/60/70/80% for 12s. Can only occur once every 30s.

Sacrificial Greatsword
Composed
After dealing damage to an opponent with an Elemental Skill, the skill has a 40/50/60/70/80% chance to end its own CD. Can only occur once every 30/26/22/19/16s.
The best Artifacts for Beidou in Genshin Impact
Thundering Fury naturally has the best synergy with Electro characters, so we've opted for that. 
However, you can also run a 2/2 split with Noblesse Oblige for additional Elemental Burst DMG.

Thundering Fury
(2) Electro DMG Bonus +15%
(4) Increases damage caused by Overloaded, Electro-Charged and Superconduct by 40%. Triggering such effects decreases Elemental Skill CD by 1s. Can only occur once every 0.8s.

Noblesse Oblige
(2) Elemental Burst DMG +20%
(4) Using an Elemental Burst increases all party members' ATK by 20% for 12s. This effect cannot stack.
Talent and Constellation priority for Beidou in Genshin Impact
There's no real priority for Beidou's abilities, so go with which you feel you'll focus on more often. If you've opted for Noblesse Oblige, then perhaps the Stormbreaker Elemental Burst is a better option.
This also works well with Upon the Turbulent Sea, the Thunder Arises (C2), a Constellation option that adds targets to the arc lightning of Stormbreaker. Sea Beast Scourge (C1) also adds a shield to the Elemental Burst.
The best stat priority and substat priority for Beidou in Genshin Impact
Given the shield of Stormbreaker scales with Max HP, that's something we've opted to focus on in our build.
Stat Priority
HP

ATK%

Electro DMG Bonus
Substat Priority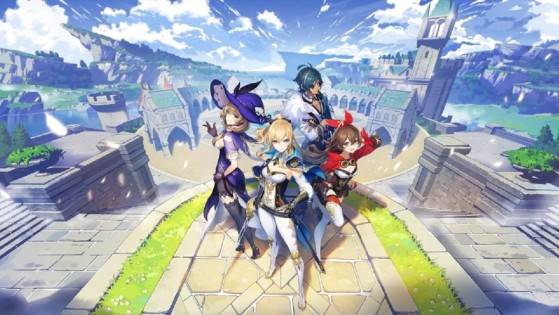 Here is a list of all promo codes available to redeem on Genshin Impact. If you're looking to get some free Primogems, Mora, Adventure XP and Hero's Wit, you're in the right place.