Subtitled the Prinzessin der Verurteilung (Princess of Condemnation), something she just loves to keep telling you, Fischl is now available in Genshin Impact.
A bow wielder, she is aligned with the Electro element. She's an outstanding Electro support, so we've gone with a build that reflelcts that.
You can get Fischl from the Wanderlust Invocation banner.
The best weapons for Fischl in Genshin Impact
Given Fischl is going to be more used to apply Electro to everything, the choice of weapon is more utility-focused. 
Skyward Harp is a good option for the AoE proc, while Elegy for the End also has a great party-buffing mechanic that synergises well with Oz, her raven. A decent budget option is The Stringless for the Elemental Skill/Burst buff.

Skyward Harp
Echoing Ballad
Increases CRIT DMG by 20/25/30/35/40%. Hits have a 60/70/80/90/100% chance to inflict a small AoE attack, dealing 125% Physical ATK DMG. Can only occur once every 4.0/3.5/3.0/2.5/2.0s.

Elegy for the End
The Parting Refrain
A part of the "Millennial Movement" that wanders amidst the winds. Increases Elemental Mastery by 60/75/90/105/120. When the Elemental Skills or Elemental Bursts of the character wielding this weapon hit opponents, that character gains a Sigil of Remembrance. This effect can be triggered once every 0.2s and can be triggered even if said character is not on the field.
When you possess 4 Sigils of Remembrance, all of them will be consumed and all nearby party members will obtain the "Millennial Movement: Farewell Song" effect for 12s.
"Millennial Movement: Farewell Song" increases Elemental Mastery by 100/125/150/175/200 and increases ATK by 20/25/30/35/40%. Once this effect is triggered, you will not gain Sigils of Remembrance for 20s.
Of the many effects of the "Millennial Movement," buffs of the same type will not stack.

The Stringless
Arrowless Song
Increases Elemental Skill and Elemental Burst DMG by 24/30/36/42/48%.
The best Artifacts for Fischl in Genshin Impact
Artifacts that synergise with Electro are a good shout here, such as Thundering Fury and Thundersoother. 
Alternatively, you could run the Tenacity of the Millelith set, especially if you have a Shield-proccing character in your team. 

Thundering Fury
(2) Electro DMG Bonus +15%
(4) Increases damage caused by Overloaded, Electro-Charged and Superconduct by 40%. Triggering such effects decreases Elemental Skill CD by 1s. Can only occur once every 0.8s.

Thundersoother
(2) Electro RES increased by 40%.
(4) Increases DMG against opponents affected by Electro by 35%.

Tenacity of the Millelith
(2) HP +20%
(4) When an Elemental Skill hits an opponent, the ATK of all nearby party members is increased by 20% and their Shield Strength is increased by 30% for 3s. This effect can be triggered once every 0.5s. This effect can still be triggered even when the character who is using this artifact set is not on the field.
Talent and Constellation priority for Fischl in Genshin Impact
Without a doubt you'll want to focus on maxing out the Nightrider Elemental Skill. Oz is crucial to Fischl's effectiveness, and making sure he's as strong as can be should be the priority.
Max out your Midnight Phantasmagoria Elemental Burst next.
Gaze of the Deep (C1), Devourer of All Sins (C2), and Evernight Raven (C6) all help boost Oz's effectiveness when it comes to Constellations.
The best stat priority and substat priority for Fischl in Genshin Impact
Boosting damage is the priority when it comes to stat priority, and CRIT works really well on Fischl.
Stat Priority
ATK%

Electro DMG Bonus

CRIT Rate / CRIT DMG
Substat Priority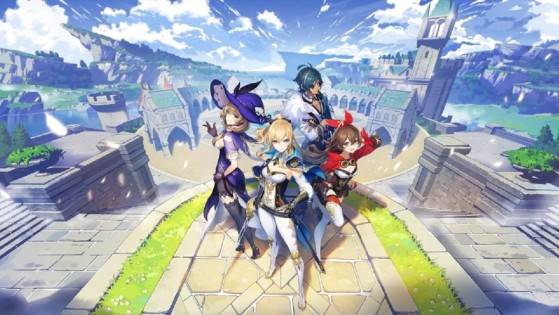 Here is a list of all promo codes available to redeem on Genshin Impact. If you're looking to get some free Primogems, Mora, Adventure XP and Hero's Wit, you're in the right place.