Subtitled the Stage Lucida, Yun Jin is now available in Genshin Impact as part of Version 2.4.
A polearm wielder, she is aligned with the Geo element. You can only get Yun Jin from Wishes as of January 2022. 
Like fellow release-mate Shenhe, Yun Jin is best played as a support DPS, aiding her main damage dealer in combat through Normal Attacks. She can also be a useful Burst Support.
The best weapons for Yun Jin in Genshin Impact
With Energy Recharge being so useful to support DPS characters, an ideal weapon is the Engulfing Lightning polearm. 
Alternatively, the Favonius Lance is a decent option for those who haven't pulled the five-star weapon.

Engulfing Lightning
Timeless Dream: Eternal Stove
ATK increased by 28/35/42/49/56% of Energy Recharge over the base 100%. You can gain a maximum bonus of 80/90/100/110/120% ATK. Gain 30/35/40/45/50% Energy Recharge for 12s after using an Elemental Burst.

Favonius Lance
Windfall
CRIT hits have a 60/70/80/90/100% chance to generate a small amount of Elemental Particles, which will regenerate 6 Energy for the character. Can only occur once every 12.0/10.5/9.0/7.5/6.0s.
The best Artifacts for Yun Jin in Genshin Impact
We think the best Artifact set for Yun Jin is the full Husk of Opulent Dreams set, which synergises perfectly with her Geo affinity. 
You could also run a 2/2 split with Emblem of Severed Fate - you'd lose the Curiosity passive effect, but would still be running DEF +30% and Energy Recharge +20%.

Husk of Opulent Dreams
(2) DEF +30%
(4) A character equipped with this Artifact set will obtain the Curiosity effect in the following conditions:
When on the field, the character gains 1 stack after hitting an opponent with a Geo attack, triggering a maximum of once every 0.3s.
When off the field, the character gains 1 stack every 3s.
Curiosity can stack up to 4 times, each providing 6% DEF and a 6% Geo DMG Bonus.
When 6 seconds pass without gaining a Curiosity stack, 1 stack is lost.

Emblem of Severed Fate
(2) Energy Recharge +20%
(4) Increases Elemental Burst DMG by 25% of Energy Recharge. A maximum of 75% bonus DMG can be obtained in this way.
Talent and Constellation priority for Yun Jin in Genshin Impact
You'll probably want to focus on Yun Jin's Elemental Burst, Cliffbreaker's Banner, first off, as it deals DMG as well as buffing any players switching in to the party. This scales with DEF, so a tanky Yun Jin is better! Raise her Elemental Skill, Opening Flourish, next.
In terms of Constellations, Breaking Conventions (C2) is ideal for a support build, as it increases the party buff even more. Decorous Harmony (C6) adds to this even further, increasing Normal ATK SPD at the same time.
The best stat priority and substat priority for Yun Jin in Genshin Impact
Given you want to play around your Elemental Burst, Energy Recharge is a must on Yun Jin. You'll also want tons of DEF so that her Elemental Skill buff is stronger.
Stat Priority
Substat Priority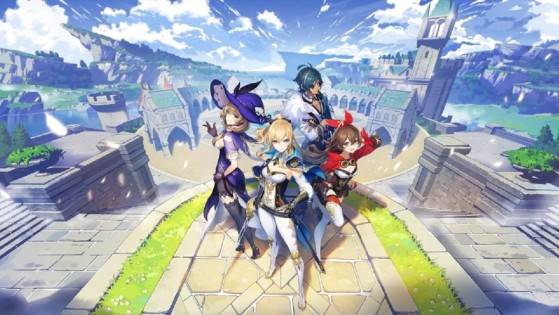 Here is a list of all promo codes available to redeem on Genshin Impact. If you're looking to get some free Primogems, Mora, Adventure XP and Hero's Wit, you're in the right place.