Grand Theft Auto Online 's new summer update, Criminal Enterprises, brings with it additional content. Among other things, new missions, new vehicles, and of course, new weapons. Indeed, two new weapons are now available in GTA Online.
Precision sniper
The sniper is a bolt-action sniper rifle that will allow you to shoot very long range. It only benefits from a small charger. He is available $427,500 at F. Clinton and Partner if you play as Franklin. It appears to be priced slightly higher at Ammu-Nation , where it costs $450,000.
For the moment, it seems that the Precision Sniper does not benefit from mods or improvements. However, it can be dyed in different colors.
For the moment the feedback from the community is not warmer than this concerning the Precision Sniper.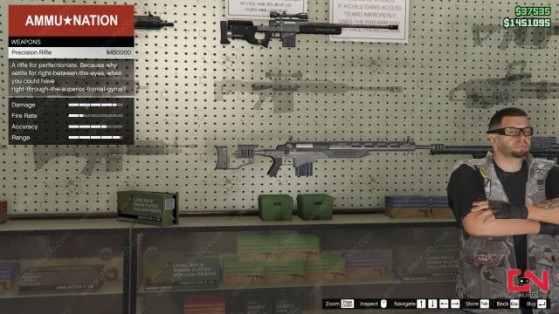 M16
The M16 is currently a collectible divided into 5 parts that you must find.
To get the full M16, you need to find all 5 parts of the weapon, which are distributed relatively randomly within Crime Scenes South of Town . The 5 parts of the M16 are the barrel, magazine, receiver, sight and scope.
These elements are dispatched in 10 possible Crime Scenes which you can see in the map in the tewet of @WildBrick142 above.
Attention, you must complete the 5 missions to unlock the M16 in its entirety.
The GTA Online Summer Update, Criminal Enterprises, is now live on PlayStation 5, PlayStation 4, Xbox Series X|S, Xbox One, and PC. Remember that you can now complete all criminal missions, even sales missions, in private sessions.