Photo courtesy of Riot Games.
The League of Legends Championship Series is back, and Week 1 ended with a bang.
Team Liquid didn't shine as we may have expected from the quadruple LCS champions, but the Split is far from being over and they surely have some time to climb back up the standings.
Their big rivals, Cloud9, seized the opportunity to get the season off to a flying start. However, the big news was definitely the surprisingly good start for FlyQuest.
Based on statistics, relativity, but also on our own instinct, the following rankings are only taking Week 1 into account. They are obviously destined to evolve along the season.

1 — Cloud9
Cloud9 started the season with a completely new botlane built after the departure of Zachary "Sneaky" Scuderi and one could seriously wonder if the team would be able to find cohesion. Well, they did.
Against Team Liquid, in a rematch from last year's Summer Split Finals, Cloud9 felt super confident and they prevailed quite easily. It should be noted that their success seems more due to Team Liquid's weakness at the beginning of Split than to Cloud9's own performance.
Cloud9's defeat against Golden Guardians would have been absolutely inconceivable, and their victory didn't surprise anyone. With 19 kills for 7, more than 10k gold advantage at the end of the game, four drakes and two Nashors, the outcome of the match seemed inevitable. A victory remains a victory, but nothing really shiny coming from the second-best team in NA.

2 — Dignitas
With a roster filled with veterans, everyone was keeping an eye on Dignitas, which were either expected to be crushed or to roll over their matches. With two victories in the pocket, the newly formed team certainly debuted the Split with a thundering start.
First, they demolished Counter Logic Gaming, and even though the outcome of the match felt really contested at the beginning of the match, the incredible performance of Froggen sealed the day.
Against Evil Geniuses, Dignitas proved to be the powerhouse roster we could expect. They only conceded two kills to Dennis "Svenskeren" Johnsen and Bae "BaBae "Bang" Jun-sikng" Jun-sik, keeping a solid control over the match. Unable to seize the momentum, Evil Genius got obliterated.
3 — Team Liquid
After their defeat against Cloud9, then their victory against TSM, Team Liquid started the season in half-tone. To their credit, their roster is still not complete since Mads "Broxah" Brock-Pedersen, who's still encountering visa issues, is substituted by Shern "Shernfire" Cherng Tai.
With a very few kills (9 to 3), one could almost say that their first match against Cloud9 was almost boring. It just felt like Team Liquid didn't have what it takes to stop Cloud9's frenzy.
Facing TSM on Monday, Team Liquid still felt uncertain, notably because Søren "Bjergsen" Bjerg and his teammates played a really good early game. The struggle kept going until mid-game, when Liquid managed to secure a sneaky Baron that helped them stabilize and open the path towards TSM's Nexus.
Team Liquid conclude this first week with a quite hesitant start, but their reputation precedes them, and one can only hope for a strong comeback when Broxah will be able to play alongside them.

4 — FlyQuest
Undoubtedly, FlyQuest is the big surprise of this first week. Will it be enough for them to redeem from their Summer Split 2019 performance? That's definitely another question.
To be fair, their match against Immortals seemed almost too easy — notably thanks to the success of Omran "V1per" Shoura's Riven. The Canadian player ended the game with a comfortable 8/0.
However, the real challenge was their match against CLG, since both teams usually share the same spots in standings. Once again, the game didn't felt contested at all, with FlyQuest ruthlessly dominating. From an impressive start to an explosive end, they kept pressuring CLG, eventually leading to victory.

5 — Evil Geniuses
Evil Geniuses was pretty much an imponderable at the end of the off-season. With their roster almost entirely composed of former Cloud9's player, it was difficult to say if they would thrive or fail — and it still is.
While they got demolished by Dignitas, their performance against 100 Thieves certainly proved they were able to assert their dominance over the Rift.

6 — 100 Thieves
With the big return of William "Meteos" Hartman and Sun "Cody Sun" Li-Yu, 100 Thieves seemed on the verge of regaining their former glory.
Sadly, Golden Guardians still have the reputation of being a really young and inconsistent team, which means it's hard to draw a conclusion from 100 Thieves' victory. However, the game itself is quite revealing, since the Thieves actually struggled to win, and came back from pretty far. While this performance needs to be underlined, it also says a lot about the current health of the team.
Their defeat against Evil Genius certainly shattered their brief confidence, and, while the season only started, we cannot help being quite worried about their future.

7 — Immortals
With one victory and one defeat, Immortals start the season in a quite weird position — especially since their actual performance was a bit dull.
First, they seemed completely unable to stop FlyQuest. Then, their victory against TSM was probably one of the most boring game we saw for ages.
After one hour, and only 18 kills overall, Immortals eventually prevailed, but it just felt like the Season 2 of NA LCS, when teams were bunkering and farming during hours before engaging teamfights.
While it was a victory, this kind of match doesn't play in Immortals' favor, and the future of the team doesn't seem bright at all.

8 — Golden Guardians
While their results last year weren't that bad, Golden Guardians are still wearing the image of a rookie team.
Plus, these two defeats aren't working in their favor. While it felt almost normal to see them loose to Cloud9, one could have expected more from their match against 100 Thieves.
To be fair, the Guardians fought hard and the game was pretty much theirs until the late game. It's still hard to say if they will manage to climb into the standings during the Split, but they certainly deserve it.

9 — Counter Logic Gaming
The story of CLG is almost similar to TSM's: they used to be in the top, and now they're struggling to be in the middle of the standings.
Their two defeats at the end of Week 1 weren't even tight, and they got crushed by both Dignitas and FlyQuest. While the first could be expected, the second was quite a surprise — especially since CLG and FlyQuest were almost rivals during the last season.
To their defense, Lee "Crown" Min-ho probably needs a bit more time to adapt to the roster, but for now, the team itself seems quite affected by the loss of Tristan "PowerOfEvil" Schrage.
Overall, Counter Logic Gaming felt super weak during this week, and we can only hope they will get better for their next matches.

10 — Team SoloMid
Let's be honest: Team SoloMid played incredibly bad this week, to such a point that we really don't understand what happened to a team that used to be in the top during years.
Their defeat to Immortals demonstrated nothing except their inability to play correctly. The team wasn't cohesive at all, calls felt inadequate, and players seemed not ready at all. While Immortals didn't play that much better, TSM were eventually the ones being defeated — and this one will leave a mark.
That's another story for their match against Team Liquid. TSM managed to play a very good early game, notably thanks to Joshua "Dardoch" Hartnett's Elise. However, they didn't manage to seize the advantage and transform it into a victory. To be crude, it kind of looked like a throw.
To see TSM at the bottom of this ranking certainly saddens our fan-boy hearts. Nevertheless, with such a start to this season, they now have to prove to everyone that they can still be the powerhouse they used to be.
What do you feel about this power ranking? Do you feel we misplace a team? Feel free to drop a comment in the section below!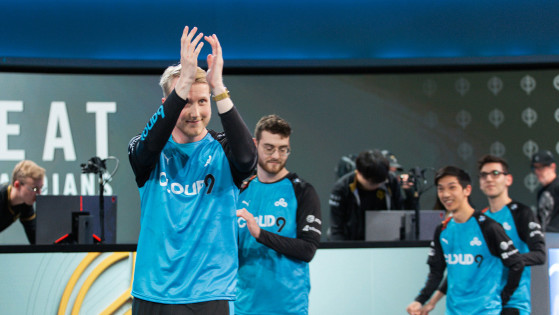 lolesports
Cloud9 proved they were the best LCS team, defeating FlyQuest in a clean sweep. It also meant they ended Playoffs with just two losses on their record.