Riot Games explained that they want their player to be able to play as they wish while still being able to progress and feel rewarded for the time they invest in the game. Here are the changes made to the trial exp and tweaks on daily pvp exp.
XP & Expeditions Rewards
End-of-trial XP reduced:
0 wins: 100 → 50

1 win: 300 → 150

2 wins: 500 → 250

3 wins: 700 → 400

4 wins: 900 → 600

5 wins: 1200 → 800

6 wins: 1500 → 1000

7 wins: 2000 → 1500
Reduced XP adjustments for daily PVP wins:
Base PVP win EXP: 200 in Normal / Ranked, 100 in Expeditions (no change)

1-10 wins: full EXP (no change)

11-15 wins: 50 EXP → full EXP

16-20 wins: 100 EXP (no change)

21-30 wins: 150 EXP → 100 EXP

31+ wins: 200 EXP → 100 EXP
Change on Friend challenge EXP:
Friend Challenge wins now grant 100 EXP for the first 5 wins, and 0 EXP for 6+.

Friend Challenges losses/ties now grant 0 EXP.

Friend Challenge matches no longer count towards daily PVP wins/losses or first wins of the day bonuses. They still count for quest progress.
Expedition rewards:
6-win Expeditions reward now 1500 shards (was 1000), as well as a random champion card and golden chest (no change).

7-win Expeditions reward now 3000 shards (was 3500), as well as a champion capsule (no change).
Expeditions Archetypes
Demacian Steel has been consistently overperforming due to a full roster of units with strong statlines, so we're adding in a common card that's on the weaker side but mixes up what this archetype brings to the table.
Battle Scars has proven great at pumping up the Power of its units, but could have a tough time actually closing out games, so the addition of Might will allow those units to go over the top of opposing blockers. Alpha Wildclaw is also being swapped in for Bull Elnuk to give the archetype a stronger late game.
Added: Might, Alpha Wildclaw

Removed: Blood for Blood, Bull Elnuk
Suit Up has also been overperforming due to the consistency of Challenger units backed up by Frostbite and Barriers, so we're enabling the Battle Scars changes by making the opposite unit swap here.
Added: Bull Elnuk

Removed: Alpha Wildclaw
Shroom and Boom has been struggling lately, leading us to remove some underperforming cards like Get Excited!, which isn't as exciting when you're hoping to use your Mushroom Clouds to actually put shrooms in the opposing deck. In their place we're adding Assembly Bot and Plaza Guardian to reward you for casting Mushroom Clouds, as well as Statikk Shock as a flexible removal spell that helps you not run out of cards.
Added: Assembly Bot, Statikk Shock, Plaza Guardian

Removed: Academy Prodigy, Chempunk Shredder, Get Excited!
Minor improvements to the way the shopkeeper selects trades.
Shopkeeper trade logic improved.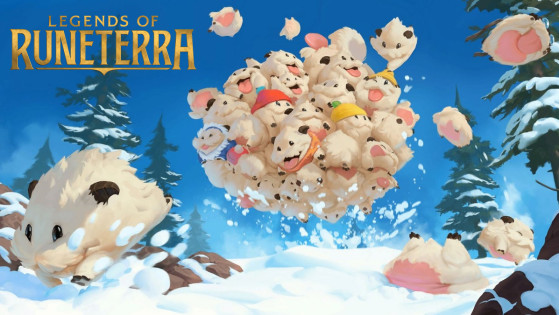 Are you interested in the Ranked mode of Legends of Runeterra and decided to climb from Iron to Master? Check out this tier list of the best decks played by pros and semi-pros since the game's open beta launch.