Are you tired of not being able to focus on your favorite player during the League of Legends tournaments? Your problem will soon be solved. Starting in Summer Split, Riot Games will launch Pro View, a new tool which will offer a better viewing experience during the tournaments. You will be able to choose individually the camera direction, but also:
Multiview: Control up to four streams at once and swap them out without the hassle of lag. They stay in sync so you can keep up with the action.
Advanced Timeline: Kills and objectives are marked on the video timeline, meaning you can hover over for a quick picture of the game and find big plays easily.
VODs, Stats & Highlights: Take advantage of full Pro View functionality for VODs. Track player stats and quickly browse in-game moments without leaving the player.
Watch with Friends: Sync up with friends using your unique Pro View URL - their timeline will update alongside yours as the game plays out.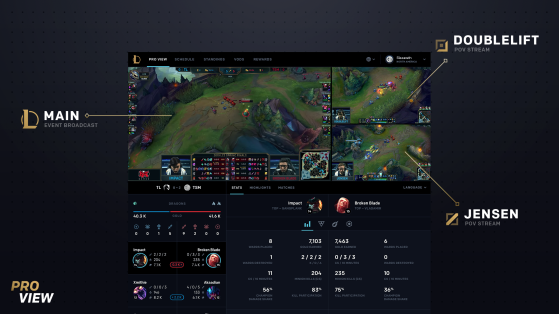 This tool won't be free, though. The generated revenue will be granted to the LEC and LCS teams and Pro View will only be available for those two leagues at its release. The idea is obviously to ultimately deploy the tool in all leagues. 
Two kinds of accesse will be available:
Regional access, which will enable to use Pro View for the league you chose

All access, which will enable to use Pro View for both leagues (LCS and LEC)
Pro View will cost $14.99 (LCS/LEC) or $19.99 (both) for Summer Split and will be available until the World Championship. The next events will grant access to more content and may have a different cost. Classic streaming (watch.lolesports.com) and its options won't be forgotten and Riot Games will keep on improving the free viewing experience.
Written by Charlotte "Cthulhu" Rognant. Translated from French by Millenium.us.org.