Update — May 20
As part of the celebrations of the Streamathon, the LEC is organizing the EU Face-Off, a tournament involving teams from talents and casters from all over Europe:
O'Gaming for France

LVP for Spain

Freaks 4U Gaming for Germany

PG Esports for Italy

Frenzy for Poland

Riot Games LEC team for EU
Riot remains quite mysterious about the event, but promises to reveal the roster composition next week!
Format
All teams will be sorted into two groups that will compete in a best-of-one round-robin format.

Group Stage will run from 7AM until 1 PM PDT on Saturday 30 May

The first two seeds of each group will qualify for semi-finals.

Semi-finals will be broadcasted on May 31, 10 AM PDT.
Original Article
Riot Games already donated $4.5 million (USD) for COVID-19 relief efforts, but apparently they want to do more.
Starting at 5 PM PDT, from May 29 to 31, Riot Games is organizing the Mid-Season Streamathon, a live stream event aiming at celebrating the League of Legends community and raising funds for COVID-19 relief.
During 48h, a non-stop broadcast will allow players to watch several friendly events, including "a continental battle of teams in Europe, an influencer battle between Yoda and Kami in Brazil, and a Mid-Season Cup showdown between the top teams in the LPL and LCK."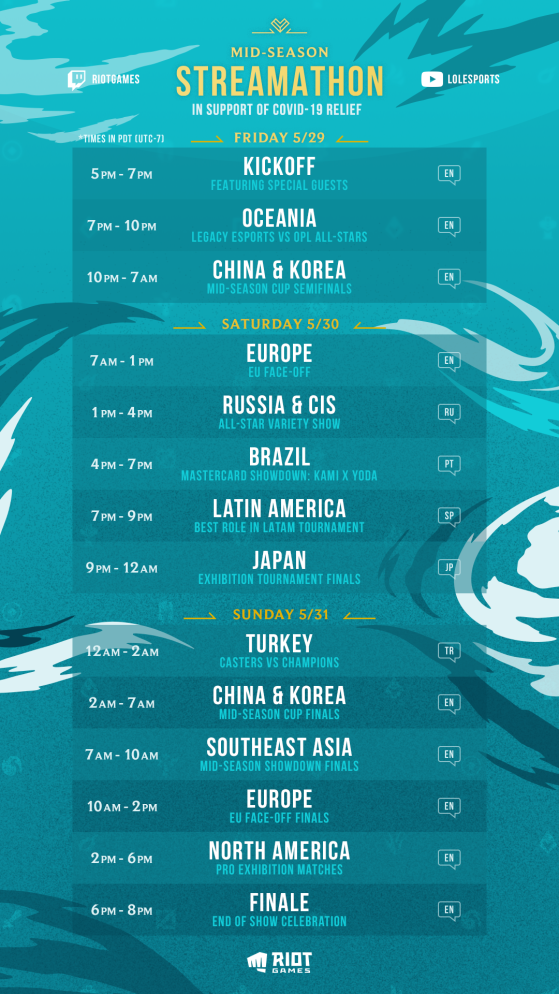 During the marathon, people will have the opportunity to donate to support a network of nonprofit organizations that taking part in the fight against the global pandemic.
You will be able to watch the broadcast online at watch.lolesports.com.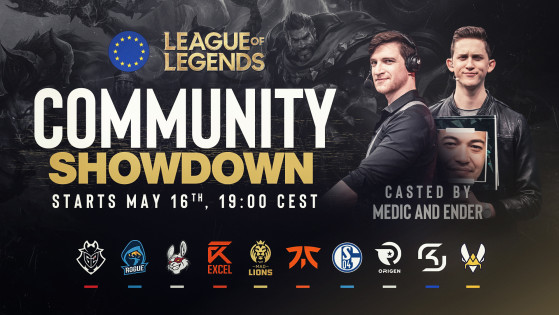 lolesports
The LEC organizations are teaming up to organize the League of Legends Community Showdown, a tournament where fans will have a shot to represent their favorites teams...