Street Fighter V heads into fifth season with all new content on the way!
What FGC fans were most anticipating were the reveals of new fighters, with the likes of Decapre and Makoto tipped, but in the end the first fighter announced was a bit of a surprise — everyone's favourite (heh) taunter, Dan.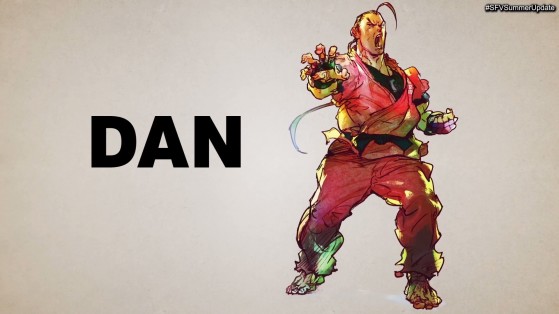 The permanent parody was first introduced in Street Fighter Alpha, and was most recently seen in Street Fighter IV. Now he's back, and sure to annoy.
The next reveal was Rose, another Alpha debutante. The third female introduced into the series, she's now bringing her deadly grudge against Bison to SFV.
At least one pro player is happy at this reveal...
The next character revealed were Oro, the ancient hermit who has only been seen in the Street Fighter III series so far. However, he has already appeared in SFV — being seen in the stories of both Dhalsim and Menat.
The final fighter shown is not from Street Fighter at all. Instead, Akira Kazama is from Rival Schools, a Capcom-developed title that originally appeared on the original PlayStation.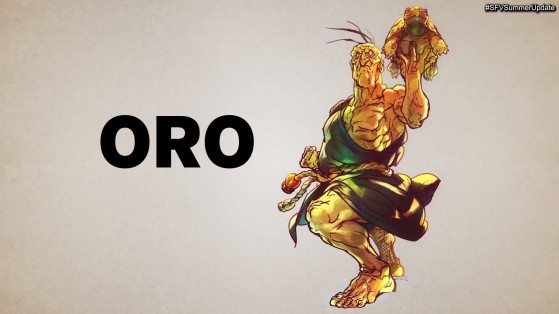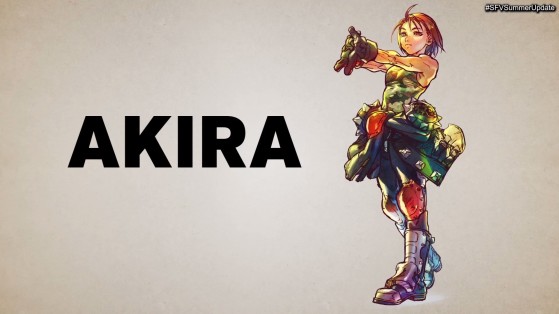 Street Fighter League goes bigger for S3
The Street Fighter League has proven to be a big success so far, with the team-based competition seeing three-man squads of top players go head to head.
Starting with NA for Season 1, it has since expanded to Japan — and with players like Punk, iDom, Problem X, Daigo, Bonchan and Tokido involved, some S-tier action was inevitable!
Now, Season 3 is coming in early 2021, and it's promising to go global. All new teams will compete for a place in the finals, which will take place at Capcom Cup 2021.
There was also a bit of a plug from AEW wrestling star Kenny Omega.
Following his cosplaying antics at CEO 2019, he made an appearance to show off a couple of awesome collaboration shirts between AEW and Street Fighter, which can be picked up from Nerds Clothing.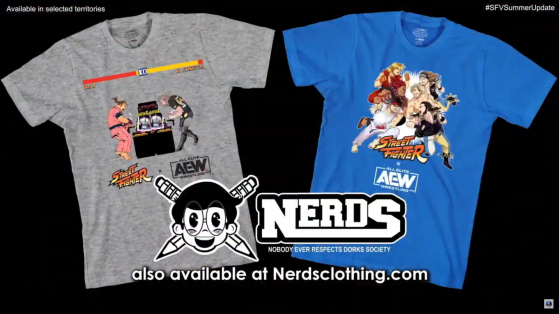 There will also be at least four new stages, including the usual CPT annual release, while Capcom teased new mechanics and a battle balance due by the end of 2020.
The rest of the content will roll out gradually over 2021. The full content roadmap can be seen below.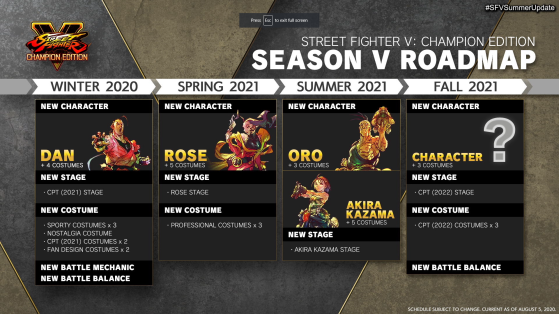 Starting today, players who would like to try Street Fighter V: Champion Edition can download a free trial, which gives access to all 40 characters until August 20.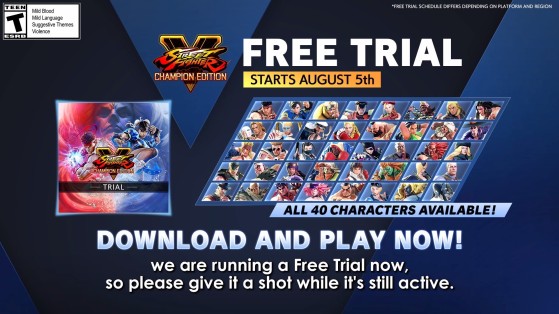 Finally, Capcom plugged a sale, where you can pick up Street Fighter V: Champion Edition — which includes all content from Seasons 1-4 except for Fighting Chance, CPT and brand collab costumes — for just $29.99.
If you already own an earlier version (vanilla or Arcade Edition), the Upgrade Kit can be had for $24.99.