Image source: LoL Esports
On the wake of the first two days of the 2020 League of Legends World Championship play-ins, two conclusions can be drawn: either the world has been flipped upside down, or the explanation to the mind-boggling results lies beyond the realm of logic. Granted, some teams did show up as expected, with Team Liquid and the Unicorns of Love making strong cases for themselves in the first two days of competition, but the LEC and LPL representatives flopped on Day 2, throwing play-in predictions out of the window.
With that in mind, the play-in picture has changed, as seen below:
The Good (PCS): PSG Talon Esports' makeshift roster dominates
Who would have thought that the biggest sensation of the play-in tournament so far would come from a team featuring three emergency substitutes, one of whom did not play professionally for a year before his stage return? Any attempts at a headcount would be futile, unless surrounded by diehard PCS (and former LMS) fans and specialists – as those people would be quick to highlight that Kongyue and Uniboy could be considered as upgrades.
PSG Talon Esports' mid-jungle replacement duo wasted no time in setting the pace during teamfights, with Uniboy's Teleports assisting Kongyue's ganking forays in the early-game against Rainbow7, and with a more measured approach getting the better of LGD Gaming. Ultimately, it took a curveball of epic proportions (Swain bot) from the Unicorns of Love to undo their smash-and-grab approach, but their demise was a difficult task for UoL.
Despite the circumstances surrounding them, the impressive and unafraid PCS squad put the world on notice through cleaner-than-average gameplay. With the core of the lineup, AD carry Unified, becoming available starting Day 3, PSG are favorites for second place in Group B and, bar upsets or an unfortunate play-in decider matchup, should qualify to the Worlds' main stage.
The Bad (LPL): LGD Gaming, Losing Games Disastrously™
Before reaching the World Championship as the LPL's fourth seed, LGD Gaming eliminated the exciting yet erratic Invictus Gaming and moved to the World Championship ahead of emerging sensation Victory Five and last year's World Champions FunPlus Phoenix. But when the time came for them to show up at Worlds, they vanished.
Beyond the unfortunate misplays, LGD played far more hesitantly than usual, even with team compositions that required a proactive mindset (with Twisted Fate, and Camille and Rakan picked against Rainbow7). In turn, their opponents freely scaled and thwarted their pick attempts, leading to back-to-back stunners – and possibly the worst start in history for an LPL team.
LGD's disaster also serves as a reminder to their 2015 debacle, where they exited Group D in last place. Five years later, they are two defeats away from exiting the group stage, or one victory away from securing a probable tiebreaker scenario to remove themselves from their predicament. Even then, the situation is grim.
Relieved for (NA and LCL): Team Liquid and Unicorns of Love showing up
Unlike LGD Gaming, Team Liquid and the Unicorns of Love galloped away with spotless records, rampaging upon the playing field. In Group A, North America's third seed has displayed the cleanest performance level among play-in participants, with great drafts and clean execution. On the other group, the Unicorns of Love delivered upon expectations and are heavily favored to qualify directly to the group stage – and a victory in their next two games is all they need.
However, their schedule and potential fortunes differ; although Team Liquid have already secured their spot at the play-in bracket stage, they hold the keys to a better outcome: a direct group stage qualification should they beat SuperMassive Esports on Sep. 28, but a loss would force them to potentially face Rainbow7 or an awakened LGD Gaming. As for UoL, they are one step away after taking V3 Esports to nomanz land in a sloppy affair and after deconstructing PSG through clean macro.
Concerned for (LEC): the MAD Lions and the (sad) quest for a winning formula
MAD Lions are in an unenviable position: although they are one victory against Legacy Esports away from securing their spot to the bracket stage, a loss would instead force them into a do-or-die match against the unfortunate yet solid INTZ Esports at worst. Overall, however, their prospects look better than they seem.
Unlike LGD, MAD Lions have been trigger-happy on their pick attempts, perhaps a bit too much. More markedly, their meta read has led them to subpar drafts in the still uncharted Worlds meta, taking them away from the familiarity of their usual LEC opponents' playstyles. Should they adapt, MAD would still be favored to make it to the group stage against the similarly aggressive PSG Talon, but they have to get there first – likely through another best-of-five series.
Celebrating (TCL): SuperMassive Esports
PSG Talon and SuperMassive Esports have surprised onlookers for different reasons. We have already spoken of PSG's predicament, but SuperMassive were expected to play third fiddle behind MAD Lions and Team Liquid. Instead, the time they have spent during the boot camp has helped them prepare devastating drafts and significantly improve their execution – so much that one question looms: "Where was this SuperMassive during the TCL?"
Their Shen-Hecarim combo – usually a LEC trademark – threw INTZ Esports into disarray, as their opponents were unable to match the stream of aggression and side lane pressure they faced. Against MAD Lions, their de-escalation and re-engage abilities showcased a balanced and methodical approach that was leaps and bounds better than their impulsiveness in the TCL, where they primarily skill-checked opponents. Unlike LGD's woes, SuperMassive's success is not solely due to the bo1 setting, but to their meritorious play: they are not a fluke.
Mourning (CBLoL): INTZ Esports
Unlike Turkish League of Legends fans, the passionate Brazilian crowd was dismayed to see INTZ Esports lose their first three games of the tournament in devastating fashion. It would have been one thing if they had taken a one-sided bludgeoning, but their losses hinged upon small details that spiraled out of control: MAD Lions' flanks broke their formation, SuperMassive overwhelmed them during the draft, and Legacy Esports' smart focus on side lane pressure broke their base.
The matter would have been dreadful, but INTZ Esports can still make it to the bracket stage: if either MAD Lions or Legacy Esports lose their next two games, and if they clutch a victory away from Team Liquid, they can force a tiebreaker for a bracket spot. As complicated as things seem, they could be one solid draft away from causing celebration in their home scene. Regardless, should they exit Worlds, they should do so with their heads held high.
Hopefuls (LLA): Rainbow7, Legacy Esports, V3 Esports and the quest for a bracket stage berth
Rainbow7 and Legacy Esports are in laborious situations as they could fall out of contention for a bracket stage spot, but they hold their fates in their hands. Although the mission ahead of them seems tricky on paper, they have the tools to cause serious damage.
Should R7 lose against the Unicorns of Love, their chances hinge upon LGD's complete collapse, or the collapse of V3. However, their victory against LGD may have served as a significant morale booster – one that could lead them to play confidently and brashly against UoL, potentially unsettling their otherwise methodical opponent.
As for Legacy, as long as Team Liquid beats INTZ, they have little to fear. At worst, they would be involved in a tiebreaker scenario involving INTZ, which might lead to another Camille performance from standout top laner Topoon.
Then there is V3 Esports, a squad that could secure its ticket with a victory against the struggling LGD Gaming. However, they would have to showcase the same performance they did against Rainbow7 if they wish to succeed; their stroll to nomanz land against the Unicorns of Love was an experience LJL fans would rather forget – and one to shelve to the recesses of their minds.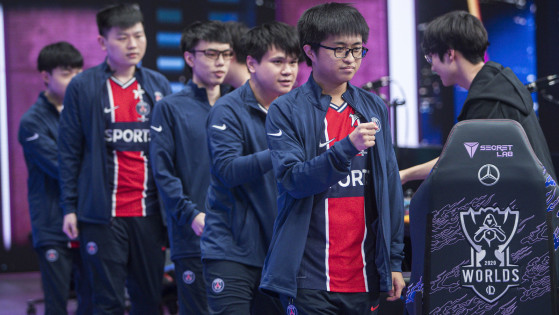 lolesports
In a 2020 League of Legends World Championship meta that has yet to fully solidify, six players unleashed devastating picks to make the difference or come close to on the first day of the play-ins.