Image credits: LoL Esports (LS) / ESL (Polt) - composite
T1, one of the most emblematic organizations across esports, is signing former StarCraft II professional and top-level TeamFight Tactics player Choi "Polt" Seong-hun as their League of Legends head coach for 2021, with coach and color commentator Nick "LS" De Cesare to assist him especially in draft preparation and LoL specific matters. The leak was first reported on reddit.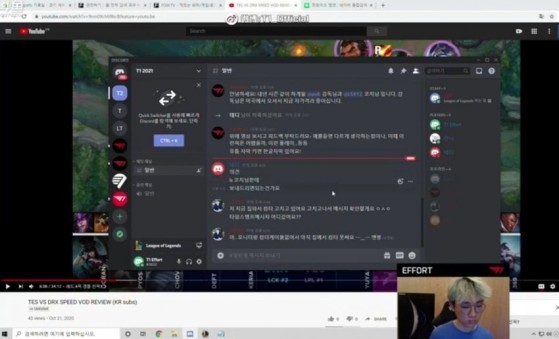 T1's starting support, Lee "Effort" Sang-ho, accidentally leaked the news on stream while reviewing VoDs from the 2020 Worlds matchup between TOP Esports and DRX from the group stage. In a VoD dated Oct. 21, T1's account introduces Polt as the head coach and LS as one of his assistants.
Polt isn't the first player to make the switch from playing StarCraft and StarCraft II to League of Legends, as Kim "kkOma" Jeong-gyun (previously LittleBoy in StarCraft II) stands as the most successful precedent. Other head coach examples include Afreeca Freecs' Choi "iloveoov" Yeon-sung and kt Rolster's Kang "Hirai" Dong-hoon.
Among these former pro players, Polt had the most successful career in StarCraft II with a Triple Crown, a feat that requires consistently high levels of gameplay for an extended period of time. In Polt's case, he was able to win Premier tournaments in Europe, North America and Korea as Terran, and he remained a BlizzCon contender throughout his career until his coming of age for the Korean military service in 2016.
However, his transition to League of Legends coaching comes at a surprising point, as he was asserting himself as a top-tier Teamfight Tactics player - one that broke the meta mid-way through 2020. That is especially noteworthy as he comes without a significant League of Legends background. To that effect, LS's presence may help smoothen Polt's transition into coaching a League of Legends team.
Whether the coaching staff's planned methods would yield fruit, or whether Polt and LS will help T1 reach the heights they occupied on the world stage until 2017 remains to be seen as it is too early to tell. One thing is certain: T1's 2021 season has become significantly interesting after Polt's signing, especially with kkOma's return to South Korea.