November 19th marks the European release of the 5th generation PlayStation consoles, and we were lucky enough to be able to test it before its release. Here's our detailed review of the features, performance, design, and games available at the console's launch.
General informations
Release date: November 19th in Europe, November 12th in the US.
Price: $499 / 499€ / £449 / AU$795
Free space on HDD: 667 GB
Features: Haptic feedback, adaptive triggers, USB-C port, PSVR headset
Services: PS Now, PS Plus, PlayStation Store and Entertainment Apps
Backward compatibility: PS4 (Physical & Digital), not backward compatible PS3, PS2 & PS1
Testing conditions
The console has been tested on a Samsung UE43TU7125 2020 LED TV and a Millenium MD 27 Pro 27 "FullQHD Gaming Monitor.

This test only concerns the PlayStation 5 in its version with the disc drive and its characteristics.
An original and imposing design, but very efficient
The PS5 is quite imposing and will most likely require you to rethink your setup, especially if you want to put it on your desk or next to your TV. The dimensions are: 39cm high, 10.4cm wide and 26cm deep. A rather singular choice on the part of Sony when we know that its rival, the Xbox Series X, happens to be much more compact.
Does the size still have advantages? The answer is yes, because the PlayStation 5 is very quiet, unlike its big sister, the PS4, which is rather noisy when it comes to running demanding games like The Last of Us: Part 2 or God of War.
There's nothing to complain about regarding temperature: the console heats up very little, even when it runs for several hours without interruption on games that require a lot of performance.
It's really comfortable to use a machine that performs so well while emitting so little heat and noise. We'll see whether this is still the case after 1 or 2 years of use.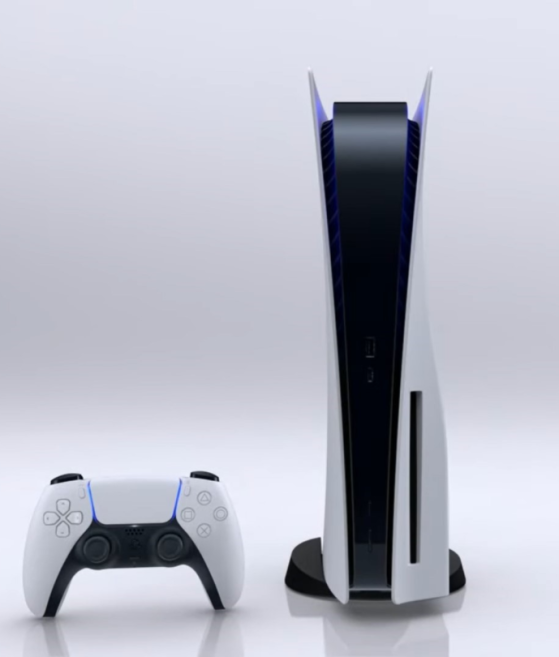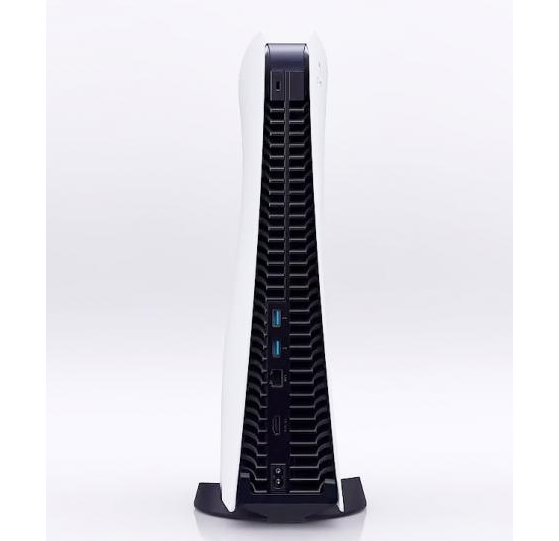 Here are the connections present on the machine: on the front, a USB port to recharge your controller and a USB-C port to use an external hard drive or plug in a smartphone.
On the back, the console will benefit from two USB ports, an HDMI 2.1 connection, an Ethernet socket and a power outlet. Finally, in line with its Ethernet connectivity, the PlayStation 5 is equipped with WiFi 6 IEEE 802.11 a / b / g / n / ac / ax and Bluetooth 5.1 so that it will be ready for future developments in wireless connectivity.
The top of the console is fully dedicated to ventilation with two grids that follow the entire shape.
The DualSense, a next-gen controller
One of the biggest changes Sony has made for this new generation of console is the DualSense controller, which is completely different from the previous generation's DualShocks. It's bigger, a bit heavier, more powerful, but above all much more pleasant to use than the PS4 DualShock.
The shape of the DualSense is reminiscent of the Xbox controllers that have always been popular with gamers for their comfort of use. Sony seeks to show original features with their new controllers, such as adaptive triggers and haptic vibrations, which are well demonstrated in the game Astro's Playroom in particular.
It's difficult for the moment to determine what the real impact of these features will be in most games. However, from what we've seen and felt while playing Astro, these little extra gadgets are quite effective when they are properly highlighted in a game and, above all, consistent in their use.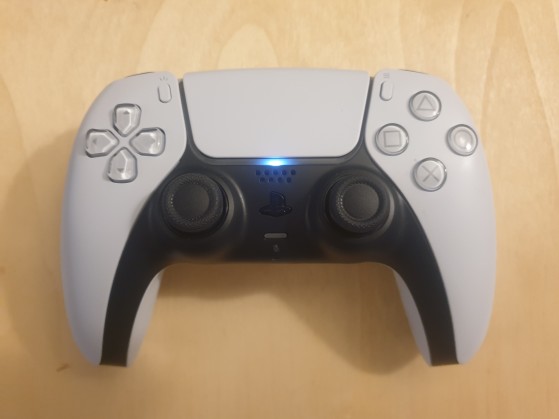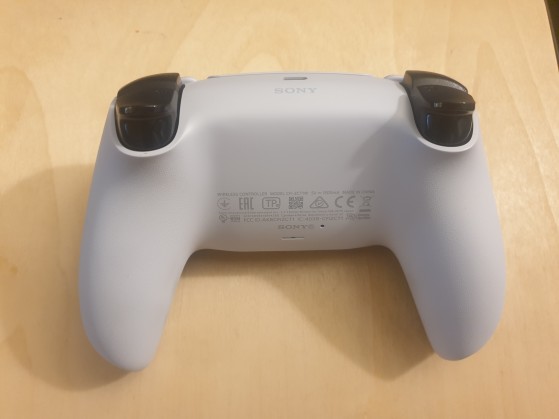 Aesthetically, the controller is elegant and sober, and its shape fits perfectly to the hand. It also has a grip coating under each of the handles, which makes it even easier to hold.
The position of the analog sticks is the same as on the DualShock, which still makes a real difference compared to the Xbox One or X Series controllers. As for the directional cross, it is still very well positioned and will please players who like the cross instead of the stick.
Finally, the controller will be rechargeable only through its USB-C cable and can be used with or without it.
A life-changing SSD
The PlayStation 5 comes with an 8x Core 3.5GHz Zen 2 CPU, one of the most recent on the market, a 10.28 Teraflops GPU (36 CUs 2.23GHz in RDNA 2) — which is a little less powerful than the Xbox Series X, displayed at 12 Teraflops —, 16 GB of RAM and a 825 GB SSD — against 1 TB on Microsoft's Series X.
The SSD allows games to launch faster or greatly shorten in-game loading times. We've seen it on Marvel's Spider-Man: Miles Morales: it only takes us a few seconds to launch the game. The most obvious comparison comes from the PS5 version of Devil May Cry 5 where it takes the PS5 only about 40 seconds to launch the game compared to 1 minute and 30 seconds for the PS4.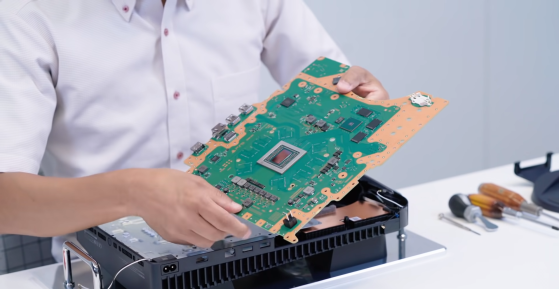 Unfortunately, and unlike the Xbox Series X, the PS5 doesn't have a Quick Resume feature. This feature allows players to launch several games at the same time on the interface and to switch from one game to another in a few seconds. This can be convenient and time-saving for some, while others will think of it as a gadget.
Nevertheless, you can still get ou of a game and get back to it in a matter of 1 or 2 seconds, and it's quite impressive.
Finally, the console's performance is clearly next level, as you see the gain in FPS, the fluidity, and the (almost) total absence of loading time. A good illustration is Spider-Man: Moral Miles, which has no loading time.
Features such as ray tracing or turbo modes will allow you to optimize and choose what you want to focus on.
For example, in Spider-Man Always or Devil May Cry 5, you will be able to choose a Performance mode which will allow you to play with extreme fluidity and constant 60 FPS without ray tracing. You can also play in a graphics-oriented mode, but with constant 30 FPS and ray tracing enabled.
We'll see if the promise of 4K, 60 FPS and ray tracing games will be kept in the future, which is not the case at the moment with "crossgen" games, whether on PS5 or Xbox Series X.
First Party Games & PS4 backwards compatibility
One of PlayStation's biggest strengths has always been their exclusive games. In a few days now, players will be able to try out the first exclusive and first party games for the PS5 with Astro's Playroom, Marvel's Spider-Man: Miles Morales, Sackboy: A Big Adventure, and of course Demon's Souls.
These PS5 exclusive games are a great asset for buyers when it comes to choosing between the two competing consoles. Here, Sony has a major advantage over its rival Microsoft, which doesn't have a first party game at the launch of the Xbox Series X and S, as Halo Infinite has been pushed back to 2021.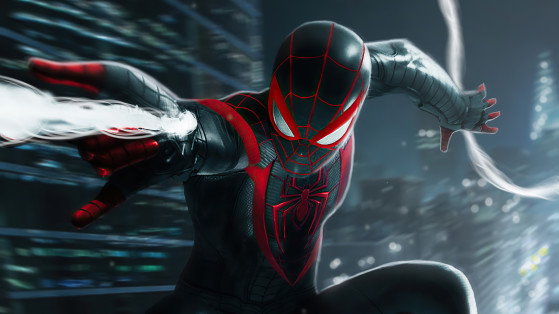 On the backwards compatibility, one of the biggest concerns for players with a large collection of games is whether or not they will still be able to use them on PS5. As promised by Sony, only 10 games will not be eligible for backwards compatibility, and the entire PlayStation 4 catalog will eventually be eligible once the various patches have been applied to the next-gen console.
We had the opportunity to try several of them (Devil May Cry 5, Bloodborne, Crash Bandicoot 4, God of War, Monster Hunter World or Mortal Kombat 11) and we advise you to take into account that, to benefit from the graphic improvements of the PS5 on one of your PS4 games, you will first have to wait for a patch for the game to be deployed on your PS5 and download it. Otherwise, your PS4 games won't have any PS5-related graphics enhancements. You'll still enjoy the performance of the machine, thanks to the new SSD, with shorter loading times and FPS improvements.
An intuitive interface and a top notch Share button
Your game library, on the other hand, will be accessible through the console interface which is marked by several interesting improvements.
First of all, it's much more pleasant and intuitive to navigate than the PS4's, which has very large icons for displaying games and applications. With the PlayStation 5, we end up with a much more minimalist interface, where the game icons used are smaller and allow users to navigate without getting lost in unnecessary menus.
Sony has paid particular attention to the fact that games remain the main element of the console by putting multimedia content (movies, series,...) alongside the games: they remain accessible by just sliding to the right side.
With these reduced displays for icons and menus, we really feel like we're facing an intuitive smartphone interface where everything is quickly accessible. All it takes is a small slide down on one of your games or apps to see details such as trophies, game-related media or content to buy directly from the PlayStation Store.
One of the great improvements in this new PlayStation is without a doubt its ability to capture in-game videos and photos very quickly and intuitively. A simple press on the DualSense Share button will allow you to record videos or take pictures.
The transfer to an external device is done very quickly in two button presses and with very little delay compared to the PS4.
The only downside is the quality of the rendering of a video recording: it's a bit disappointing once the video file is recovered on a PC or any other media.
Conclusion
Despite not being the world's most powerful console, the PlayStation 5 has nothing to be ashamed of and will deliver a gaming experience that's just as good as its rival, the Xbox Series X, esepcially thanks to its high-performance SSD.
It's hard to deny the fact that the Game Pass offer is one of the best on the market and that it will be difficult for Sony to match it if services like PS Now or PS Plus don't evolve in the same direction.
Nevertheless, the PS5 launches with first party games and will always focus on its strengths, i.e. games and the gaming experience. This translates into imminent releases like Marvel's Spider-Man: Morales or Demon's Souls, which alone can justify the purchase of the console, as well as the strong upcoming exclusives that have always been the hallmark of the brand.
The next-gen gaming experience offered by the DualSense controller is also an argument not to be overlooked, as it gives a glimpse of what may be possible in the near or more distant future.
An original and futuristic design
Exceptional SSD performance
PS4 backward compatibility
Very little heat emitted by the console
Very quiet when a game is running
First party games at launch
Very comfortable and next-gen DualSense
The practical and fast Share button
Only 667 GB free for games
The games not eligible for backwards compatibility at launch
Lack of Quick Resume and 1440p
Content translated by Laure Laborde.
playstation
Our colleagues at MGG España took delivery of their PS5, and decided to put together a little video showing you what you can expect when you get your hands on the new console for yourself.