Four games, three wins. LG Divine are showing just why they're the reigning PCS champions, playing some aggressive PUBG that saw them leapfrog their rivals and build an enormous 29 point lead at the top of the PCS3 standings.
PCS3 APAC — Match 5 Results
Match 1 saw LG Divine keep up their record of winning each Miramar game so far, beating out DivisionX Gaming - who had dominated with 11 kills. 
Battle Arena Elites took third in the match, ahead of the Thai pair of Sharper Esport and Magic Esport.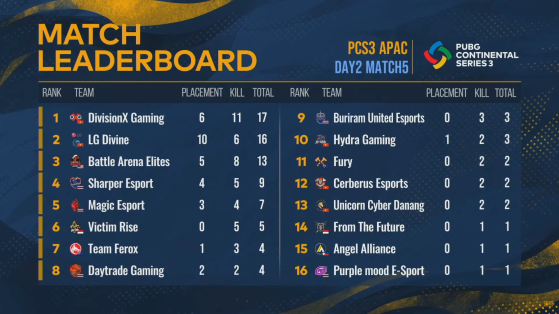 PCS3 APAC — Match 6 Results
LG Divine made it a perfect week on Miramar with another win, taking down Oceania's Team Ferox, who claimed their first podium finish of the tournament. 
Top fraggers FURY could only manage two placement points, but their 11 kills meant the deficit to Divine wasn't as large as it could have been. Battle Arena Elites claimed another high finish with third in the match, ahead of Hydra Gaming.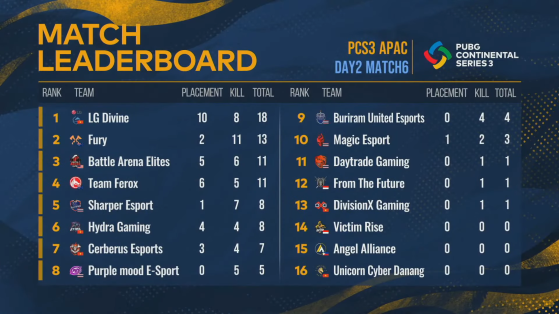 PCS3 APAC — Match 7 Results
While Miramar is an LG Divine stronghold, the Vietnamese side showed they could mix it on Erangel too, claiming their third chicken dinner in a row and fifth win in seven matches. 
They beat out Magic Esports and Daytrade Gaming, while top fraggers From The Future managed four placement points to claim the second biggest points haul of the match.
PCS3 APAC — Match 8 Results
Despite seeking a fourth win to sweep the day, Divine could only manage a single kill as the other teams had the measure of them, dumping them out in 13th. 
In their absence, the win was secured by Cerberus Esports, ahead of Purple Mood E-Sport and Buriram United Esports. 
PCS3 APAC Standings — Day 2
So, after a pretty dominant day from the Vietnamese defending champions, Divine will end the week with a 29-point lead over nearest challengers Buriram United Esports. 
FURY lie just three points further back, tied with Cerberus Esports after that final-match win, while Magic Esport round out the top five.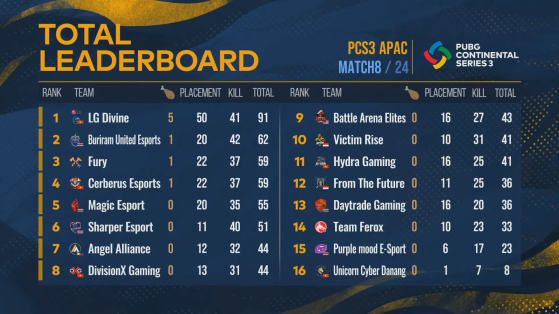 The action resumes later tonight, with Day 2 of PCS3 Europe to round out the first week of PUBG competition.
Check out our guide for more info and where to watch!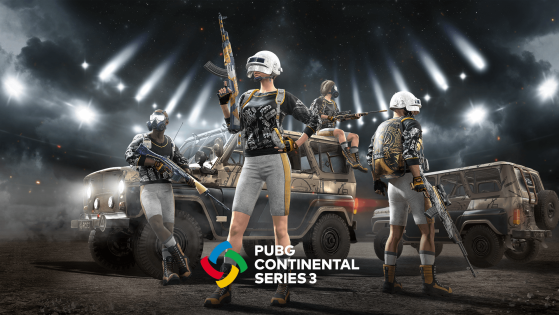 pubg-esports
The final major event of 2020, PCS3 sees the best PUBG teams in the world compete across four regions for a hefty prize pool and regional glory. Here's what you need to know about the schedule and teams before the action gets under way!