Both Apple and Google recently unveiled their best of the year awards, and Genshin Impact, a free-to-play RPG mobile game from miHoYo, topped both lists in the mobile gaming category.
The game had the largest international launch of any Chinese game ever. While most fans of the JRPG sensation are on mobile, it is also available for the PC and the PS4. Genshin is only bound to get more popular once it releases on Nintendo Switch.
Google said that its game of the year "has to exceed expectations and deliver compelling, accessible, genre-defining experiences," and that Genshin Impact does so "without missing a beat."
Genshin has been in the spotlight well before release thanks to comparisons to The Legend of Zelda: Breath of the Wild, however, let's take a look at other notable titles from this year's awards that deserve more attention.
Legends of Runeterra
Apple chose Legends of Runeterra as its iPad Game of the Year. Legends is a free-to-play digital card game released in April on iOS by Riot Games, the same company behind League of Legends. Both games are set in the same universe.
Disco Elysium
Disco Elysium, a post-war RPG about a murder mystery from ZA/UM, is Apple's Mac game of the year. It's an isometric perspective game where the player controls a forgetful detective.
Dandara Trials of Fear
Apple chose Dandara Trials of Fear by Raw Fury as the Apple TV Game of the Year. Dandara is a 2D Metroidvania game featuring a main character that can warp in between white surfaces.
Sneaky Sasquatch
Sneaky Sasquatch from RAC7 was named the Apple Arcade Game of the Year. The game's about, well, it's about a sasquatch that sneaks around and eats stuff. Fairly simple concept but also strangely engrossing, kind of in the vein of Untitled Goose Game.
Spongebob: Krusty Cook-Off
Google chose SpongeBob: Krusty Cook-Off, as its Users' Choice game of 2020. This cooking simulator starring the world's most famous cartoon sponge is free-to-play and features a brand new story created exclusively for the game.
Competitive Games of the Year
Google picked a few games for the Best Competitive Game of the Year. The list includes Smash clone Brawlhalla, top-down shooter Bullet Echo, Witcher card game Gwent, Legends of Runeterra, and The Seven Deadly Sins: Grand Cross.
Best Indies
For the Best Indies category, Google picked action platformer Cookies Must Die, artistic platformer Gris, cute puzzle game inbento, steampunk tile swiper Maze Machina, and community RPG Sky: Children of the Light.
Best Pick Up & Play
For the Best Pick Up & Play game category, Google chose puzzle match game Disney Frozen Adventures: Customize the Kingdom, bubble shooter DreamWorks Trolls Pop: Bubble Shooter & Collection, swipe and combine game EverMerge, the SpongeBob game, and Harry Potter: Puzzles & Spells.
Best Game Changers
Finally, in the Best Game Changers category, Google selected hard to categorize creation game Fancade, Genshin Impact, Minimal Dungeon RPG, text-based minimalist game Ord., and emotional puzzler The Gardens Between.
For a full list of winners, check out the Google Play awards and the Apple awards.
Image Source: miHoYo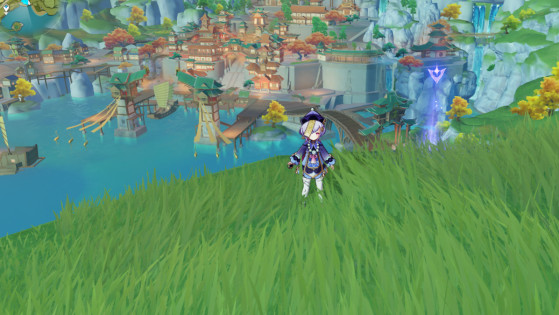 The world of Teyvat is rich in pretty viewpoints, and as such there are several places worth mentioning. Viewpoints will also help keep geographical archives of the places you will visit.