The start of Warzone Season 4 is right around the corner and after several weeks of speculation, Activision has finally unveiled details on the download size for the upcoming update.
Unlike previous seasons, the update is surprisingly small but PC players will need to ensure there is plenty of space on their hard drives in order for the update to install successfully.
Find out the update sizes for every platform below.
Warzone Season 4 Update Size
PS5: 11 GB

PS4: 11 GB

Xbox Series S|X: 11.2 GB

PC: 12.3 GB (Warzone Only) / 13.5 GB (Warzone and Modern Warfare)
PC players will require between 17.1 and 28.3 GB of space in order for the update to copy and install correctly. Once it has installed, space will open up again.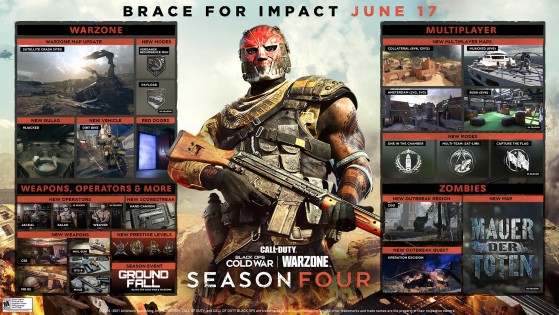 Just days before the start of Season 4, Activision has unveiled the official roadmap of content for the upcoming season of Warzone. Find everything you need to know below!