We all set ourselves different challenges every day to surpass ourselves and achieve the best of ourselves. For Minecraft player Mystical Midget , that challenge was to complete the procedurally generated map of the sandbox survival game while walking. A journey that many fans would have attempted over the years.
The Far Lands
It was on January 31, 2021 that the epic of the Twitch streamer Mystical Midget began. He had set himself the challenge of going, on foot, to the end of the Far Lands area, or Distant Lands as the fans call it, and reaching the end of Minecraft . Finally, the end of Beta 1.7.3 of Minecraft to be exact.
Indeed, the pilgrimage to the "Far Lands" of Minecraft, well known to the most devoted fans, consists in reaching a point of the map, generated in a procedural way, until a sort of bug state that distorts the terrain . This glitch is only present in some of the old versions of Minecraft, and that is why our hero embarked on the adventure in Beta 1.7.3.
Around the world in 516 days
As noted by user Jake Lucky on Twitter, the Twitch streamer Mystical would therefore have managed to go through 32,000,000 blocks. over 2,500 hours of play . This performance will have taken him 516 days to complete until the end, just 3 days after the 11-year anniversary of the Minecraft beta.
Once the exploit accomplished, under the encouragement and the acclamations of its most faithful friends, the game gives way. The game engine begins to struggle to load all the surrounding textures, and the streamer falls through the map, drowning in nothingness, accompanied by the dramatic "oof" of his character who sees his life flash before his eyes, but claps his hands. by its viewers and the rest of the community.
The sacrifice will not have been in vain, since Mythical Midget can now boast of having arrived at the very end of Minecraft, thus following in the footsteps of the legend KilloCrazyMan who had been the first to undertake and complete the journey to the Lands Distant in Minecraft Vanilla.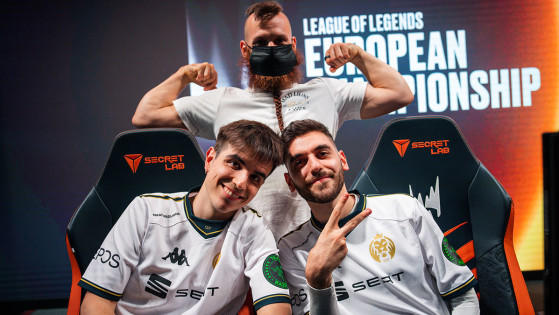 The Worlds of League of Legends are getting closer and closer and teams are booking their tickets one after the other. This weekend, we do not know if there was a promotion, but several competitors have validated their presence in North America.