Finally, the one we were all waiting for — the Main Event of the 2019 League of Legends World Championship is under way, with Groups B, C and D prominently featured on Day 1. By the time the day ended, J Team's performance was the most memorable, causing many to question their Worlds Pick'Em brackets.
J Team's upset sends shockwaves through Group B
In a clash of regional first seeds, J Team (LMS) faced FunPlus Phoenix (LPL) for a chance at frontlining Group B. In a game full of sloppy play and twists and turns from the draft onwards, J Team eventually emerged victorious against all expectations.
FPX paid the price for planning one of the wildest drafts in the tournament thus far: top lane Mordekaiser, mid lane Sion and support Galio. Despite securing early kills and objectives, they were unable to snowball their early advantages, allowing J Team's Chu "FoFo" Chu-Lan (5/1/7) and Chen "Lilv" Chin-Han (7/1/7) to build core items on Akali and Xayah by the 22-minute mark.
From then onwards, J Team dominated team fights around Baron Nashor and the drakes and secured two consecutive Baron Nashors, but that alone did not secure the victory as they botched their game-closing push and surrendered four kills at FPX's nexus. Instead, Lin "Lwx" Wei-Xiang's foolhardy dive (as Kai'Sa) into J Team's back line and his subsequent death sealed his team's fate, effectively gifting his opponents a monumental upset victory.
Other top seeds prevail on Day 1
Faced with difficult games on their first day of action, SK Telecom T1 and Team Liquid reassured their fan bases: Faker cruised over Fnatic, and Impact powered Team Liquid past DAMWON Gaming.
SK Telecom T1 exploited Fnatic's risky draft, as Fnatic lacked priority picks across the board. Indeed, an early Garen/Yuumi bot lane pick met its match in Teddy's flexed bot lane Kayle; so did Ryze against Lee "Faker" Sang-hyeok's Tristana (9/0/8 KDA), and Gangplank against Kim "Khan" Dong-ha's Akali. With Fnatic unable to optimally use Mads "Broxah" Brock-Pedersen's Rek'Sai, SK Telecom T1 controlled the game and delivered a master class on converting team fights into a 35:40 victory.
As for Team Liquid, their team fighting and macro coordination allowed them to best a promising DAMWON Gaming.
The two teams traded blows for the majority of the game. In the early-game, a 9-minute gank from Jake "Xmithie" Puchero's Jarvan IV secured first blood, but Kim "Canyon" Geon-bu and Heo "ShowMaker" Su's Gragas/Yasuo combination worked wonders on Nicolai "Jensen" Jensen at the 10:38 mark. The trend extended to team fights, with a 12:30 2-for-1 and Infernal Drake for Team Liquid was matched with a 2-for-1 and Rift Herald steal for DAMWON.
DAMWON were poised to win after they converted 18:50 Mountain Drake setup into a 4-for-2 team fight, but Jung "Impact" Eon-yeong's Aatrox willed Team Liquid to victory after he scored a solo kill on Jang "Nuguri" Ha-gwon's Vladimir, then led the charge in a favourable team 3-0 exchange and a Baron Nashor takedown.
From there, Team Liquid controlled the game one turret takedown at a time, then forced DAMWON's hand with a 30-minute Baron Nashor setup—a situation Yiliang "Doublelift" Peng converted into a quadrakill on Kai'Sa and North America's first victory in the 2019 World Championship.
Splyce, Royal Never Give Up breeze past opponents
In Group B and D's remaining games, Splyce (LEC) cruised past GAM Esports (VCS) in a one-sided 35-minute victory, and Royal Never Give Up (LPL) moved past a promising yet slightly sloppy Clutch Gaming (LCS).
In truth, Splyce's victory was a showcase for synchronized solo lane play: Marek "Humanoid" Brazda (4/1/0 KDA) spiralled his early-game lead on LeBlanc into full map control, and Kiss "Vizicsacsi" Tamas (1/0/3) controlled minion waves and thwarted ganks on Gangplank. In the meantime, Andrei "Xerxe" Dragomir adapted to GAM's red buff invades with a litany of ganks (1/0/5 KDA, 66% kill participation ratio) and easy objective setups, effectively leading GAM into a 30:28 checkmate.
By that time, RNG dismantled Clutch Gaming in 31:28 of play, securing the game from the moment Clutch's failed a teleport play at the 5:48 mark threw their solo lanes into disarray. From there, Hung "Karsa" Hao-Hsuan's Lee Sin and Shi "Ming" Sen-Ming's Blitzcrank broke Clutch's stalling attempts and objective contestations, eventually leading to a desperate (and failed) Baron Nashor attempt at the 26:30 mark.
Defending champions Invictus Gaming survive Ahq eSports
Invictus Gaming's first game at the 2019 Worlds group stage was a cause for relief as they dispatched Ahq eSports in 29 minutes and 38 seconds of action. However, their performance was not without hiccups.
The first 20 minutes were hotly disputed, with Ahq striking first in the bot lane (2v2) and in a mid lane gank; and with iG striking back with Infernal Drake and two isolated kills.
However, iG captured a permanent lead in a quick sequence: after a Cloud Drake setup led to a kill and a mid inhibitor takedown, they rotated towards Baron Nashor and forced Ahq to respond, securing a 4-0 fight and the game.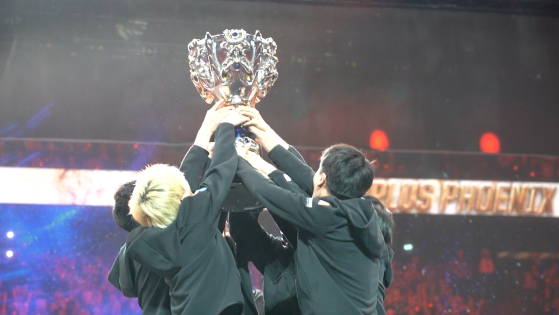 lolesports
It's D-Day! The League of Legends Worlds 2019 Grand Finals just ended with the win of FunPlus Phoenix. G2 Esports failed to achieve the Grand Slam, and lost 0-3 while facing the LPL champions.