The second day of the 2019 League of Legends World Championship group stage lacked the upsets of the first one, but the quality of play considerably rose as SK Telecom T1 and G2 Esports prevailed over Royal Never Give Up and Griffin. In the meantime, Invictus Gaming took the lead in Group B after beating Team Liquid; while Cloud9, Fnatic and DAMWON Gaming scored their first Worlds victory.
SK Telecom T1 sets the tone with victory over Royal Never Give Up
SK Telecom T1 (LCK) set the tone for Group B when they prevailed over Royal Never Give Up in an back-and-forth action-packed game, with Lee "Faker" Sang-hyeok taking the spotlight on Twisted Fate (5/5/8 KDA).
The two teams traded kills and turrets continually starting minute 8, when SKT T1 contested RNG's bot lane pile-in, with both sides scoring three kills each. The game proceeded at a frenetic pace, with RNG's bot lane tower dive on Faker (15:40) answered by a mid lane tower dive on Jian "Uzi" Zi-hao (16:00).
RNG attempted to seal games through Drake and Baron Nashor takedowns, but SKT T1 anticipated such moves and secured advantageous map states through Faker's side lane pressure. RNG's spirited efforts during team fights (such as an ace at the 24-minute mark and a 4-for-1 exchange in the 31st minute) eventually proved futile as their team composition failed to break SK Telecom T1's siege defense, allowing SKT T1 to split-push to victory through a spectacular 42nd minute Teleport backdoor play.
By the time the game ended, SK Telecom T1 secured 10 towers (to RNG's 7) and 18 kills overall (to RNG's 23). In the process, both teams scored numerous highlight plays, turning this game into the best League of Legends showcase in the group stage thus far.
G2 Esports, Invictus Gaming make statements in Day 2 victories
Following SKT T1's victory over RNG, all eyes were on G2 Esports (LEC) to show a comparable level of play against Griffin (LCK). European fans were reassured to see an efficient G2 take center stage, unveiling a scaling team fight composition to dismantle their opponents.
Although G2's draft was markedly ordinary compared to their LEC drafts, they efficiently used Orianna, Kai'Sa, Leona, Elise and Ornn's toolkits to nullify GRF. Marcin "Jankos" Jankowski's Elise ganks (2/1/7 KDA) created favorable conditions for G2's carries to scale unopposed; Rasmus "Caps" Winther's Orianna finished the game with a 3/1/9 KDA in a skill-reliant matchup against Jeong "Chovy" Ji-hoon's Irelia, and a barely endangered Luka "Perkz" Perkovic coasted to an 8/1/2 KDA score.
By comparison, Group D's game between Invictus Gaming and Team Liquid was hotly disputed from beginning to end, with the winner being determined in the final teamfights. Team Liquid's early game and their systematic objective takedowns gave them an edge until iG's team fight composition scaled, with the situation culminating in a post-Baron Nashor 4-0 trade—empowered by Song "Rookie" Ui-jin's Orianna Shockwave.
Garen-Yuumi bot lanes meet varying degrees of success
One of the LEC's masterpieces in the 2019 summer split, the Garen-Yuumi bot lane, contributed to different outcomes on Day 2. Indeed, Fnatic largely owed their victory against Clutch Gaming's team fighting composition to the cat-stick duo; whereas Hong Kong Attitude nearly mounted a comeback against Cloud9 when Garen scaled into a sturdy tank.
Fnatic initially struggled against Clutch Gaming, but the latter's inability to contain Garen and Yuumi spelled disaster when the two teams met during team fights. With crucial help from Gabriël "Bwipo" Rau's Shen and Tim "Nemesis" Lipovsek's Akali, Fnatic's bot lane duo repelled Clutch's assassination attempts and swiftly counter-attacked. The scenario repeated itself enough times that Fnatic recovered from a 3k gold deficit at the 15th minute to beat North America's third seed.
On the other hand, the LMS's third seed, Hong Kong Attitude, faltered against Cloud9 in a back-and-forth game. Cloud9 were unable to translate their strong early-game to a decisive advantage, allowing Unified (Garen) and Kaiwing (Yuumi) to stall the game past Cloud9's power spikes. Although Eric "Licorice" Ritchie's Renekton and Yasin "Nisqy" Dinçer's Irelia reached the less desirable late-game stage, HKA's misplays eventually cost them the game when a 43-minute mark team fight in the mid lane went awry.
DAMWON Gaming wins, not without difficulty
The LCK's third seed, DAMWON Gaming, were still reeling from their loss against Team Liquid in Day 1. Although they had beaten Ahq e-Sports Club on Day 2, they showcased the same slow early-game play that had plagued them the day before. This time around, they met a weaker team-fighting squad.
Ahq e-Sports Club were ill-equipped to contest them in the first 10 minutes, a situation that culminated in a 10-minute mark 4-for-2 in the mid lane for DWG. Although DAMWON conceded a few kills here and there, they destroyed towers at a frightening pace from that moment onward, ending the game in 27:34 of action.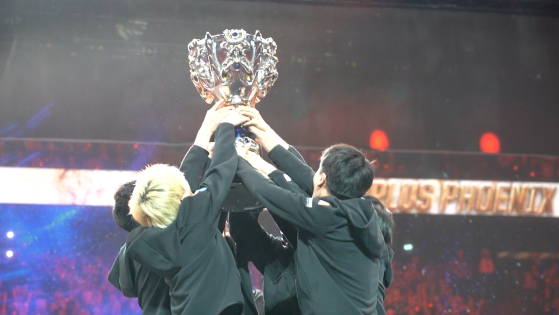 lolesports
It's D-Day! The League of Legends Worlds 2019 Grand Finals just ended with the win of FunPlus Phoenix. G2 Esports failed to achieve the Grand Slam, and lost 0-3 while facing the LPL champions.