G2 Esports primed for Worlds Group A takeover
G2 Esports required a single game to adjust to the World Championship, and Cloud9 paid the price for being their second opponent. Indeed, although G2 won, the North American team showcased solid play around substitute jungler Robert "Blaber" Huang's Elise and top laner Eric "Licorice" Ritchie's Aatrox, especially in the early game.
Cloud9's top side initially matched G2's bot side in aggression, but it was not to last. Indeed, after several roams and duels, G2's mid lane and bot lane conquered Cloud9's for good by the 12-minute mark. There was little C9 could do to recover against Rasmus "Caps" Winther's Zoe (6/0/10), Luka "Perkz" Perkovic's Xayah (11/3/6) and Mihael "mikyx" Mehle's Rakan (2/1/21, 92% kill participation ratio).
G2's domination was unlike anything seen at Worlds thus far: their 24:33 game time was the fastest at Worlds by Day 3's end, their 26-13 kill difference and 53.6k to 39k gold gap the biggest.
Baron Nashor steals earn Team Liquid, FunPlus Phoenix narrow victories
Top regional seeds Team Liquid and FunPlus Phoenix were on the backfoot against Ahq e-Sports Club and Splyce, and they owed their victory to heroic Baron Nashor steals.
Ahq's composition equaled (and sometimes overcame) TL's through Ziv's Rumble, Alex's Sylas and Rainbow's Qiyana. As the two teams frequently met around major objectives, they frequently traded team fights, with Ahq starting to pull ahead at the 28th minute through picks and better execution.
However, their reckless aggression harmed their ability to close the game, long enough for Jake "Xmithie" Puchero to steal Baron Nashor and secure Elder Dragon at the 38-minute mark. The dangerous buff combination rendered Ahq's last-ditch team fight attempts futile, and allowed TL to close the game at the 41-minute mark.
As for FunPlus Phoenix, they met a resourceful Splyce and a quirky draft, with Kobbe opting into Veigar. The pick initially worked as it denied FPX team fighting avenues, but Splyce eventually lost the game when they botched a Baron Nashor setup, allowing Tian (on Lee Sin) to steal it and set up a game-winning team fight at the 27:45 mark.
FPX eventually secured a consequent 7k gold lead with Baron's buff and chipped away vision from Splyce, forcing their opponents to react blindly when the mythical creature respawned at the 33rd minute. Splyce's lack of information came to haunt them as their opponents picked them apart, with the game ending shortly afterwards.
GAM Esports, Griffin score radically different first wins
VCS representatives GAM Esports and the LCK's Griffin scored their first victories in the 2019 World Championship group stage, but each victory wildly differed in circumstances.
GAM Esports' victory over J Team was bloody, as their comfort picks (Nocturne, Kled, Kai'Sa and Akali) came to use in ambushes and all-out brawls. Trần "Kiaya" Duy Sang set the tone at the 3:40 mark on Kled, as he narrowly outdueled Chu "FoFo" Chun-Lan's lethality Lucian, allowing him to lane much smoother and, therefore, roam freely later on.
GAM's pile-up composition occasionally showed weaknesses whenever misplays occurred, but J Team's response kills would not be enough to deal with their scaling. Unable to outperform their opponents in team fights, with the game's outcome sealed in a 36-minute mark 5-for-2 ace and a successful Baron Nashor bait at the 38th minute.
On the other hand, Griffin's first win of the tournament was not without its fair share of low points, starting by Hong Kong Attitude's correct scouting of a Level 1 invade and the ensuing 3-0 fight. The botched invade slowed Griffin down in the early-game in the top and bot lanes, but did not affect the mid lane and jungle negatively as Chovy's Ezreal and Tarzan's Lee Sin outdueled HKA's Akali-Rek'Sai mid-jungle duo.
Chovy and Tarzan combined their efforts to stall the game, allowing Griffin's poke composition to scale slowly but surely through major item power spikes. HKA's lack of initiative in the early-game and mid game eventually came to hurt them when Sword's Jayce and Chovy's Ezreal were able to chip HKA's turrets and health bars slowly but surely, eventually winning the game after 37 minutes of play.
DAMWON Gaming outlast Invictus Gaming, blow Group D wide open
DAMWON Gaming faced the threat of falling behind Invictus Gaming and Team Liquid, and a loss would have been disastrous. Although they secured a commanding lead in the early-game and mid game in the bot lane and mid lane, they lost their mid lane inhibitor first, when Leyan's Gragas landed a perfect ultimate, picking apart DWG's carries.
However, iG's subsequent misplay at Baron Nashor plagued them for the rest of the game. Indeed, minute mistakes provided DWG the ability claim Baron and Elder Dragon in quick succession. Their tower siege potential around Nuguri's Jayce and Nuclear's Kai'Sa, and their team fight potential with ShowMaker's Kayle eventually yielded fruit, as they brought down the mid lane inhibitor (36:40) and nullified iG's last stand. Their victory allowed them to enter a three-way tie with Team Liquid and Invictus Gaming, significantly raising the stakes in Group D.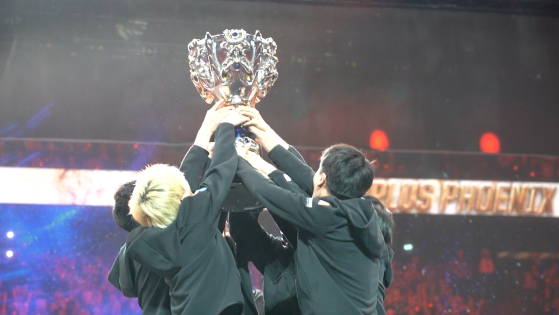 lolesports
It's D-Day! The League of Legends Worlds 2019 Grand Finals just ended with the win of FunPlus Phoenix. G2 Esports failed to achieve the Grand Slam, and lost 0-3 while facing the LPL champions.