Griffin take over Group A after beating G2 Esports twice
Although Griffin were 2-1 when the day started, their quarterfinal qualification was not guaranteed as Cloud9 (then 1-2) threatened their aspirations. Fitting, then, that they disposed of the North American team in the first game of the day, doing so in emphatic fashion.
Griffin leveraged a strong early-game composition to thwart Cloud9's global-filled composition with a Kayle core, and Tarzan's early-game pathing on Elise is to credit. By the time the game reached the 4:30 mark, the Korean team secured leads in the solo lanes through ganks, and Sword (Akali) and Chovy (Camille) snowballed those advantages.
Despite the setback, Cloud9 attempted to reverse the tides at Rift Herald on the 11-minute mark, only to lose the game for good in a 4-for-0 trade that showcased GRF's early-game power. By the time the game ended at the 23:51 mark, the Korean team held a 21-1 kill lead, 9-0 turret advantage, and still held Baron Nashor's buff.
Following their victory, and G2 Esports' victory over Hong Kong Attitude, Griffin's qualification to the quarterfinals was no longer in question. However, victories in their remaining games would give them the opportunity to capture Group A's first seed away from G2. After winning their game against Hong Kong Attitude, that possibility became real. So they did, in two games: the last regular game of Group A, and a tiebreaker.
In the first confrontation, Griffin were handed comfort picks in all five lanes on a silver platter. Thus, they loaded the game with Sword's trademark Jayce, Tarzan's lethal Qiyana, Chovy's Akali, Viper's Kai'Sa, and Lehends' signature Shen. Griffin pinned down Jankos (Lee Sin) very early, then eliminated Wunder (Kayle) and mikyx (Gragas), disabling their impact from minute 11 onward. G2's effort at the 14:40 mark belied overzealousness, which the Korean team exploited, leveraging the situation into a litany of picks, a 23-minute Baron Nashor, and a swift 27-minute victory.
Their second confrontation was even more one-sided despite G2's pick denials on Shen, Jayce and Qiyana, with Tarzan's Lee Sin taking over early on. As Tarzan roamed and ganked, G2's hopes at activating a poke composition faded to nothingness. Griffin's constant aggression and objective control overwhelmed G2, who capitulated after 28 minutes of action.
Griffin reminded onlookers at large of how monstrous they were in best-of-one and best-of-three scenarios. Indeed, they dominated the regular season in the spring and summer splits over SK Telecom T1, DAMWON Gaming and many others. However, their best-of-five form has been lackluster as they have lost three times in the LCK finals (in three participations), making their first-seed qualification more desirable as they will likely face an easier opponent.
As for G2 Esports, their experiments backfired horribly to the Berlin crowd's dismay. Call it G2 Esports experimenting, or GrabbZ's fault, and it wouldn't change the outcome of Group A's first-seed battles. Indeed, G2's flaw on Day 6 was to allow Griffin to play their game as they are most comfortable playing, and to attempt the implementation of two distinct playstyles (scaling, poke) without success.
Perhaps those preparations would help them against prospective first seeds, such as FunPlus Phoenix, SK Telecom T1 (if they repeat their performance in the first four days), and Group D's winner.
However, it would be a mistake to draw conclusions on G2's level of play in best-of-one faceoffs, as they excel in preparation for best-of-five series, owing to their absurd flexibility. Besides, Griffin's early-game festival may allow them to plug some holes in their play there.
Outmatched Cloud9, Hong Kong Attitude bow out of Worlds
On the other hand, Cloud9 and Hong Kong Attitude's hopes for a quarterfinal showing died during the first two games of Day 6. With nothing to play for—save competition itself—Cloud9 unleashed Blaber and Deftly to capture a victory over HKA and secure third place.
In the end, Cloud9 were unable to replicate their miracle runs from 2017 and 2018, where they reached the quarterfinals and semifinals, as they faced stiffer competition than in the last two years from their group. As for Hong Kong Esports, the LMS's third seed, they were massively outmatched, losing six games out of six.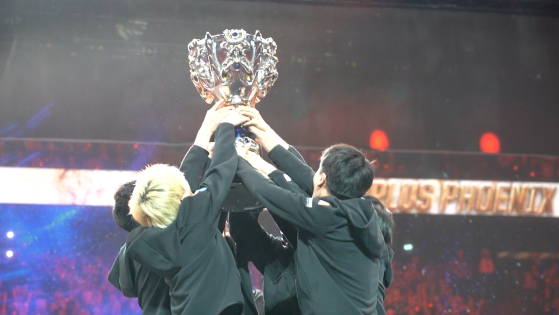 lolesports
It's D-Day! The League of Legends Worlds 2019 Grand Finals just ended with the win of FunPlus Phoenix. G2 Esports failed to achieve the Grand Slam, and lost 0-3 while facing the LPL champions.