Fnatic's 3-0 sweep in the group of death puts first seeds on notice
Fnatic's emergence on Day 7 is a callback to their 2017 exploits, when they qualified to the quarterfinals after going 4-1 (tiebreakers included) in the second week. This time around, they needed no tiebreakers, as their 3-0 sweep allowed them to grab second place. However, it was not easy.
Fnatic showed two sides to their gameplay: a horrendous one plagued by an inflexible and exploitable draft, and their far more fluid ways that caused G2 Esports collective headaches in two straight best-of-five series. Against Clutch Gaming, they adopted the NA ARAM ways as their composition did not allow for split pressure, and as Clutch pressured them and fought them, with the final kill score stopping at 25 apiece. Fnatic's sloppy play in the early and mid game team fights nearly doomed them, but they won in 48:36 after Clutch made the most questionable macro decision of the 2019 World Championship: leaving their base open for a "backdoor" attempt.
Their more efficient side appeared in a 26-minute long game against SK Telecom T1 in brutal fashion, as they showcased Veigar's efficiency against team fighting compositions through the area-of-effect Event Horizon (E) stun and his high damage output when farmed. The game initially started with Zdravets "Hyliisang" Iliev Galabov dying twice in five minutes, but Fnatic recovered through Mads "Broxah" Brock-Pedersen's Gragas with two counter-dives: in the top lane (7:20) and a 2-0 in the mid lane (10:30).
SKT T1's recklessness grew over the course of the game, and Fnatic took control of the game for good at the 14-minute mark when their opponents' plays backfired across the map—and as Tim "Nemesis" Lipovsek's Veigar solo-killed Lee "Faker" Sang-hyeok's Akali.
From there, Fnatic's sole remaining task to qualify was to beat Royal Never Give Up, and they received a dreamy composition full of comfort picks: Nemesis's Cassiopeia (2/0/4), Broxah's Gragas (2/0/6), Martin "Rekkles" Larsson's Xayah (5/0/4) and Hylissang's Pyke (1/3/5) entered the fray and took over the game. RNG fought valiantly, but as their structures fell gradually over 32 one-sided minutes, so did their hopes. In the end, Fnatic's execution during team fights nullified RNG's attempts at initiating them, and the home crowd celebrated their qualification to the quarterfinals.
SK Telecom T1 outlast Royal Never Give Up, Clutch Gaming
Although SK Telecom T1 lost to Fnatic, they secured first place through their victories over RNG and Clutch Gaming. Against China's #2 seed, Baron Nashor takedowns and Kim "Khan" Dong-ha's Gangplank barrels decided the game's fate. In the 22nd minute, RNG secured Baron Nashor and promptly took down five towers by the time it respawned. However, Khan's barrel placement flipped a team fight around Baron Nashor (28:40) and secured the buff and a 2-for-1 exchange. The game eventually ended after SKT T1 secured a team fight in the mid lane at 34:30, as Teddy's Kai'Sa and Faker's Ryze tore through RNG's ranks for a 5-1 ace.
From there, SKT only needed to win one game to secure first seed, and they did so against Clutch Gaming. By the time the game reached the 10-minute mark, Clid (Elise) activated every single lane through ganking. The early-game lead spiraled out of control as SKT T1 killed four turrets with little opposition, leading Clutch to attempt two desperate Baron Nashors in a row. Clutch lost four players but secured Baron Nashor in their first attempt (24:07), stalling the game as much as they could. However, their second attempt led to defeat, as Clid's Elise stole it (30:26), and as SKT T1 used the buff to power through their opponents' nexus (33:03).
Royal Never Give Up, Clutch Gaming collapsed
RNG and Clutch illustrated two ways a team could collapse: the Chinese team fell after a tough second week, as Fnatic and SKT T1 streaked past them; and the North American team bowed down in a 0-6 showing.
Outmatched as they were, Clutch pushed Fnatic to the brink through clever drafting (Glacial Augment Heimerdinger and Pyke in the bot lane for guaranteed picks), and RNG through skirmishing and side lane pressure. Ultimately, their attempts fell short during team fights, as Langx's Aatrox (RNG) and Rekkles's Xayah (FNC) turned the tides and drove their teams to victory.
As for RNG, they exit the tournament raising questions around the tournament seeding's format. Indeed, many claimed, for good reason, that Group C contained three Worlds contenders and was significantly more difficult than the other groups.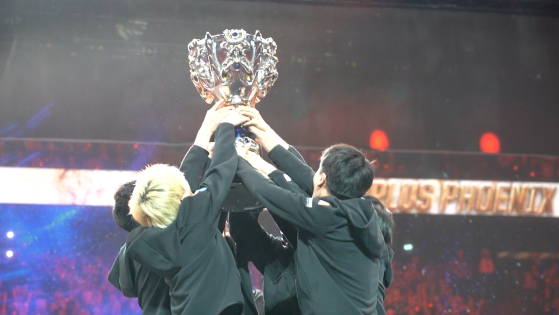 lolesports
It's D-Day! The League of Legends Worlds 2019 Grand Finals just ended with the win of FunPlus Phoenix. G2 Esports failed to achieve the Grand Slam, and lost 0-3 while facing the LPL champions.