DAMWON Gaming secure top seed in Group D
DAMWON Gaming's journey in Day 8 was smooth sailing, as they dispatched Ahq e-Sports Club, Invictus Gaming and Team Liquid. Although their opponents presented distinct challenges, DAMWON swept their games on Sunday and emerged first with a 5-1 record.
Team Liquid, one of the teams with the highest Drake focus, tested DAMWON's ability to contest objectives. DAMWON passed the test with flying colors as they claimed five dragons in a row, the first one in the 5:53 mark, and built their leads off ensuing team fights. Their Baron Nashor takedowns and team fights brought the finishing touches to a one-sided victory.
Later on, Invictus Gaming tested their ability to recover from early-game deficits. There, the Korean team used Heo "ShowMaker" Su's Akali to great effect as the player's roams allowed him to score kills, rebalance an otherwise lost top lane, and free his bot lane to force a macro stalemate. Eventually, the two teams exchanged blows at Baron Nashor's pit at the 28-minute mark, and DAMWON emerged victorious in a bizarre sequence of events, taking the game shortly afterwards.
The sole test Ahq provided the Korean team was whether they were capable of scoring a perfect game. Although they failed, they came incredibly close, failing only in the kill department. See for yourself: DAMWON held a 60k to 43.5k gold lead, scored 13 kills to Ahq's two, and destroyed nine turrets (to Ahq's zero) in 29 minutes and 25 seconds of action.
Ning, Invictus Gaming take revenge against Team Liquid to qualify
Invictus Gaming's decision to start Ning over Leyan proved decisive against Ahq e-Sports Club, but they still lost against DAMWON Gaming. Nevertheless, that loss proved a blessing in disguise, as it warmed them up for their ensuing demolition of Team Liquid.
Ning's Worlds debut against Ahq was cause for celebration, but his opponents struck first with a 5-minute gank in the mid lane. However, his Olaf and Rookie's Orianna scaled into their first-item power spikes, with Luden's Echo and the Skirmisher's Sabre: Warrior enchantment allowing the mid-jungle duo to pack a punch during jungle invasions (16:05), contest and secure Rift Herald, then destroy an inhibitor upon using it.
Eventually, iG secured the game for good with a Baron Nashor takedown (23:45) and methodical tower destruction. By the time the game ended at 32:35, iG had secured 11 towers and the nexus (to Ahq's two towers) as well as a 10k gold lead (62.7k to 52.4k).
The Chinese #3 seed's loss to DAMWON Gaming forced them into a win-or-die scenario as they faced Team Liquid with Group D's second seed in play. Judging by their play, there was little to worry about for their fan base as Song "Rookie" Ui-jin's Qiyana crushed Nicolaj "Jensen" Jensen's LeBlanc starting a 4:32 solo kill. From there, Rookie roamed and secured leads for TheShy (5:27), then prevented his bot lane duo's demise by matching Jensen's roam (8:07, alongside Ning's Gragas).
Try as they might to reverse the outcome, Team Liquid could do little to slow iG down, with a siege defense attempt at the 17:40 mark leading to their demise. Ultimately, the Chinese team claimed its revenge from the Mid-Season Invitational after a blazing-fast 24 minutes of action, with a brutal 18-4 kill score.
Team Liquid's quest for a Worlds playoff run continues
Although Team Liquid entered Day 8 with a 2-1 score, their run in the final stretch was a harsh fall from grace. Once regarded as a possible contender for first place in the group, the North American #1 seed bowed out to two #3 seeds and looked outmatched.
The event marked the third time that Yiliang "Doublelift" Peng ended a Worlds run with a 3-3 record and did not advance further, the first time since 2015 than Jensen failed to advance past the group stage although he still scored NA's best run at Worlds with a 3-3 record, above Cloud9's 2-4 and Clutch Gaming's 0-6.
Team Liquid's sole silver lining in the tournament was their 2-0 record over LMS #2 seed Ahq e-Sports Club, which looked out of sorts in a group out of their reach. With the LMS's upcoming merger to Southeast Asia's LST, things are bound to change there; but the same cannot be said of North America, which has had its worst showing since the 2015 World Championship—also held in Europe.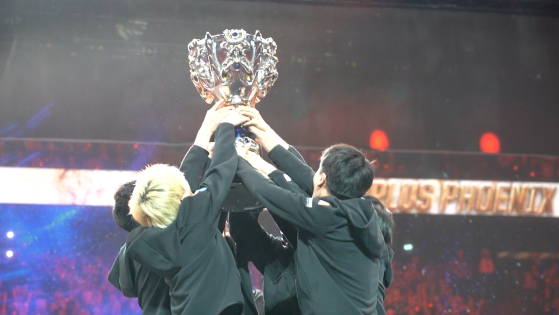 lolesports
It's D-Day! The League of Legends Worlds 2019 Grand Finals just ended with the win of FunPlus Phoenix. G2 Esports failed to achieve the Grand Slam, and lost 0-3 while facing the LPL champions.