Invictus Gaming rise above expectations, trounce Griffin
LPL third seed Invictus Gaming entered the quarterfinals with relatively few expectations despite claiming Group D's second seed, unlike their opponents of the day, LCK second seed Griffin. Griffin's rally to claim the top seat of Group A seemed to squash all doubts regarding their ability to operate under pressure, as the organization is in turmoil off the rift.
By the time the series ended, Invictus Gaming rose from the ashes and claimed a decisive 3-1 victory, stunning onlookers at large. Indeed, besides some missteps, the iG of old has returned with TheShy and Rookie playing at their peak.
In Game 1, iG successfully dealt with Griffin's bruiser-heavy composition (Poppy, Gnar and Garen-Yuumi) by stalling the game to the best of their abilities to allow JackeyLove's Kog'Maw to scale, and by grouping around objectives. Although they were unable to contest an early dragon, they secured an ace around Rift Herald at the 15:30 mark and secured an ace, with JackeyLove securing a triple kill.
Although Griffin's damage control stalling efforts paid off for 15 more minutes, with skirmishing playing an important role in that, iG's team composition outscaled theirs as made obvious in a pre-Baron Nashor team fight at the 31-minute mark, with JackeyLove grabbing a quadrakill this time around. Despite their best efforts, Griffin were unable to match iG during team fights and eventually conceded Game 1 after 43:52 of action.
Game 2 started on a different tone, as Griffin secured an early bot lane lead and leveraged it towards early and mid-game map control, and they held the upper hand in many skirmishes. Despite that, iG were able to force a macro stalemate; despite their team fight losses, they successfully contested Griffin's snowballing attempts at every turn, forcing recalls and controlling minion waves.
Eventually, their Kayle-Kai'Sa core scaled and turned the game around in a Baron Nashor fight in the 25th minute, with every fight thereafter using a combination of Kayle's immunity and Kai'Sa's deep dives, until iG's nexus yielded after 34 minutes of action.
Unlike the first two games, Game 3 was a Griffin show. Despite finding themselves with their backs against a wall, Griffin unleashed Chovy's mid lane Sion to great effect during team fights and claimed objectives left and right.
Although iG held strong and stalled, they were unable to prevent Sword's Kayle and Viper's Xayah from scaling off minion waves. In the 32nd minute, both teams met between the mid lane and Baron Nashor and fought with the game's outcome in the balance; thus, Viper's Pentakill spiraled into a Griffin victory.
As it turned out, Griffin had fought their last, as Game 4 proved extremely one-sided. Within 12 minutes, Ning's Gragas secured advantages to TheShy's Kayle and Rookie's Aatrox, both heavily factoring into an early Rift Herald fight shortly after. With every lane securing a lead, Griffin were forced to watch as their team fights brought defeats upon defeats, and as the nexus eventually exploded at the 25:38 mark.
FunPlus Phoenix outmatch Fnatic 3-1, put world on notice
Although FunPlus Phoenix (#1, LPL) were initially dismissed as a one-dimensional team hailing from a group many regarded as the easiest, they made short work of Group C's second seed, LEC's #2 team Fnatic, in four games. Their continual punishment of Fnatic's mistakes and their all-around play allowed them to claim the series and to face Invictus Gaming in the semifinals. As a result, there will be an LPL team in the World Championship finals for the second year in a row.
Game 1 may be remembered as one of the oddest in the World Championship as Fnatic drafted Garen-Yuumi and top lane Rengar, and as both teams nearly came to blows around Fnatic's blue buff—the only time a buff reset caused crowd cheers to date.
Although Fnatic secured first blood in the top lane and secured advantages in the side lanes by minute 12, their overextension in a bot lane diveallowed Doinb's Ryze to scale more confidently, and for Lwx's Xayah to become a factor after being shut down early on. By minute 18, after a wild skirmish, FPX spiraled the ensuing 2k gold lead out of control, and no amount of individual plays would reverse the outcome—a 26-minute FPX victory.
Game 2 was all about Fnatic's mistakes and proved even more one-sided despite a strong Level 1 invade of FPX's blue buff. Indeed, a 4v3 bot lane dive (5:50) escalated into a 4 for 1 in FPX's favor, with Lwx's Varus picking all four kills and securing a Blade of the Ruined King within three minutes of that play. Later, an overzealous Fnatic dive in the mid lane set Rekkles's Kai'Sa even further back, with Tian's Gragas Explosive Cask activating Doinb's Kayle for scaling. With Crisp's Tahm Kench thwarting ambush attempts on Lwx's Varus, Fnatic could do nothing but wait for their base to fall in shambles after 24 minutes, with an 18-3 kill score for FPX.
Fnatic's fans experienced a moment of respite in Game 3 as their team turned fights around one at a time, starting an 11:43 teleport sequence. As Fnatic played around Nemesis's Veigar and Rekkles's Kai'Sa, they secured fight after fight, eventually leading to a bot lane inhibitor and a quirky (aborted) base race situation at the 18-minute mark. Despite Doinb's best efforts on Ryze to stop two nexus sieging attempts in a row, Fnatic prevailed after 27 minutes of action, with Hylissang's three-man Alistar knock-up standing out in the final team fight.
However, Fnatic's hopes were not to last, as FunPlus Phoenix swiftly retaliated. After shutting down Bwipo's Kayle, they enabled Doinb's Ryze and Lwx's Varus through multiple mid lane skirmishes, with GimGoon's Camille and Tian's Gragas setting up team fights, and with Crisp's Tahm Kench serving as an insurance policy. Despite a 15-minute bot lane inhibitor turret takedown, Fnatic stalled and put themselves at equal footing—until they overextended in a choke point at the 27-minute mark. From there, FPX dealt death, damaged towers and stood unopposed towards the Worlds semifinal.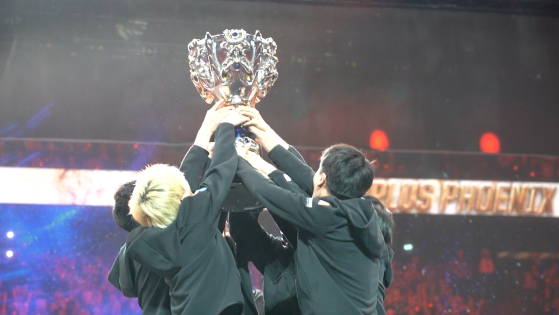 lolesports
It's D-Day! The League of Legends Worlds 2019 Grand Finals just ended with the win of FunPlus Phoenix. G2 Esports failed to achieve the Grand Slam, and lost 0-3 while facing the LPL champions.