League of Legends World Championship just ended, concluding the 2019 Season with the coronation of FunPlus Phoenix. On the other side of the Atlantic, LCS teams are already getting ready for the upcoming season.
100 Thieves, the esports organization founded by Nadeshot continues to build his roster for the upcoming season with the introduction of its new Head Coach Tony "Zikz" Gray, two months after welcoming Chris "PapaSmithy" Smith as General Manager.
With Counter Logic Gaming, where he made his debut in 2014 as an analyst, Zikz won two LCS championships and was a finalist at MSI 2016, before joining Team Solo Mid last year. He finished a neutral season, finalist of the Spring Split and outed from the Summer playoffs in the first round by Clutch Gaming. More recently, it was against Huni's team, who has just extended his contract with Dignitas, that Zikz's qualification for the 2019 Worlds was compromised, defeated three by two in the regional final.
In a long video format alongside PapaSmithy, Zikz says it was an "easy decision for him to make" when he joined the Thieves. Next to him, his new General Manager talks about his ambitions when recruiting the TSM — his "number one choice" — coach for the 2020 season,
"I wanted a North American coach who knows the scene really well, that has player respect."
It was also an opportunity for the 26-year-old coach to explain his philosophy to Thieves fans in video, in which he gives a lot of importance to trust between himself and his players, before demonstrating his qualities as an analyst since his debut.
Champions in last year's first-ever split in the franchise's history, Thieves finished a sporty 2019 season — last in Spring and eighth in the Summer Split in LCS. This is an alarming situation for one of the most media-intensive structures in the United States, which is reassuring for many fans as the transfer window begins.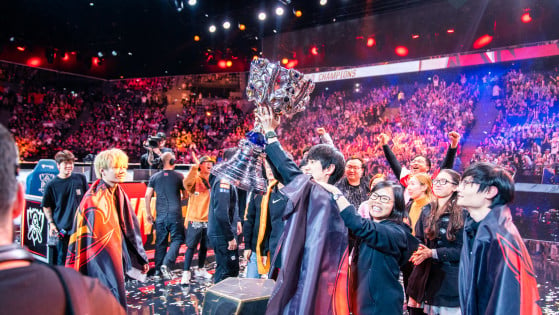 lolesports
FunPlus Phoenix and G2 Esports, the two top teams of the 2019 summer split and of the tournament, faced off for a chance at lifting the World Championship trophy. It was a one-sided affair: FunPlus Phoenix rose victorious 3-0 and lifted the Summoners' Cup for 2019.