In the middle of a sweltering summer in so many ways, Devolver Digital and Mediatonic are bringing us a most refreshing game — reinventing the concept of battle royale in a title as cute as it is colorful.
Fall Guys is a good slice of fun with friends, à la Takeshi's Castle or It's a Knockout. Between dodging giant lollipops, diving in extremis to avoid being swept away by a propeller, here's our take on this fun new title.
Genre: Party Game / Batle Royale
Release date: 08/04/2020
Platform: PS4 / PC
Developer: Mediatonic
Publisher: Devolver Digital
Price: $19.99
Tested on: PC
Caution: Non-fatal fall
Fall Guys invented the non-violent battle royale. There are no gunshots, no devastating spells, and no explosions. While publishers have been relying for years on games where we are dropped from the sky to survive in a hostile environment, Mediatonic reshuffles the cards and asks us to cross the finish line before our little comrades — all in a childish and ultra-cartoony setting.
The notion of the sacrosanct "Top 1" remains (as you need to be the last one standing to win), and that is rather a good thing because Fall Guys encapsulates perfectly the essence of the battle royale: the tension, the heart rate increase when the noose tightens and the number of competing players decreases, and so on.
Fall Guys remains above all a party game: the goal is to have a good laugh, if possible between friends. Note that Fall Guys is actually made up of several mini-games intended to filter down the participants. Here, versatility and adaptation to the tests are the keys.
Dream physics
We want to draw your attention to the physics of the game, which are absolutely essential and complex on courses which bring together up to 60 players and where the obstacles are numerous and diverse. Propellers rotating at high speed, small eggs struck by a horde of mad players, large stone balls rolling down a slope, balancing platforms, and so much more.
Everything works pretty well, and it is extremely rare to experience physical bugs. However, during clashes between players, you can sometimes be propelled awkwardly far. It's a bit annoying when you find yourself thrown like a ball for several meters when you have barely received a flick on the nose.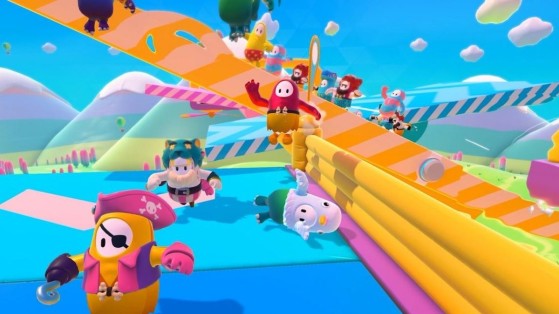 Herd instinct
A good number of mini-games are clever cocktails between cooperation and every person for themself. Some simple steps — on paper — can be real nightmares as players, guided by their survival instincts, tend to make the worst possible decisions. In game, this results in colossal piles of Fall Guys in certain places and in vast collective falls. It's a little ridiculous, but it's awfully funny.
Some mini-games (football, collecting eggs, jumping through hoops) are played in teams. You'll be forced to cooperate with allies (often unknown) for the duration of the test. Rest assured, even in these trials, there is no in-game chat: there may be anti-gaming in Fall Guys (battle royale enthusiasts will talk about griefing, i.e. intentionally interfering with the experience of a particular player), but no verbal toxicity! Hooray!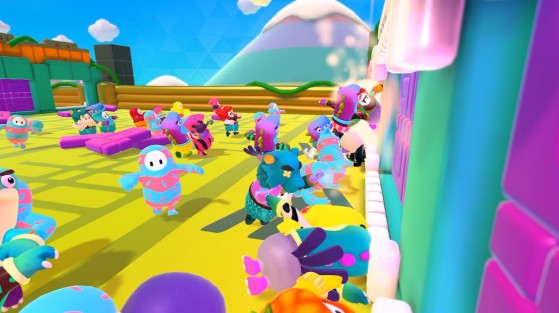 The game's development teams likely weren't expecting such success at launch. An unpretentious party game, Fall Guys is innovative, for all ages, funny and terribly intoxicating. It has everything it needs to compete with the major multiplayer titles of our time. Well, maybe not everything, as it lacks some ingredients to enter the big leagues such as private servers, a map editor, and a ranked mode. But that's a minor detail which will only concern a minority of the most assiduous and competitive players. The gist is already there, and that's exactly what we have needed in these strange times to release the pressure and just have a good laugh.
Much more skilled than you think
Laughter guaranteed, especially if you're playing with friends
We find the rise in intensity specific to battle royale titles, over the course of the game.
Very generous Fall Guy customization system
Very inventive in the different playable maps: none are alike
A crazy potential, an infinity of possibilities in its future development
The menu music tends to be annoying
Some imperfections in the physics of the game, during big melees or collision when jumping
Can be frustrating, especially if you come across a player who is only there to intentionally annoy others
Lack of some god tier features, such as a map editor
Original content by Romain "Zorg" Becquelin.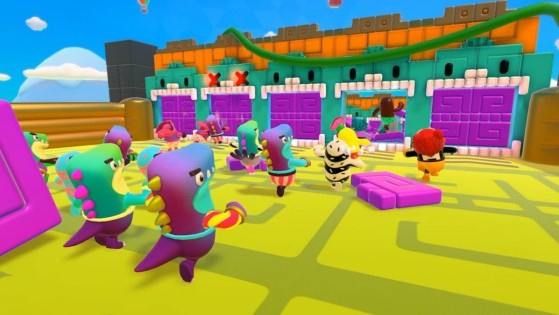 esports
Fall Guys is a paid game but it works with seasons and what looks like to a Battle Pass. As you play, you'll unlock skins, patterns, or even kudos, on a regular basis.