Fifteen years on from release on the Nintendo DS, the Sinnoh region makes a comeback, with Generation IV long being requested by fans for the remake treatment.
Pokémon Brilliant Diamond and Shining Pearl offer players the opportunity to once again head up Mt. Coronet, meet the Legendary Pokémon Dialga and Palkia, and stop Team Galactic.
So, what can we conclude from these titles and their new chibi style? Read on!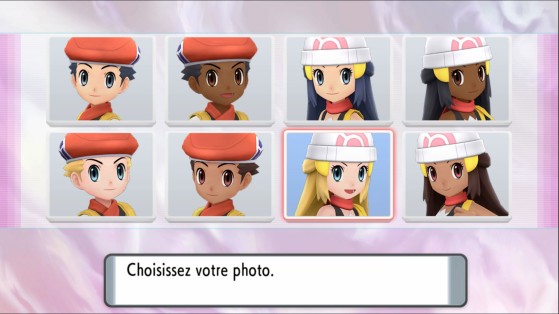 Genre: RPG
Release Date: November 19, 2021
Platform: Nintendo Switch
Developer: ILCA, Game Freak
Publisher: Nintendo
Price: USD $59.99 / £49.99 / €59.99
Let it shine...
Like Stanley Kubrick's film, these new versions of Pokémon Diamond and Pearl are shining... A little too much.
Chibi style or not, ILCA (developer of these remakes) has chosen to implement graphics with colors that are sometimes far too saturated, and with constant reflections. At times, the ground literally becomes a mirror in which we see ourselves, which then doubles the image you see.
Fortunately, this exaggeration is only present in buildings such as the Pokémon Center (where it's at its most glaring), or in a few battle scenes. They're still present elsewhere, but thankfully to a much less degree.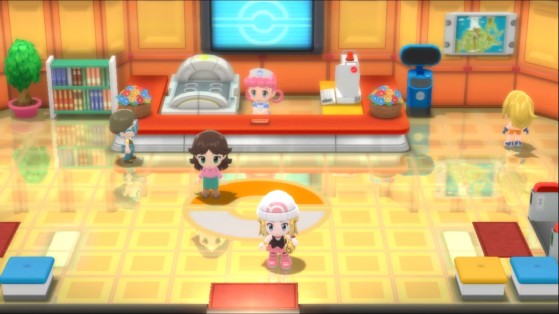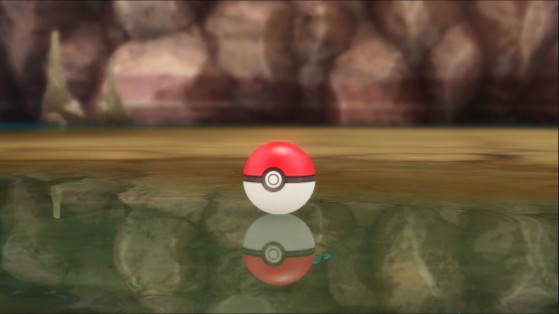 Also highly colorful, the first generation remakes Let's Go Pikachu and Eevee were much more successful in terms of their visual identity. While the artistic direction of those titles is obviously not the same and incomparable to Brilliant Diamond and Shining Pearl, the textures were clear -- unlike these new remakes where blur has been added everywhere to embellish decorations.
People prone to migraines or motion sickness will most certainly find it difficult to play BDSP for long hours thanks to this blur. Given movement is presented in a top-down view, this has much more impact than if the game was in a first-person view, for example.
In truth, playing in handheld mode will save you a lot of trouble since the animations aren't all that extravagant, and the camera certainly doesn't wobble all over the place.
Either way, the viewing experience is much better on a small portable screen than when hooked up to a TV.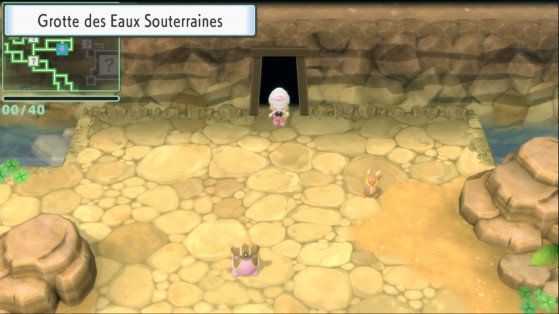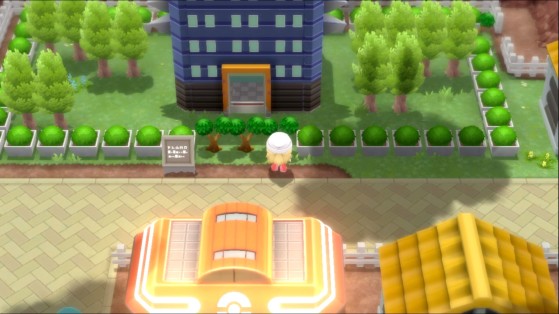 Nevertheless, the charm of the original titles remains. While the chibi style, blur, and abusive reflections may not please players, they are purely visual and don't spoil the quality of the animations, the fluidity of the gameplay or even the content itself.
In short, ICLA have done a pretty good job of these remasters, especially when it comes to a soundtrack that is a treat to the ears.
Pokémon Baby Diamond and Simple Pearl?
It's obvious that these remakes are aimed at those seeking a hit of nostalgia, but it's even more obvious that they've been made with a new, young audience in mind.
From the overly colorful graphics, to a greater simplicity in the gameplay, it's something we've been getting used to in the Nintendo Switch era.
However, if you're looking for a challenge, you're likely going to have to wait for the release of Pokémon Legends: Arceus after the holidays.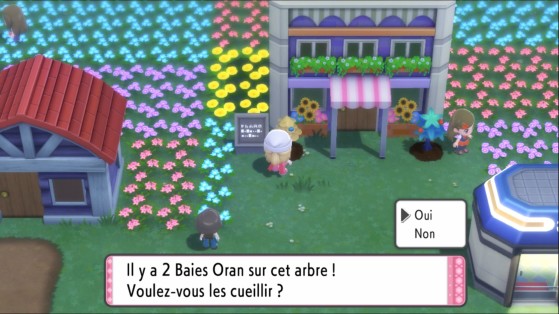 Naturally, we understand why the gameplay has been greatly simplified, but it would have been better if certain choices, such as automatic EXP Share, were left to the players.
Even that one feature would have changed a lot in the game, players being able to choose between rolling over Gym Leaders or having to plan and strategise to beat them.
Despite this, most of the gameplay features are ultimately rather enjoyable. For example, now you can consult the menu at any time to learn the next objective. This is something that didn't exist before, and unlike early titles in the series, ensures you never get lost.
The remakes also have all the benefits of recent titles, such as the shortcut allowing you to quickly select the last item used, or being able to see a move's type effectiveness before queuing it up.
A welcome return to the series' roots
Despite these two big flaws, Pokémon Brilliant Diamond and Shining Pearl are full of qualities that must be recognized.
We're not going to judge the content of the originals from 2006 here, but it is worth remembering that they are among the most complete titles in the series.
Those who didn't play Diamond and Pearl back in the day should know that Generation IV is full of additional features -- from Honey Trees to Berries; Poffin baking to decorating Poké Balls; Secret Bases to dungeons. It's also the generation that let us have Pokémon follow us on the map.
It also has a fantastic story, led by the sinister Team Galactic. You're tasked with investigating their motives, which revolve around their leaders Cyrus, Mars, Jupiter, and Saturn seeking creating a new dimension usng the Legendary Pokémon Dialga and Palkia.
As with all Pokémon games, it's your job to stop them in the end.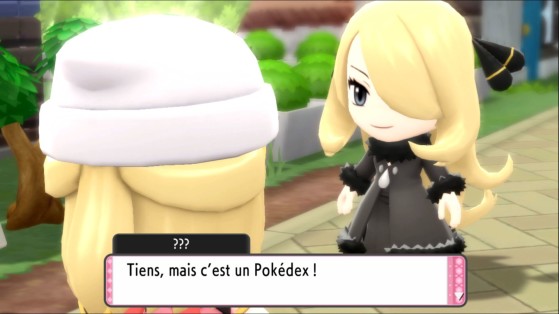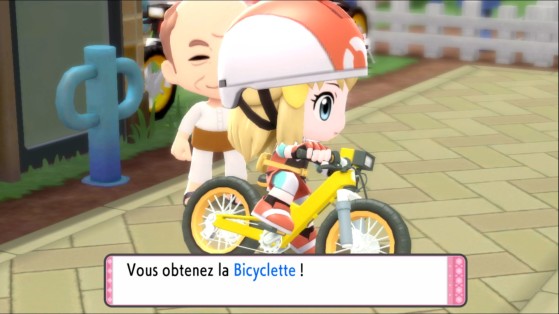 Either way, we feel Pokémon Brilliant Diamond and Shining Pearl are a bit lazy in their execution when it comes to features. Maybe this is understandable given how comprehensive the Nintendo DS versions were, and adding even more would have been overkill.
However, when we we see the success of the Pokémon Ruby and Sapphire remakes for the DS, we would probably have liked to see some additions all the same.
Fortunately, Pokémon Contests have been greatly improved, upgrading to Super Contest Shows, and The Grand Underground is probably the best thing added to the game.
In this large maze below the surface of Sinnoh, players can explore different biomes to capture unique Pokémon. You can also obtain special statues that you can install in your Secret Base.
The lack of true touchscreen compatibility for the Switch is a real negative, whether for navigating menus, decorating your Poké Balls, or placing decorations. Everything has to be done with the console's buttons.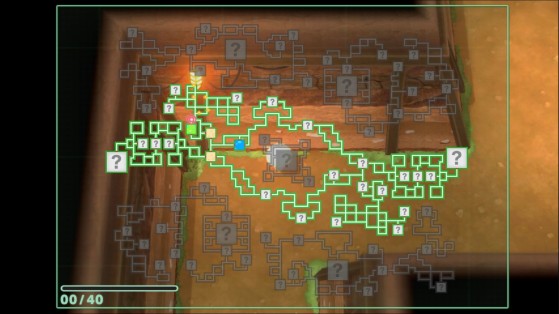 So what do these remakes bring to the table?
In addition to allowing us to experience the original plot once more, Brilliant Diamond and Shining Pearl adapts to the Switch and the new style of gameplay in different ways.
For example, great importance is given to customization. While it was already possible to create Secret Bases or customize Poké Balls in the originals, it's now possible for you to choose your appearance at the beginning of the adventure, and similarly to Sword and Shield, buy outfits to dress our Trainer.
Contests also become more essential, and now offer a new way of playing thanks to a rhythm-based minigame. Participating in the Super Contest Show means you must dress your favorite Pokémon in a special outfit, and then make it dance.
With several difficulty levels and different categories to be judged on, this is a real game-within-the-game change.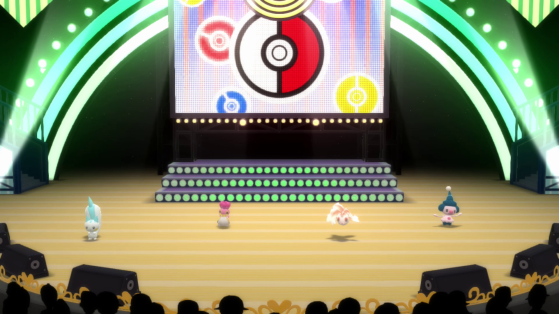 In short, you'll never get bored in Pokémon Brilliant Diamond and Shining Pearl with hours and hours of content, especially after you've conquered the Pokémon League.
Regardless of the new chibi style, Pokémon Brilliant Diamond and Shining Pearl will please a large number of fans. Despite a lack of genuinely new features and flaws in how they are presented visually, they're a welcome return for Generation IV. Discovering Sinnoh once again is a joy, and it goes without saying that playing these will set you up nicely for the upcoming Legends: Arceus.
Some nice new features, such as The Grand Underground
Fluid gameplay in both docked and handheld modes
The joys of rediscovering Generation IV
A fantastically remastered soundtrack
Pervasive reflections and excessive blur
Potentially too simple for some
Lack of touchscreen compatibility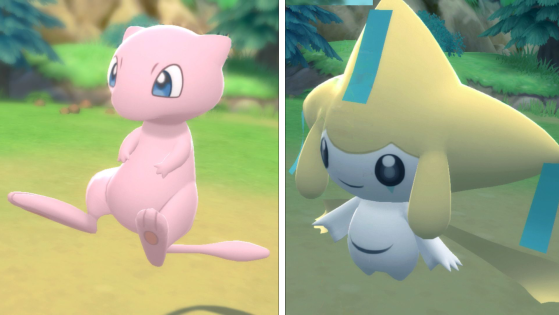 Continuing with the theme of recognising save data, Pokémon Brilliant Diamond and Shining Pearl players will be able to pick up the Mythical Pokémon Jirachi and Mew if they have played previous Switch releases.