The first chapter of Dragon Ball Z Kakarot ends with a fight against Raditz, and we'll have to him to get your son back. If he's not very difficult, the confrontation will still require you to know some patterns, especially if you try to get rank S. Don't forget to complete Nam the Peddler and Gentle Giant sub-stories before going into battle.
How to defeat Raditz
This level 6 boss is a kind of life-size training exercise to train you to use your two main defensive actions: guard and dodge. First, when Raditz sends you bursts of big balls of energy, stand guard to drastically reduce the damage you receive. In attempting perfect dodges on this kind of continuous attack, we've always lacked a shred of distance to dodge everything properly.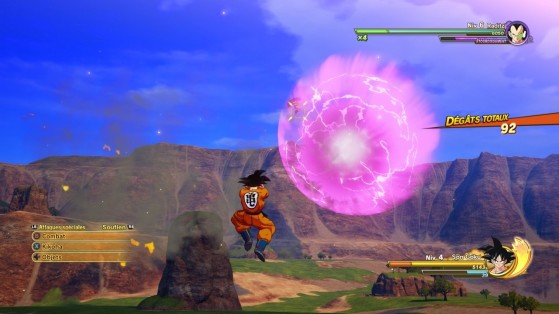 One of the boss's special attacks involves him rising into the air to project two huge lasers that he rotates 360°. You can try to avoid the shock by going up and down to deflect the lasers from their trajectory, but the best method is still the perfect dodge: with the right timing, you'll get through the attack without flinching. This is an excellent time to practice this mechanic that will serve you well throughout the game.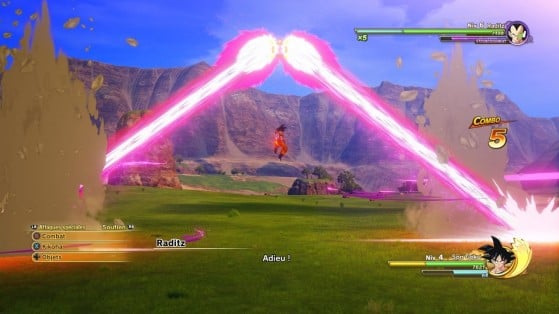 Raditz also has a charged attack, a powerful circular kick that you can dodge quite easily: as soon as the boss glows red, move away from it. Despite the distance, he'll still manage to come straight at you, but you'll have time to see him coming and will be able to dodge more easily.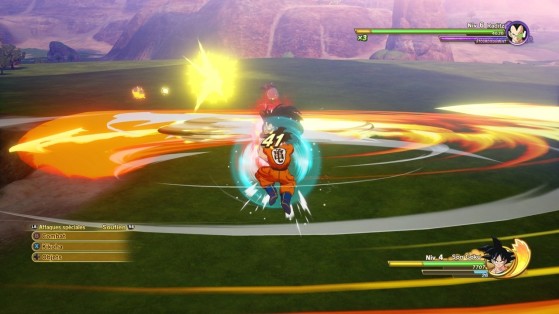 When he's down to 3 life bars, the boss will get really angry. Be especially careful when he loads a lot of ki, he will chain 3 circular kicks. After this huge attack, he will run out of breath, leaving you all the time to beat him up.
If you are in danger of falling, you can use the Vitadrink that must still be in your inventory. It will restore a large amount of HP.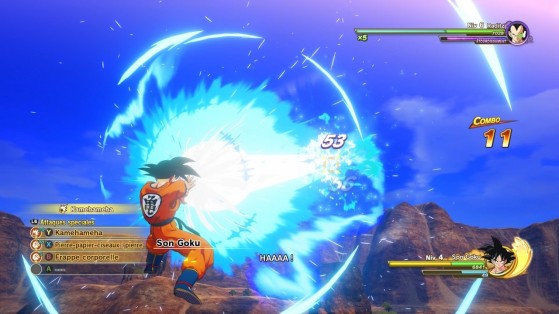 Rewards (Story Mode)
| Rewards | Quantity |
| --- | --- |
| EXP | 346 |
| Master Korin Plush | 1 |
| Fancy Urn | 1 |
| Silk Apron | 1 |
| Sacred Text of Martial Arts | 1 |