Elemental synergies are crucial in Genshin Impact. In addition to optimizing the metagame, they allow you to unleash powerful new attacks — often turning the tide of battle — and grant passive stat bonuses.
The current meta favours teams "centred" on a single element, with two characters of that element acting as a global source of damage. This also helps with Energy Recharge,
Here are some examples of team comps for you to try!
Best Pyro Team




This team will effectively revolve around Diluc's colossal damage.
With this comp we aim to optimise the Overloaded (Pyro + Electro) reaction, which will create areas of AoE damage that can quickly win skirmishes.
If melee attacks are too risky for Diluc, don't hesitate to use Venti and his bow.
Best Electro Team




Here, Razor will act as a spearhead, once your Cryo characters have prepared the ground for Superconduct (Electro + Cryo).
The burst damage of your offensive characters will be boosted by the reduction in defenses inferred on your enemies by this elemental reaction.
Best Hydro Team




Mona, Fischl, and Xingqiu truly form the heart of this aquatic team, but the choices are very wide when it comes to the final hero to employ.
We've gone with Venti here, but other supports can sometimes be even more relevant — especially if they have Healing. In fact, the Soothing Waters Elemental Resonance will increase your healing by 30%!
Your damage will focus on Electro-Charged (Hydro + Electro), which will add a lot of damage over time.
More of the best team comps will appear in this article soon, so stay tuned!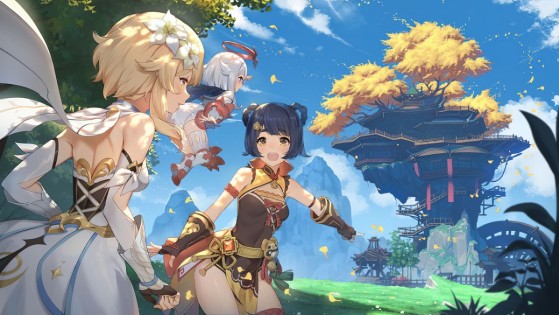 Primogems are an essential resource in Genshin Impact, essentially allowing you to increase your roster through Fates and Wishes. Whether you want to put real money in the game or not, we explain how you can earn more.
Original content by Romain "Zorg" Becquelin.