Animus anomalies are mysteries that we can find in Assassin's Creed Valhalla. They're routes that allow us to have access to a packet of data that can shed light on the intrigue around Eivor. They're very easily recognizable on the map by a Celtic blue triangle.
It's important to do these puzzles, otherwise you won't be able to 100% complete the game or even learn more about the general plot.
In the region of Oxenefordscire, the Anomaly is located southwest of the Monastery of St. Alban — in the middle of the map.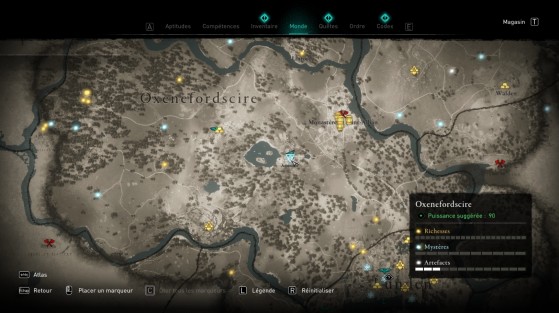 Tips for completing the Anomaly
Things start to get a little more complicated from this anomaly. We're going to have to play with the spotlights and especially agility so as not to die under the red blocks. Don't try to jump too high: your character will dematerialize automatically, bringing you back to an auto-save point.
To advance easily in this course, here is the procedure to follow:
Go down to the blocks on your right and move the projector until you touch the block on the other side of the aqueduct.

Go to the other side of the aqueduct by going underneath it.

Point the projector towards the left at the furthest edge of the blocks — it should indicate that it will illuminate the second square block.

The projector should be positioned so that it touches the first projector you moved in the direction of the gray square.

Normally, the square-shaped block should be usable.

Then go back to the blocks on the left side — while passing through the bottom — to move the projector to illuminate the block in the shape of a rectangle.
Once the central gateway is fully illuminated, you can move forward. We advise you to take your time, because as said just above, red blocks will dematerialize your character.
Original content by Camille"Effylia" Bouin.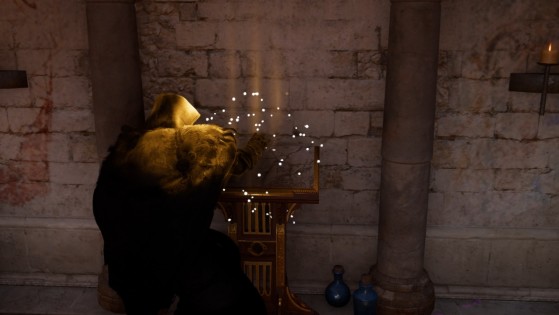 Books of Knowledge are what allow you to gain new abilities in Assassin's Creed Valhalla. Part of Wealth, it's often very easy to find them in the Oxenefordscire region if you want to increase Eivor's strength.