The Air and Lightning mission in Hyrule Warriors: Age of Calamity is a sister mission to Water and Fire. Players must save champions Rito and Urbosa from Calamity Ganon's elemental shards.
The Four Locations
When the mission starts, you'll be told to fight off enemies and make your way to Vah Naboris to help Urbosa.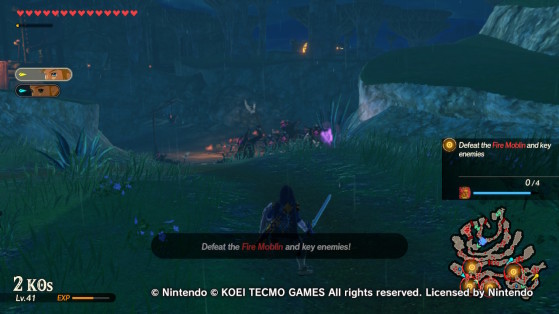 Split up with your ally and head to the east point. From here you'll need to drop down from a certain spot to reach a Black Moblin underneath (see below image).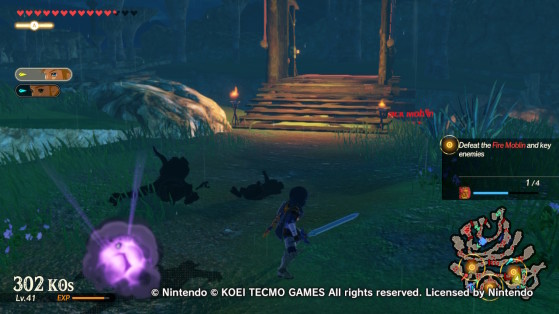 After that, the other points are easy to find. You'll face two Fire Moblins and an Ice Moblin, which are weak to Ice and Fire Wands, respectively.
The Electric Feeling
After you dispose of the four enemies and start to head toward Vah Naboris, you'll meet an Electric Lynel located in the spot below on the map.
Dispose of the Ice Wizzrobe on the way if you need to replenish your Ice Wand meter.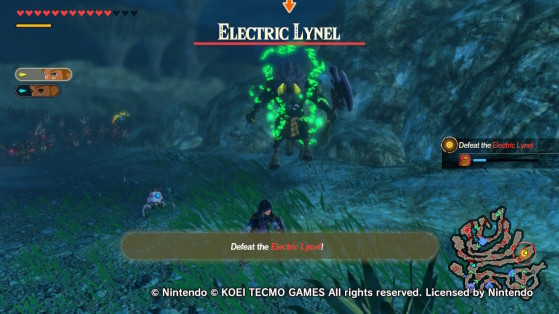 Stay out of the Lynel's radius when he uses his electric barrage attack, and use Cryonis when he charges. You'll also get a chance to use remote bombs to break his defense.
Enter the Divine Beast after disposing of the enemy.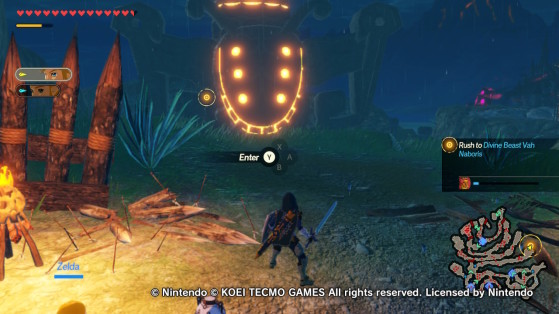 The Belly of the Divine
Now things get a little serious. Thunderblight Ganon is very fast and will split into three parts halfway through the battle. You can either ignore those parts and keep going at him (I did) or get rid of them first.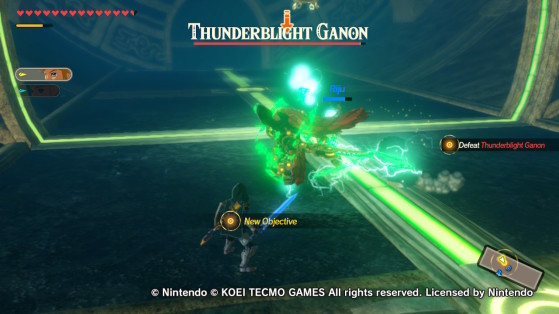 He has a few attacks. Dodge backward out of the way if glowing circles appear. Otherwise, look out for balls of electricity. He moves super fast so use remote bombs when he's far away and Stasis to slow him down.
Watch out for a three-pronged attack when all three of the baddies leave the ground.
A Wild Riju Appears
Once you take care of Thunderblight Ganon, you can now control Riju. Two waypoints will appear. Head east and send your ally to the other point.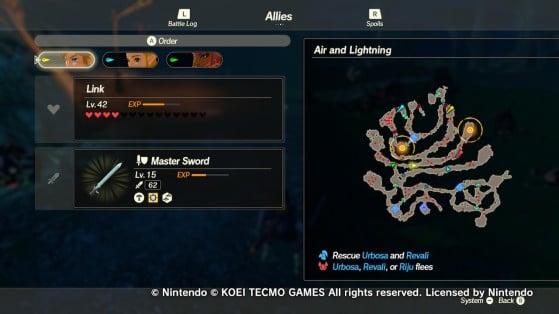 You'll face a Fire Hinox at the east waypoint, and it's the hardest fight in the game yet. The problem is that when he sumo slams, it's hard to dodge because things catch on fire. He is, however, susceptible to the Ice Wand, and his attacks mirror previous incarnations.
Once you finish him off, you'll face an Ice Hinox, who is conversely weak against the Fire Wand.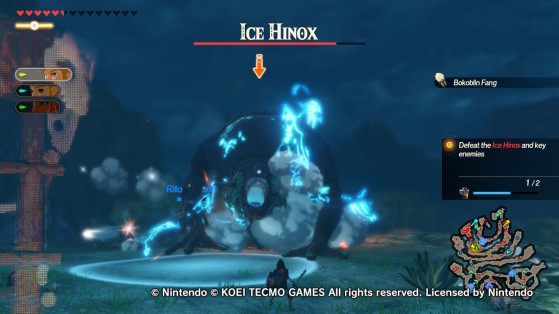 Another Lynel
On the path to rescue Revali, you'll face off against a White-Maned Lynel. Use elemental rods to finish him off quickly, as time should be growing short to meet up with Revali and Vah Medoh.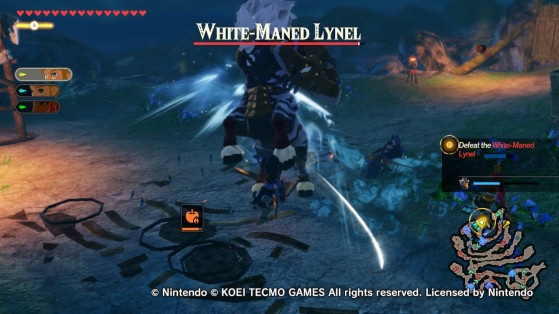 Gone with the Windblight
Windblight Ganon is your next big objective. Dodge backwards when he bombards the ground, and avoid his laser blasts. His tornado attack is a little easier to avoid but takes away a lot of health.
Look for Stasis cues and he'll be finished in no time.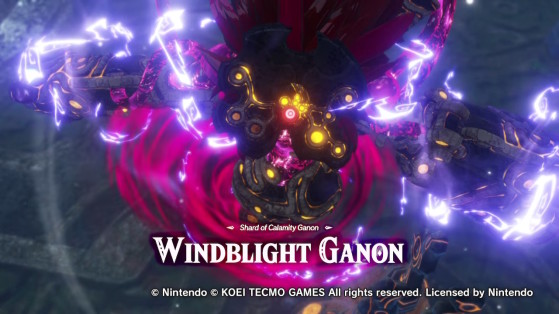 Vah Medoh and the Outpost Attack
Once you take care of Windblight Ganon, you'll find yourself piloting Vah Medoh, tasked with destroying 44 outposts in six minutes.
This isn't difficult in itself but remember to switch views with Y to better shoot at the outposts, which glow white. When time starts to tick down they'll show up as objectives on the map.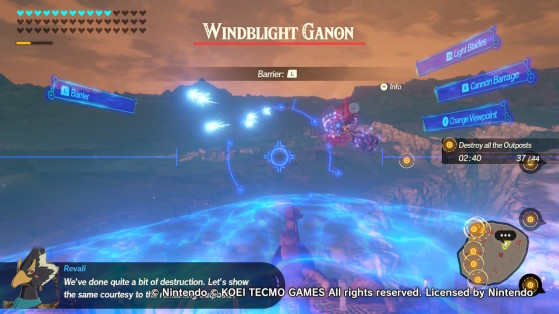 To add to the confusion, Windblight Ganon returns, forcing you to use valuable time to destroy him (again). Hold down L and use lasers, and then use the Cannon Barrage, and alternate until you've destroyed everything.
Also, the special charge attack can take out a majority of the outposts if you're positioned correctly. Once you destroy the last one, the mission is over.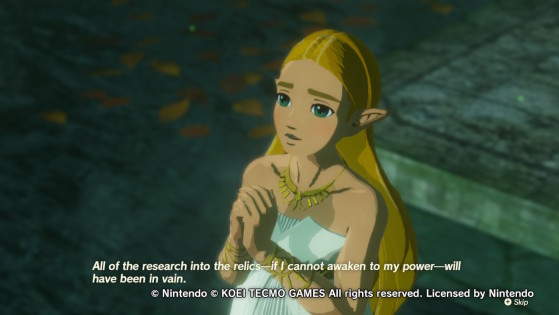 nintendo
Let's walk through some tips, tricks, and tactics to complete the mission.