Here is a room of Castle Dimitrescu in Resident Evil Village that will require you to have a good sense of observation if you want to progress. Five bells of various sizes are scattered arounf the room and you will have to activate them all by hitting them, either with your knife or with a bullet. The video above shows you exactly how. For those who prefer the written version, the details are displayed below.
The Five Bells of Dimitrescu Castle
Right in front of you as you enter, you can hit her with your knife.

In the cogs embedded in the wall, a bell swings from bottom to top.

Climb on the platform, another bell is placed on the cabinet to your right.

Shoot the candlestick a first time to make it move, then a second time to find the bell.

Finally, shoot at the back, outside, still being positioned on the platform.
The giant portrait of Lady Dimitrescu will open, offering you a passage for the roof and the angel mask it hides.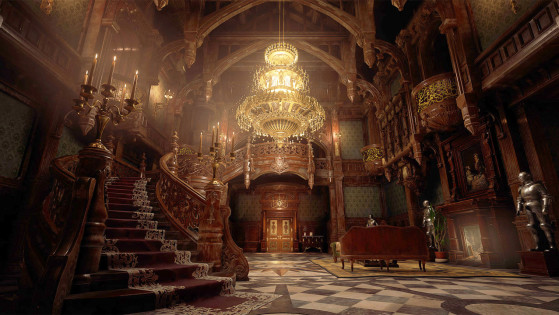 We guide you through the many rooms of the imposing Castle Dimitrescu, in second part of our complete Resident Evil Village walkthrough.