Mana-Tombs is one of the dungeons in Burning Crusade Classic. It can be accessed from level 61.
The entrance is located in the northern part of Auchenai, south of the Terokkar Forest, in Outland.
Location
To access the Mana-Tombs in Heroic, you must be level 70 and have the Auchenai Key available to players who have reached Revered reputation with the Lower City.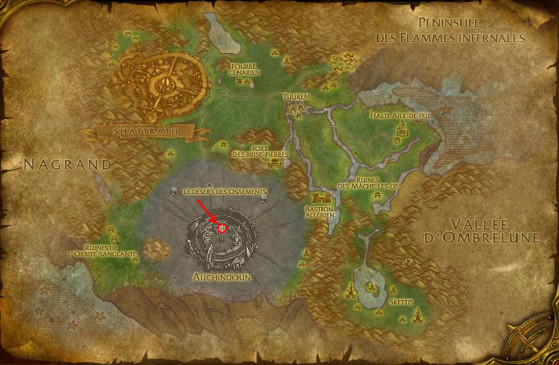 Map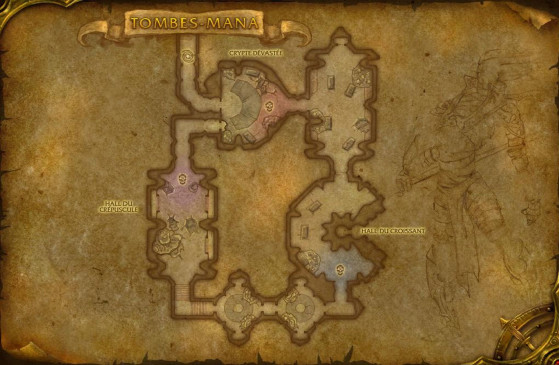 Instance Bosses

Pandemonius
Pandemonius passively deals Shadow damage with its melee attacks, making it especially dangerous in Heroic Difficulty.
In addition to this feature, the boss periodically knocks players over and deals Shadow damage with his Void Blast. This can be absorbed by a Shaman's Grounding Totem.
Finally, the boss surrounds itself with a Dark Shell for 6 seconds every now and then. It's crucial to stop attacking it completely since it returns absolutely all spells to the caster and inflicts Shadow damage to players who attack him in melee.
In Heroic, the fight is exactly the same.

Tavarok
Tavarok is a rather simple boss to defeat since it has three techniques, two of which can be cancelled by certain classes.
The Tank must have the boss's back to the group as he periodically casts an Arcing Smash that deals heavy damage to players in front of him.
Occasionally, Tavarok will target a player and imprison them in a Crystal Prison, preventing them from acting for 5 seconds and dealing moderate damage. Mages can get out of the prison by using their Blink.
Finally, the boss periodically casts Earthquake, which deals damage to affected players and stuns them for 3 seconds. This technique has a range of 35 meters, so if ranged players (including Healer) are within their maximum range, they won't be affected by the Earthquake, making the encounter much easier.

Yor
To summon Yor, you will need the Ethereum Stasis Chamber Key, which can be obtained as a reward for the quest Purging the Chambers of Bash'ir in Netherstorm, or the Eye of Haramad, which can be obtained as a reward for the quest The Eye of Haramad, which can only be obtained by players that have the Exalted reputation in the Consortium.
Yor is in a stasis prison just before Nexus-Prince Shaffar. The fight is extremely simple.
The Tank must have the boss's back to the group so that it can't hit anyone but himself with its Double Breath.
Periodically, Yor will cast Stomp, which stuns melee players and deals Physical damage.
The Healer must simply keep the Tank's health high at all times and stay away from the melee to avoid the Stomp.

Nexus-Prince Shaffar
Shaffar is without a doubt one of the most complex bosses in Burning Crusade.
He starts the fight by casting three Ethereal Beacons, which have the particularity of having low health points, but more importantly, they cast Arcane Bolts before summoning an Ethereal Apprentice if they are not destroyed quickly enough. Shaffar summons a beacon every 10-15 seconds or so, forcing the group to either have an impressive cleave ability or a crazy one-hit burst to end the encounter quickly.
Ethereal Apprentices have two techniques that they loop: Fireball and Frostbolt.
Generally, we recommend focusing your attacks on Shaffar and forgetting about the beacons, as you'll lose too much time and DPS and the boss will wear you down.
Periodically, Shaffar casts Frost Nova, which entangles all affected players, thus penalizing melee players and the Tank mainly. The boss then uses Blink to escape from the players near him. A quick dispell (mass dispell if possible) is highly recommended. In addition to this technique, Shaffar also throws Fireballs and Frostbolts in a loop.
The battle is exactly the same in Heroic.
Loot Table
| Object | Type | Where to get it? |
| --- | --- | --- |
| Ring of Conflict Survival | Finger | Yor |
| Band of the Crystalline Void | Finger | Yor |
| Yor's Revenge | Finger | Yor |
Instance Quests
Quest

Required level

Start

Someone Else's Hard Work Pays Off

64

Cryo-Engineer Sha'heen

Mana-Tombs

Undercutting the Competition

64

Nexus-Prince Haramad

Terokkar Forest

Wanted: Shaffar's Wondrous Pendant

70

Daily

Wind Trader Zhareem

Shattrath City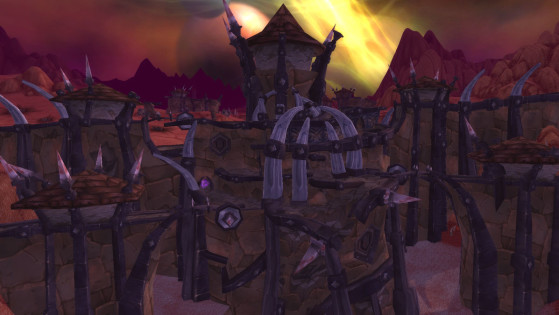 To access the Hellfire Ramparts, the Blood Furnace, and the Shattered Halls in Heroic Mode, Burning Crusade Classic players must have the Flamewrought Key. Here's how to get it quickly.