Season 4 of Warzone is finally underway and as part of the new season of post-launch content, Raven Software and Activision have released two new weapons into the ever-expanding arsenal of weaponry available for players to choose from.
One of the new additions is the C58 assault rifle. Featuring a slower rate of fire compared to other rifles, the C58 boasts an incredibly high output of damage without any attachments equipped, giving players the ability to make an instant impact when using it for the first time around Verdansk and Rebirth Island.
By equipping the ideal combination of attachments, the C58 can easily slot into the ever-changing metagame, much to the excitement of players that are constantly on the lookout for the best weapons to use in Warzone.
Find the best loadout for the C58 and the best attachments to equip below.
Best C58 Warzone Attachments
This combination of attachments makes the C58 one of the most versatile weapons in the entire Warzone arsenal.
Muzzle: Agency Suppressor
Barrel: 18.5" Task Force
Optic: Axial Arms 3x
Ammunition: STANAG 55 RND Mag
Rear Grip: Serpent Wrap
The additions of the suppressor and task force barrel further improve bullet velocity and damage output, ensuring that there is no loss of performance even in long-distance duels.
As always, the choice of a huge magazine is expected. Having the ability to eliminate multiple enemies without having to reload is especially important in Duos, Trios, and in Quads matches.
For a slight increase in mobility, we selected the serpent wrap. With an increase in aim-down sight speed, it is much easier to react quickly to any opposition that might stand in your way of a victory.
Best C58 Warzone Loadout
Once the strongest set of attachments have been equipped onto the C58, it's important to select the best combination of Perks and have the strongest equipment available to deal even more damage.
Perks
Perk 1: EOD
Perk 2: Ghost
Perk 3: Amped
This set of Perks features frequently in the loadouts of Warzone players because it is arguably the best combination to use.
EOD increases explosive resistance, ideal when attempting to avoid any incoming grenades, Ghost conceals your location from any enemy UAVs flying in the air, and Amped increases weapon swap speed, enabling players to switch back and forth from the C58 to their secondary weapon depending on the situation.
Equipment
Lethal: Semtex
Tactical: Heartbeat Sensor
Like the set of Perks, these pieces of equipment often appear in the loadouts of players.
Semtex is the perfect piece of lethal equipment to deal some additional explosive damage while the Heartbeat Sensor is essential in order to determine the location of any enemies in the nearby area.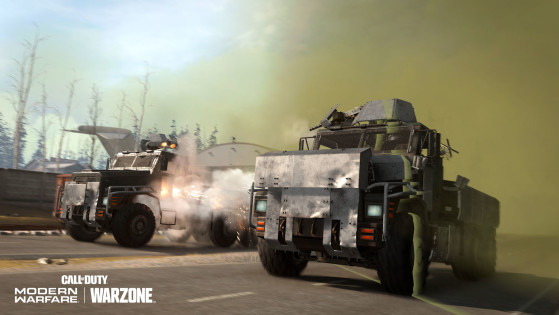 Season 4 of Warzone is underway and one of the major additions to the battle royale is the ability to customize Armored Trucks. Find out how to customize the vehicles in this handy guide.