Wonder Woman is a Tank class character in MultiVersus. This is the only character that you will get for free and that you can keep since you only need to complete the basic tutorial to unlock it. Her skills are all based on her famous equipment.
Wonder Woman
She is one of the most powerful heroines in reality. "Wonder Woman" is a name both feared and loved across the Multiverse. A fierce warrior, proud commander, and kind leader, Diana was sent to the world of men by the Amazons to act as a champion of peace. She's defeated countless villains both on her own and as a founding member of the Justice League, and she's inspired a whole new generation of heroes.
Passive Skills
Bracer Meter: When Wonder Woman blocks a PROJECTILE with her shield or gets hit while ARMORED, she fills a meter which is used to power up her AMAZON SHOUT.
Ground Attacks
Neutral: CHARGE, forward sword swing.
Laterals : A COMBO consisting of a sword slash, a kick sweep, and a shield slam.
Top : CHARGE, upward shield bash.
Bottom : Release an energy blast PROJECTILE from Wonder Woman's bracers. CHARGE to increase blast size. The blast's power increases with her BRACER METER, but the meter is consumed afterward. Briefly grants ARMOR to Wonder Woman and her ally in the blast.
Air Attacks
Neutral : Unleash sword spin attack that BREAKS ARMOR.
Laterals : A COMBO of a sword slash, sweep-kick, and shield bash.
High : An overhead kick that has a SWEETSPOT at the end.
Bottom : A powerful downward stab.
Special Moves
Neutral: Wonder Woman throws out her Lasso of Truth PROJECTILE, pulling enemies and allies to her. COOLDOWN applies.
Sides:

Ground

: Wonder Woman lunges forward with ARMOR, and her shield raised, destroying incoming PROJECTILES. If a PROJECTILE is destroyed Wonder Woman can instantly attack again. CHARGE to keep the shield raised. Wonder Woman can move back and forth while her shield is raised. Allies that Wonder Woman passes will receive ARMOR.
Aerial: Wonder Woman delivers a forward flying-punch.
Top: Similar to ground, but a shield dash upward. Allies can use Wonder Woman's shield as a PLATFORM.
Bottom: If in range, Wonder Woman will dash to her ally, CLEANSING them of debuffs and giving her and her ally a SHIELD. SHIELDS is similar to ARMOR, but blocks both KNOCKBACK and DAMAGE from the next incoming hit. SHIELDS also increases Wonder Woman's BRACER METER when hit. COOLDOWN applies.
Which Perks to choose?
Grapple of Hermes (unlocked level 10): This perk will give Wonder Woman more mobility, because her Lasso of Truth becomes a grappling hook. The lasso will also be longer, allowing you to save your allies if they are about to be ejected.
Kryptonian skin (unlocked tier 2): This perk will reduce all damage inflicted on Wonder Woman. This is a must-have skill if you want to keep his tank role.
Equip Ally Perks (unlocked level 11): This skill allows Wonder Woman and her ally to benefit from a reduction in damage when they are close to each other. It is highly recommended to use it in a team match.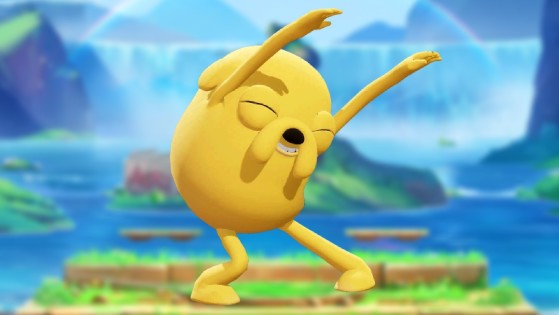 Jake, Finn's best friend and lifelong companion from the fantasy cartoon Adventure Time, is a playable character on the current MultiVersus roster. Here is a guide to better understand his combat skills