Temtem has a very rich Tempedia, with many creatures to discover. Here we are going to focus on Shuine , a rare Temtem available from early access that can be found in the wild.

The superb Shuine with shiny and colorful scales offer an exceptional spectacle when they frolic in the Cenote of Kakama, reflecting the brilliance of Pansoleil. They feed on the acid components of xolotic waters, acting as natural filters ensuring the purity of the Cenote waters almost as effectively as successive layers of volcanic rock.
122
How to evolve Shuine?
Evolution on Temtem can be done in different ways; the first is very simple, as all you have to do is level up your Temtem for it to evolve. The other method is to interact with a Sanctuary so that the type and its form can change; however only certain Temtem are affected by this practice.
Shuine is a Temtem that does not evolve.
What does Shuine luma look like?
In Temtem, all creatures are (or will be) available in their luma or shiny forms for Pokémon followers. If you don't know how to get Temtem luma, don't hesitate to consult our guide which can shed some light on your lanterns.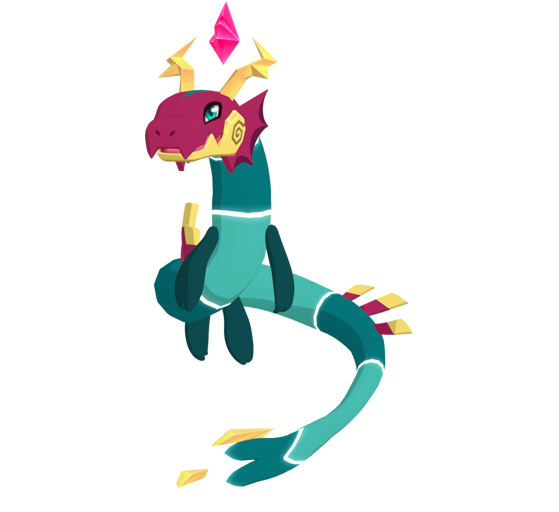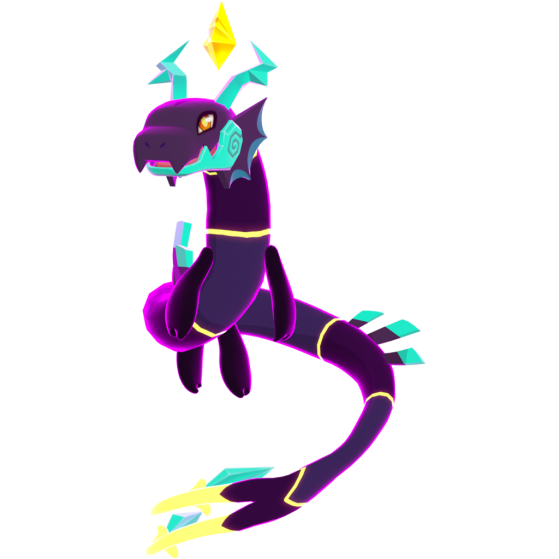 Important information regarding the capture of Shuine
Shuine is a rare Temtem, so it only spawns in a specific location. Indeed, Shuine is located in the Tucma Basement and more precisely in the Kakama cenote. You can find it on the expanse of reddish grass, but also on the waterways around it.
→ You can easily find its location thanks to the interactive map of Temtem France .

Catch Chance
5%
Equip the Four Leaf Clover on the Temtem you are going to cast the capture with to get an additional 10% off the capture of wild Temtem.
Basic statistics
Below, you can find all of Shuine's base max stats; that is, once he reaches level 100 . These are the biggest stats he can get by failing to include cumulative AC.
| Stats | Points |
| --- | --- |
| PV | 393 |
| END | 225 |
| LIVES | 297 |
| ATQ | 273 |
| DEF | 243 |
| ATQSP | 282 |
| PSED | 262 |
What are Shuine's strengths and weaknesses?
With its Water and Crystal type, Shuine has the following strengths and weaknesses:
Resistance : very resistant against Water and

Mental

type Temtem
Weaknesses : is vulnerable to Nature and Pugilism-type Temtem
What are Shuine's traits?
All Temtem inherit a trait; some can be seen as penalties, while others are seen more as bonuses. Depending on your gameplay, it will be interesting to have a trait that suits you. The majority of players believe that the Protector trait is still the most relevant.
Toxic Resistant — The Temtem is immune to the Toxic type and cannot be Poisoned.
Protector — This Temtem's ally cannot be affected by negative stat changes, Burning, Chilled, Chilled, Poisoned, and Doomed states.
What techniques can Shuine learn?
Temtem can learn techniques through training (FT) or by breeding with other Temtem. Below, you can find the complete list of skills that Shuine can learn that do not come from his basic attacks.
Quartz Shield
Reproduction
Crystal, Sherald,
Tortenite, Zenoreth,
Valash, Shuin

Crystal

Mirror Shell
Reproduction
Crystal, Sherald,
Tortenite, Tuvine,
Chimurian, Shuine

Crystal

Antitoxins
FT009

Toxic

Appropriation
FT010

Neutral

Relaxation
FT022

Neutral

quartz dust
FT035

Crystal

healing rain
FT037

Water
Synergy Wind

Restoration
FT043

Earth
Water Synergy
What are Shuine's best attacks?
Whether in PvP or PvE, there are techniques that stand out from the crowd. By observing all of Shuine's skills, it is true that some attacks are much better than others, especially in terms of priority, but also on the damage inflicted on opponents. Not sure which attacks to choose? Shuine's best combo is:
Crystal Bite
Level 37

Crystal

Liquid barrier
Level 62

Water

Water cannon
Level 80

Water
Toxic Synergy

Quartz Shield
Reproduction

Crystal
Source: temtem.wiki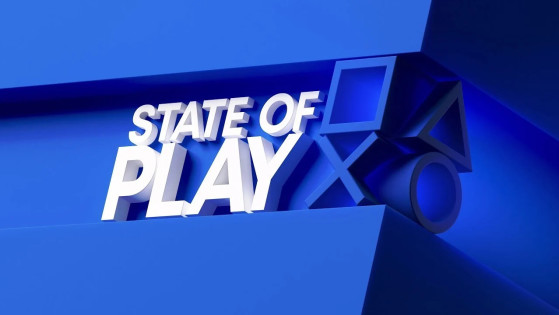 Find all the announcements from the State of Play which took place at midnight and which allowed us to learn more about some of the games to come on PS4, PS5, but also PSVR 2. 20 minutes, the live was segmented into 10 announcements, which we summarize for you here.