It's Ragnarök in God of War Ragnarök, and Odin is more like Norse Palpatine than wise god. Immediately after defeating Thor, who was then betrayed by his own father, it's time to bring the story to a conclusion, with one last stand.
The objective of this guide, as well as all those dedicated to bosses, is to help you beat them on maximum difficulty, "Only God of War", so that they are relevant for all levels.
Equipment
If you've already cast Ragnarök, it's too late to explore the world. But if you test the waters in advance, we advise you to carry out all the additional activities available, especially at a high level of difficulty. Having gear level 7 or 8 seems like a good choice, if you don't want to die too much.
Surely you have your preferences, but we suggest that you use the following runes in your Talisman:
Increased dodge distance : Absolutely vital for getting out of areas of effect quickly.
25% resistance to all ailments : This often makes the difference between a special effect triggering on Kratos or not. As Odin will afflict you with a lot of such effects, this will greatly help.
Reduced Rage Cost and Cancellation of Fury : Absolutely fantastic, this allows the use of the activating stun explosion of Spartan Rage: Fury to interrupt painful attacks, or even remove an ailment. It also allows you to drain a little of your overflow of rage if necessary, without spoiling it.

50% resistance to Blind and Daze effects : Handy during the later stages of combat.

Remember to buy a Resurrection Stone from the blacksmith (Major or Berserker) before sounding the horn. You must not have used it on Thor either.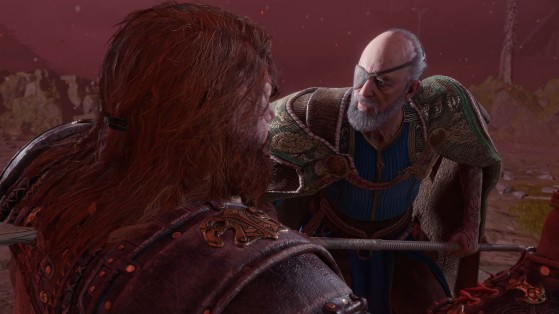 Strategy
The fight against Odin isn't particularly difficult, at least compared to some of the berserkers. If you've completed all of the available side activities before the end of the game, you shouldn't have too much trouble. As usual, the checkpoints present between each phase greatly help to progress. Do not hesitate to use your runic attacks and Spartan Rage to reach the next phase. But save the Resurrection Stone for the last phase.
Stage 1: For Thor!
A quiet little introduction, which will help you spot and deal with Odin's basic attacks. For now, just parry or dodge whatever he's up to.
Bifrost shot (red attack) : A ranged attack that is easy to dodge laterally. There is no target tracking, unlike quite a few berserker projectiles, for example.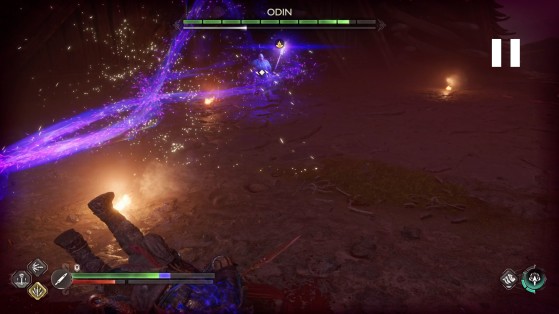 Spear combo (normal/yellow attacks) : Odin chains several blows, before unleashing a guard-breaking attack with a little painful timing. Ideally, you should parry everything, but dodging it laterally is easier. If your guard is broken, it will follow up with a Wave of Bifrost, so trigger Fury as needed.
Wave of Bifrost (red attack) : A wide and long attack in front of Odin, which sweeps the area. You have to be close enough to dodge it, in order to pass on its flanks ideally. Otherwise, dodge laterally several times.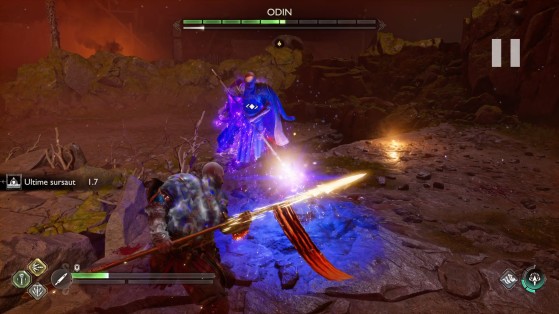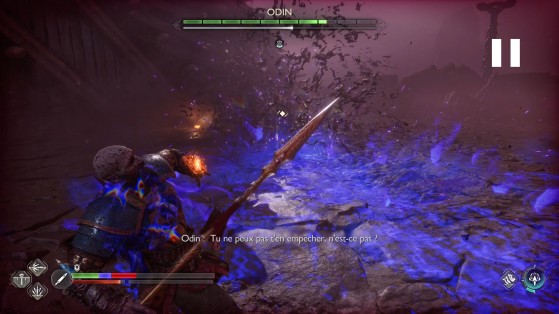 Spear Dive (red attack) : An ability that Odin will use during all phases, it is fortunately easy to avoid. He leaps forward and crashes to the ground, throwing her forward. Do a diagonal dodge, forward, in order to arrive on its flanks, or in its back, to counter-attack.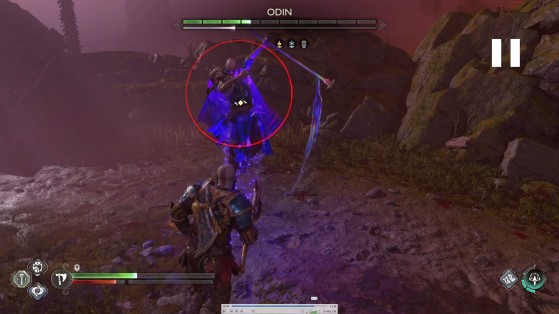 Ray of Frost (red attack) : A deadly attack that will freeze you, which Odin will abuse throughout the fight. Fortunately, it is very easy to dodge when you expect it. Sometimes Odin flies a few feet above the ground, but he also throws it directly from the ground in some cases. This produces a huge beam that he will shoot down in front of him. A side dodge is the only solution. Things get complicated later, since he will use it two or three times in a row . It is then easy to be taken by surprise, especially if your camera is badly oriented (especially during the second phase).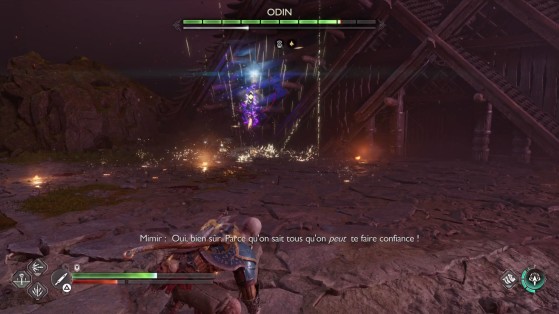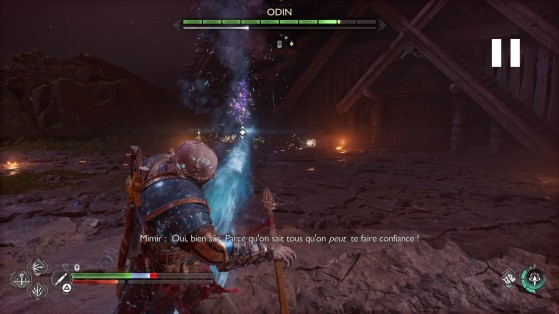 Spear charge (yellow attack) : A great classic, Odin rushes at you quickly, spear pointing forward. The peculiarity is that a wave of Bifrost hits the area in front of the spear on arrival. It is therefore necessary to dodge laterally, or better, to parry it. You are then not affected by the Bifrost.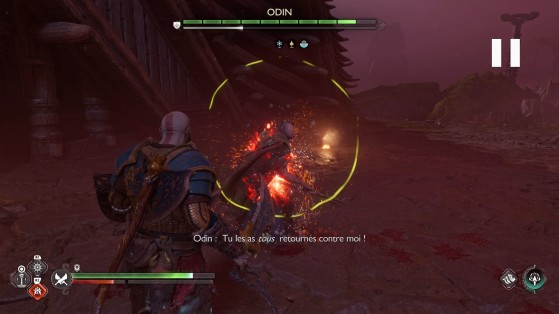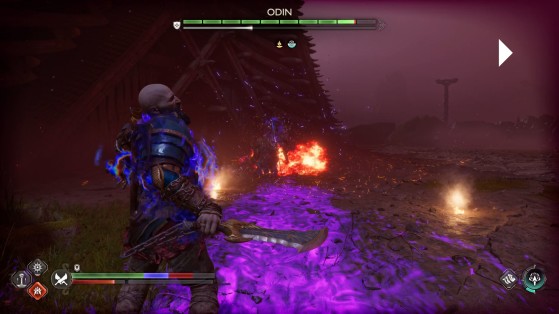 Phase 2: Deadly Pies
After losing enough life, Odin initiates the next phase. The size of the arena grows and he gains new abilities:
Teleportation : Odin is transferred to the center of the room, on an inaccessible rocky outcrop. He will then use a big area attack, or his frost ray. He teleports again to an area accessible later. He continues to use this ability during phases 3 and 4, but it just takes him to the other side of the room, which will force you to join him. There is nothing that can be done to completely block this ability, try chaining runic attacks together to stagger it in a loop.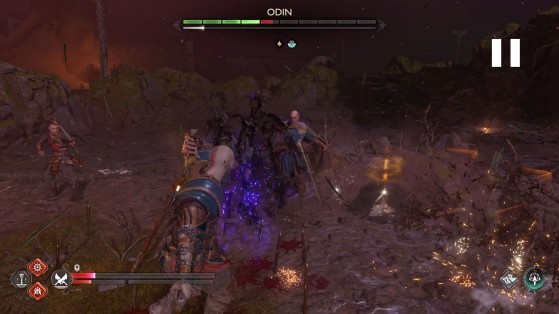 Zone strike (red attack) : After teleporting to the center of the room, Odin will cast a spell that will sweep the entire part of the room in which you are located, which represents 1/3 of the zone, which is circular. It is easy to recognize, since the ground is purple. The only way to avoid it is to join the edges of the area, and press "Round", as when you navigate the terrain during an exploration phase. Things will get complicated then, since the following times, 2 complete sections of the room will be swept away, it is important to start from the right side, since it is impossible to cross two complete areas before the spell is cast. spear. At least he no longer uses this technique during the other phases.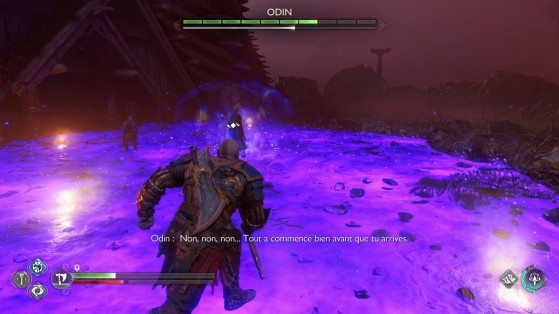 Phase 3: Grandpa resists
Once Odin's life bar is exhausted, you are entitled to a cutscene, then to a new fight in the cave that served as his laboratory. Freya joins the fight, and for the first and only time in the game, you have two helpers. Remember to use their runic abilities and arrows well. Thus was born the legend of the three brutes who beat up a little old man in a cellar.
This phase introduces a lot of new abilities that you have to learn to manage:
Vertical Bifrost whip (red attack): Very easily recognizable by the blue line that appears on Odin's staff, this attack is vertical. You can think of it as a faster version of the Frost Ray. He uses it two to three in a row too , so roll sideways around the boss, so you're ready to strike when he's done.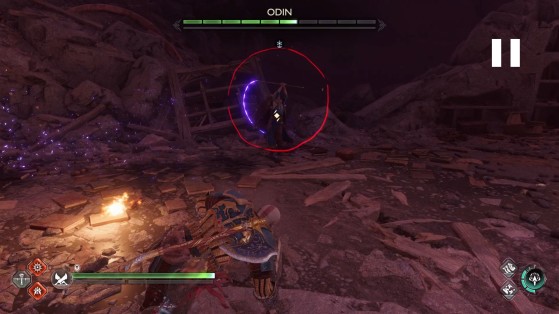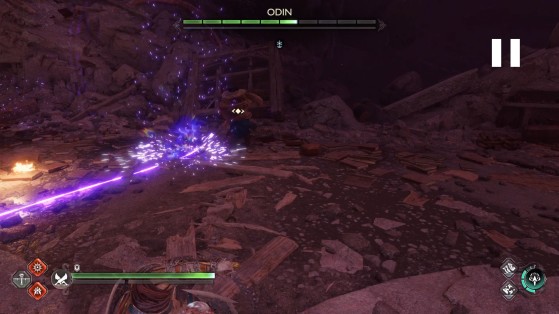 Horizontal Bifrost Whip (Normal Attack): Odin sweeps across the area this time, sending out a wide arc of frost. It's not easy to dodge, you need the right timing. You can block it instead.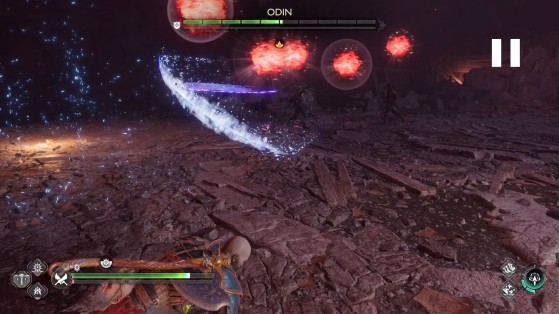 Guided balls (red attack) : This spell is similar to that of the Light Elves and that of certain Berserkers, but multiplied by 5. If you take several of them, death awaits you. Odin uses it after teleporting to the other end of the room. It is better to stay away, in order to destroy them with spear throws . But be careful, he'll send arcs of frost, and most importantly, a swarm of crows as you manage the balls. Walking the balls around the room while keeping your distance is also a possibility, they will eventually disappear, but the slightest mistake risks creating a deadly combo.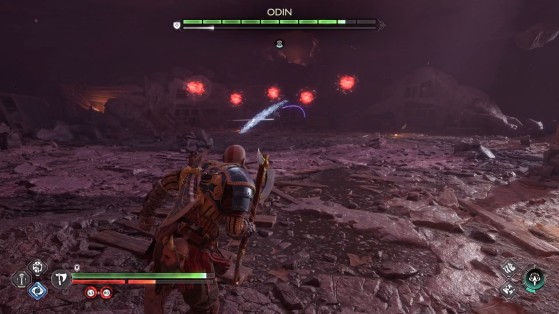 Swarm of crows (yellow attack) : Used a few moments after the summoning of the balls, this vicious attack is recognizable by the yellow circle of its launch. It is however quite difficult to see, since it is black on a black background. You can parry it with a shield, but it's probably better to just dodge, given the barrage of magic projectiles hurled in your direction. The crows' effect seems variable, unless some other quiet spell is at work. Sometimes you will be blinded for a long time, in this case, step back by multiplying the dodges. But it also happens that the spell completely immobilizes you. In this case, it is better to use Spartan's Rage, or spam the "Circle" key.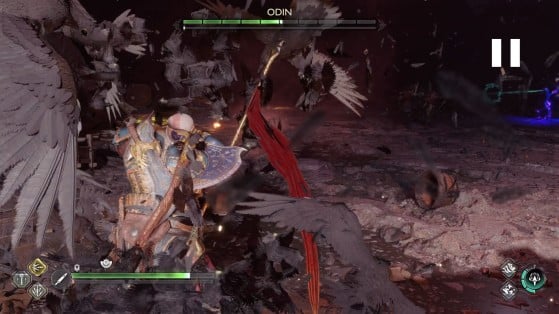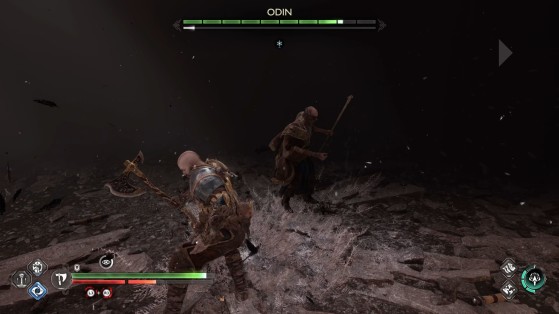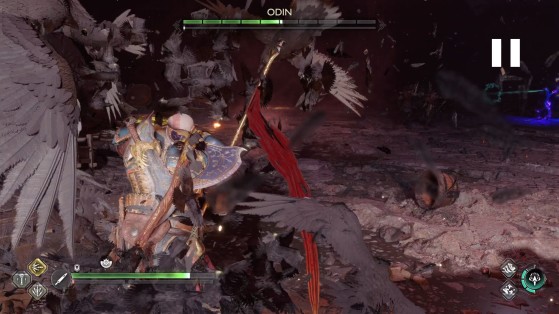 Phase 4: Your PS4 will also burn
Odin ends up getting angry, you start a final phase that promises to be extremely intense. We find all the capacities of phase 3, which will give a rather chaotic situation, with spells that go in all directions. It is during this phase that you are advised to use your Resurrection Stone , as well as what you have left of Rage.
Odin will also surround himself with a barrier of fire. To destroy it quickly, use the Leviathan Ax and its runic frost attacks .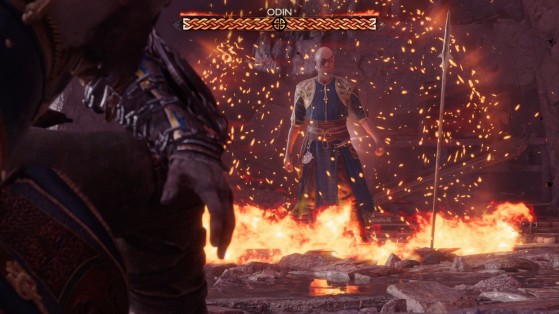 Jet of flames (normal attack) : Odin passes his cellar to the flamethrower. He will quickly sweep the area, which is difficult to dodge. Otherwise, you can just block it with the shield, it works very well.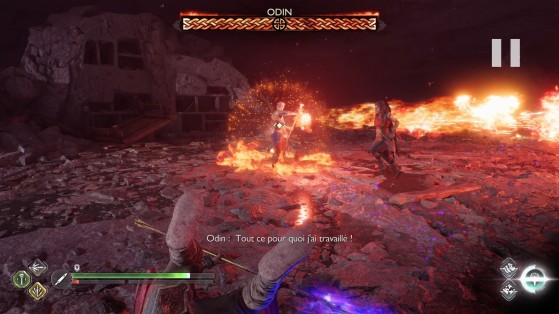 Elemental Flood (red attack) : Red zones will be distributed throughout the room. After a few seconds, projectiles of ice, fire, and poison will hit them, which will leave lingering effects on the ground for a while. Try to position yourself well, moving forward, since a blind side dodge will surely bring you into the next area. What makes this ability a pain is that Odin doesn't mind combining it with Guided Balls and other spells. It then becomes very difficult to dodge everything without stepping into an area.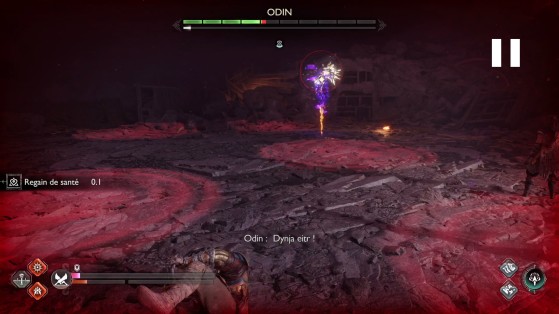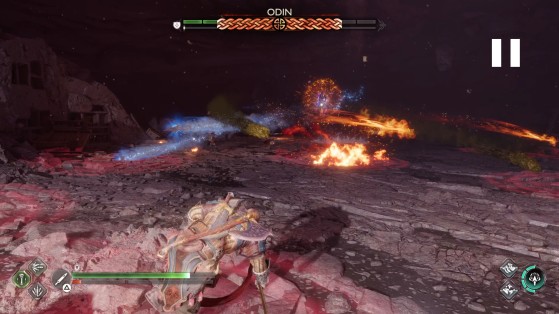 All you have to do is manage all this, and attack Odin, with the assistance of your 2 teammates. Don't forget about their arrows and runic abilities.
With the father of everything dead, the story is over, but there are still more challenges to overcome. You can now hunt the Fragments of Asgard, the 48th Raven of Odin, the 12th Berserker, the King of Berserkers, and most importantly, the new Queen of the Valkyries.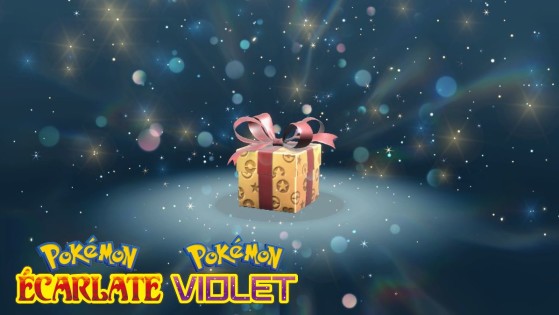 Here's how to claim your free Flying Terastal Pikachu and all other pre-order or purchase gifts for Pokémon Scarlet and Violet.