The craft holds an important place in Red Dead Redemption 2, since Arthur Morgan will be able to start making special ammunition for his weapons, or even good little dishes like Breath of the Wild, which will give him various benefits on a temporary basis. Engaging in activities that make new objects is also likely to fill some categories of challenges.
Small point of clarification: some workshops will ask you for money in addition to materials. To get rid of the problem, make yourself some easy money with this statues treasure map, with $1500 in a few minutes at stake.
Several workshops for several uses
RDR2 does not offer a universal workbench for crafts, so it will be necessary to snoop a little bit to access the various object confections. Below, a quick overview of the different workshops and their functions:
Camping kit: Allows you to cook. Requests to have completed the quest for the legendary bear in Chapter 2.
Handicraft kit: Used to manufacture consumables and weapons.
Camp: The camp is used to make new bags, but also to manage the various caravans in the convoy thanks to the register.
Stable: Allows you to customize your faithful mount with new saddles and saddlebags.
Trapper: The trapper will be happy to make you special outfits in exchange for legendary animal skins.
Recipient: Using the fence allows you to make amulets and powerful talismans.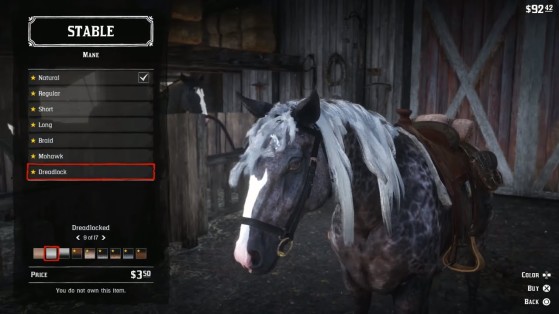 Cooking
If you want to cook by yourself, you will first have to unlock the camping kit, simply by following the main quest. Arthur will then have all the freedom to choose among the ingredients he has harvested from nature to cook what he wants, the fruit of his hunts can obviously be part of the recipes. Like Link's latest adventures, the player will be able to experiment at will to find the best possible combinations, knowing that the condition of the meat is a factor, as we saw in our article on hunting.
Bowl of stew
The camp cook will concoct a new dish every day, so those who don't really want to be interested in these machines can still enjoy the bonuses of the kitchen without worrying about it. However, it is impossible to consume it over and over again, so taking a bowl will ask you to wait a few days before refilling.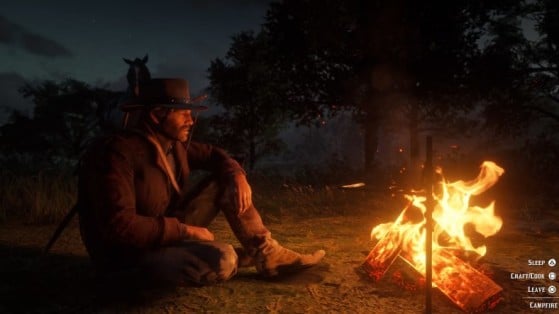 Crafts (bag)
By searching in your bag (wheel of weapons and then objects), you can find the crafting kit, in the lower location, in the same category as your camping gear (mortar and pestle). It is with these tools that you will be able to make consumables for yourself and your horse. Some recipes are blocked and will have to be discovered during your adventure, it is possible to display only the elements that can be done by pressing triangle/Y.
Picking
Plant corners abound in the world of RDR2 and you'll have to pick a good scoop if you want to survive decently. When you are on an expedition, remember to activate your lynx eye, the plants will then appear thanks to coloured particles. Each plant corner found is then noted on your map, if you plan to come back to it simply.
Tip: Keep pressing the square/X pickup button so that Arthur can pick up everything in one go. Also works when you sneak into closets or safes.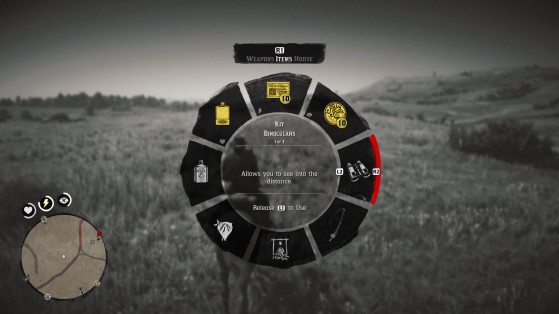 Camping
In your camp, go see the cook at his stand if you want to make decorations for the convoy or, even better, improve your holsters and your bag. When you go to see him, be careful not to give him the skins you want to keep for crafts, go straight to the craft menu.
As for the improvement of the camp in a more general way, it will be necessary to look at the register recording all the improvements of buildings against the money collected by the kitty.
Hunting and fishing
First of all, don't be surprised to find it a little complicated at first: Red Dead 2 is a rich game that doesn't get tamed so easily. Then, the condition of your prey will determine the quality of the product you get from it: a carcass that shreds will have virtually no value. For the production of skin objects, you will need a significant amount of skin in perfect condition.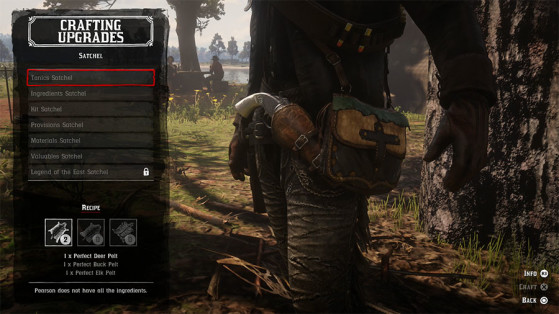 Written by Bastien "Lloyd" Dubosq-Luyer. Translated from French by Millenium.us.org.