Image: Dignitas
Dignitas (DIG) have announced a new partnership telecommunications giant Verizon, which will see the building of a 5G-connected esports training facility in Verizon's Los Angeles-based 5G Lab.
The 5,522-square-foot building will be powered by Verizon's 5G Ultra Wideband network, and will become the LCS team's exclusive West Coast headquarters.
We're thrilled to partner with the largest ownership group in esports, and have our LA Lab be home to the nation's first 5G esports training facility.
With 5G's fast speeds, high bandwidth and low latency, players will be able to do things like stream high-quality gameplay in real-time, stay connected with fans on-the-go, and experience console quality multi-player gaming on their phones.
Nicki Palmer, Chief Product Development Officer at Verizon
(
Source
)
The goal of the alliance is to identify points on wich Verizon's 5G Ultra Wideband network can be used to help the players in terms of training, performance, and the way they stay in touch with their fanbase. This will include content such as livestreaming from the facilities.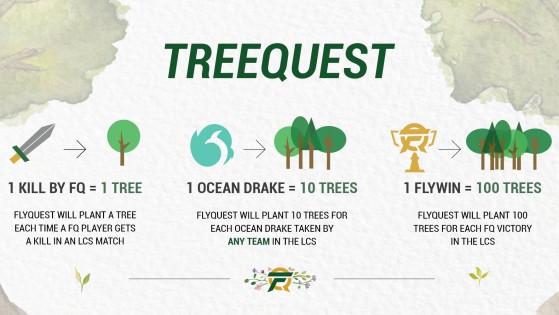 lolesports
FlyQuest have launched a Go Green initiative, aiming to plant trees and act for the planet. Different objectives transform their LCS performances into donations to the One Tree Planted organization.