Photo courtesy of Riot Games.
Week 5 of the League of Legends Championship Series just ended, and Cloud9 are pocketing their tenth victory. Just behind them, FlyQuest managed to secure a second place in the Spring Split table, but they're just one victory ahead of Team SoloMid.
Meanwhile, Dignitas and Immortals are still neck and neck for the fourth place. 100 Thieves, Evil Geniuses, Golden Guardians and Team Liquid are still battling to emerge from the middle of the standings, while Counter Logic Gaming is still struggling to find the path to victory.
After five weeks of competition, it seems that the top and the bottom of the standings are meant to stay the same...
Based on statistics, relativity, but also on our own instinct, the following rankings are only taking Week 5 into account. They are obviously destined to evolve along the season.

1 — Cloud9
Week 5 Score: 2 - 0
Previous Ranking: 1 (=)
Streak: 10 Wins
Facing CLG, Cloud9 once again demonstrated their impeccable mastery of the Rift as Jesper "Zven" Svenningsen and his teammates cracked their opponents' base before 20 minutes had passed. Cloud9 secured their fourth dragon and Nashor, and with these buffs taking the Nexus down was just a formality.
Against Immortals, Cloud9 were dominant. Zven was ruthless on Senna, ending the game with eight of the ten kills secured by his team. Overall, Cloud9 only conceded the first top and bottom towers. They concluded the game with four Dragons and a 10k gold advantage — without even breaking a sweat...
Week after week, Cloud9 apply their game plans efficiently and ruthlessly. After ten straight victories, only one question remains: can they stay undefeated until the end of the split?

2 — FlyQuest
Week 5 Score: 2 - 0
Previous Ranking: 2 (=)
Streak: 4 Wins
Despite a fairly even early-game, FlyQuest never really looked threatened by Golden Guardians. However, that wasn't the case against CLG.
In fact, FlyQuest probably gave themselves a scare. Things were tight until mid-game, with CLG playing extremely aggressively. In the end, it all came down to a teamfight around Nashor, with Tristan "PowerOfEvil" Schrage doing the damage.
With a scrappy win secured, FlyQuest hold on to their number two spot in our rankings by virtue of being able to grind out these wins better than the chasing pack.

3 — Team SoloMid
Week 5 Score: 2 - 0
Previous Ranking: 5 (+2)
Streak: 2 Wins
While they managed to hold their own against Team SoloMid for thirty minutes, 100 Thieves eventually crumbled under the pressure. However, they offered a real resistance to Søren "Bjergsen" Bjerg and his teammates, while Evil Geniuses were simply obliterated.
After such a week, Team SoloMid demonstrated their ability to win against mid-table teams. Overall, they have redeemed themselves from their terrible Week 4, hence their placement in our current standings.

4 — Dignitas
Week 5 Score: 1 - 1
Previous Ranking: 6 (+2)
Streak: 1 Loss
Despite a tight early-game, Dignitas quickly took the upper hand in their match against Immortals because of their impeccable management of teamfights and objectives. They played a clean game of League, unlike their match against TeamLiquid. Let's face it, Dignitas seemed clearly unequipped to face such an opponent.
Dignitas end another week with mixed results, but their victory over Immortals allows them to climb the standings back — regaining an honorable placement after last week's tragedy.

5 — Evil Geniuses
Week 5 Score: 1 - 1
Previous Ranking: 8 (+3)
Streak: 1 Loss
Completely dominated by Team SoloMid, Evil Geniuses started the week with a pretty rough defeat. However, they played a very good match against Team Liquid, doing no mistakes and letting no opening that could have been punished.
Overall, Evil Geniuses showed us two different faces this week. They're going up in our rankings because of their victory, but remain in the mid-table until they proved themselves capable of defeating teams from the leading pack.

6 — 100 Thieves
Week 5 Score: 1 - 1
Previous Ranking: 9 (+3)
Streak: 1 Win
While they lost against Team SoloMid, 100 Thieves demolished Golden Guardians. The game was fairly even until 20 minutes, then Meteos and his teammates took the upper hand, to the point they became completely unstoppable.
100 Thieves showed they were capable of winning, but only against teams from the mid-table, hence their current placement in our rankings.

7 — Immortals
Week 5 Score: 0 - 2
Previous Ranking: 3 (-4)
Streak: 3 Losses
Crushed by Cloud9, stomped by Dignitas, Immortals showed nothing but their weaknesses and their lack of cohesion this week.
This week, they recorded two losses for the first time since the start of the season. Immortals are in a downward trend and their current placement in our rankings reflects it.

8 — Team Liquid
Week 5 Score: 1 - 1
Previous Ranking: 7 (-1)
Streak: 1 Win
With the arrival of Mads "Broxah" Brock-Pedersen, Team Liquid finally seems to look like the powerhouse we're expecting. While they started the week with a pretty harsh loss against Evil Geniuses, they signed a beautiful victory against Dignitas, resulting from their ability to snowball from their strong early game.
However, Team Liquid is still far from demonstrating the game level they used to have. Until they manage to bring more victory to their credit, they can only remain in the bottom of our rankings.

9 — Golden Guardians
Week 5 Score: 0 - 2
Previous Ranking: 4 (-5)
Streak: 2 Losses
After meeting big success in Week4, Golden Guardians tasted defeat twice this week.
However, while their loss against FlyQuest is understandable, we were expecting much more from their meet against 100 Thieves.
For now, Golden Guardians only proved they were able to win against teams from the bottom of the standings — and without consistency. Until they manage to defeat some better teams, they can't expect a better placement.
10 — Counter Logic Gaming
Week 5 Score: 0 - 2
Previous Ranking: 10 (=)
Streak: 5 Losses
Counter Logic Gaming got smacked in both games. There's nothing more to add, and that's why they remain bottom of both the LCS table and our power rankings. They brought in Eugene "Pobelter" Park for Lee "Crown" Min-ho, but naturally that change was too late for it to matter this week.
Do you agree with our power rankings? Have we misplaced a team? Feel free to drop a comment in the section below!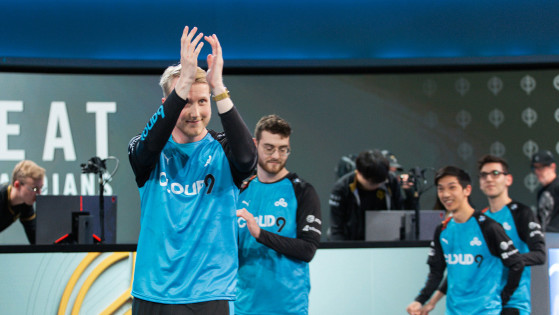 lolesports
Cloud9 proved they were the best LCS team, defeating FlyQuest in a clean sweep. It also meant they ended Playoffs with just two losses on their record.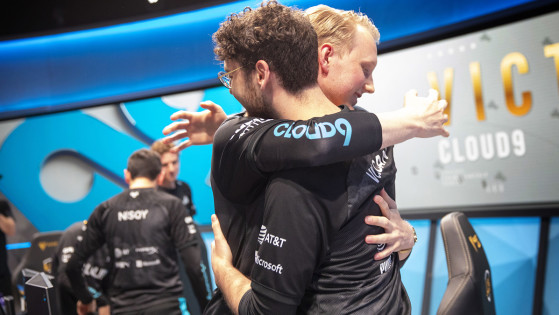 lolesports
Week 4 of the LCS Spring Split just ended, which means it's time for us to deliver our power rankings. Who shone brightest? Which team is currently the best?