Image source: LoL Esports
Astralis have allowed their League of Legends European Championship (LEC) team's starting support, Jakub "Jactroll" Skurzyński, to pursue offers ahead of the free agency period, which is set to start Nov. 16, 2020. The player announced the move on Sept. 22, 2020 on Twitter, citing his willingness to undergo tryouts.
Jactroll's bumpy 2020 season contrasted with his successful 2018 season, when Team Vitality stunned the world as Europe's third seed despite their group stage exit.
In the 2020 spring split, he played on Team Vitality, at the time featuring an unstable roster due to Aljoša "Milica" Kovandžić's visa issues, as Lucas "Saken" Fayard and Marcin "Selfie" Wolski took turns at replacing him until he became available.
In addition, the team featured rookies who had yet to experience the LEC stage extensively, with bot laner Markos "Comp" Stamkopoulos and jungler Duncan "Skeanz" Marquet playing their first split at the top level. As the organization struggled to find a winning formula before the summer split, then-academy support Pierre "Steeelback" Medjaldi also played on the LEC stage.
The 22-year-old started his summer split on the bench following Vitality's signing of strong prospect Lampros "Labrov" Papoutsakis, before Astralis (then Origen) acquired his rights as they sought to bolster their support position. Origen won their first two games with Jactroll on the lineup before suffering a seven-game losing streak, ending their season in 10th place.
During the season, Jactroll developed as an in-game leader and shotcaller under the guidance of Team Vitality's coaches, Hadrien "Duke" Forestier and Louis-Victor "Mephisto" Legendre. The accumulated macro knowledge puts him as one of the best European prospects at his position, guaranteeing that he would end up at least in the European Regional League.
The move to free agency allows him to plan his future independently of Astralis's plans as they rebranded their League of Legends division on Sept. 15, 2020. The team's lineup includes players who are among the best at their roles – chief among them top laner Barney "Alphari" Morris – but whose teamplay lacked in comparison to the competition. With recent reports of Elias "Upset" Lipp being approached by Invictus Gaming in play, a rebuilding process could be on the cards.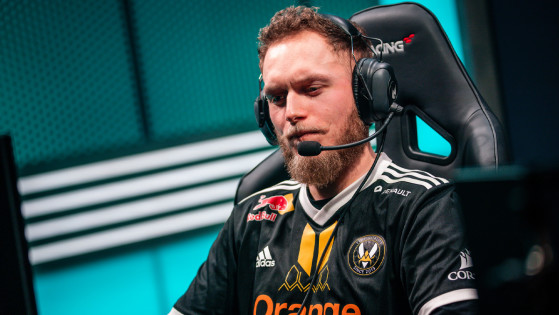 Cabochard comes to the end of his contract with Team Vitality this year, and the French player might want a change of air.