It's news that has come out of nowhere, and shocked the Oceanic League of Legends community.
Citing the League having 'not met their goals'. Riot also said that this was not the end of League esports in OCE, although no details were given of any future plans.
In their statement, the reasons given were mainly economic, saying they wanted "to build competitive and sustainable leagues that drive commercial growth and fan engagement and that support professional play as a full-time career."
Despite being a minor region, the impact of Oceania on the global League of Legends community has been massive, with several talents on the casting side in particular enjoying worldwide recognition.
Long-time LCK caster and now 100 Thieves General Manager, Chris "PapaSmithy" Smith — an Australian — offered his thoughts, as did OPL host Jake "Spawn" Tibero and caster Julien "Pastrytime" Carr.
Other figures from the world of League esports, such as Indiana "Froskurinn" Black and Barento "Razleplasm" Mohammed also offered their condolences, having benefitted from OCE in the early stages of their careers.
Events organizer ESL Australia also posted, having hosted OPL finals in the past.
Despite not revealing details of replacement tournaments, Riot did mention in their statement that OCE would retain its slots for both MSI and Worlds in 2021, hosting qualifying tournaments for both events.
They also revealed that they were adding OCE to the competitive territory for the LCS in North America, meaning OCE players would no longer take an import slot in the region.
Legacy Esports, the OCE representative at Worlds 2020, released a statement in which they committed to League of Legends in the region, stating their intention to qualify for both MSI and Worlds in 2021.
Opinion
The closure of the OPL is a massive decision, and one that is worrying for all minor regions. While the desire to be sustainable from a financial point of view is understandable, one cannot help but feel that perhaps a little more support would have been a better course of action.
Legacy Esports narrowly missed out on qualification for the Worlds 2020 Main Event, losing out to LGD Gaming in the final qualification match. Having finished tied for first place in a group featuring Team Liquid and MAD Lions - losing just one game - the proof is there that Oceania can be competitive on the big stage.
Also, while the removal of import status for OCE players in NA is a nice touch, it doesn't really help the OCE scene in either the short term or long term. NA teams may not want to hire OCE players, or may find it too difficult with visa restrictions between the countries, and will only benefit a small proportion of the league's players in the first place.
It also sets a dangerous precedent of saying 'the only way to make it in League is to move thousands of miles away from home and family.'
Hopefully a new competitive scene can rise in Oceania, one that is sustainable, because the talent in the region deserves it.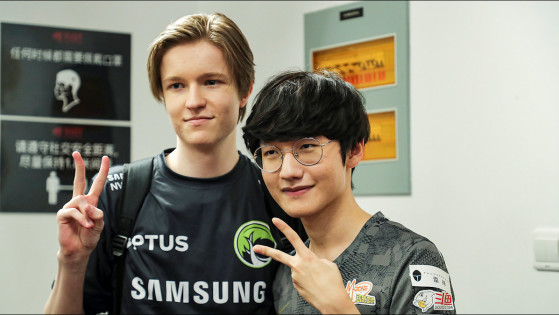 lolesports
Defining the 2020 Worlds play-ins as awesome is the easy part. Splitting it into 10 words, one for each team that competed during the event, gives a far more accurate story.