Image credit: 100 Thieves (on Twitter)
North American esports organization 100 Thieves has finalized its League of Legends roster ahead of the 2021 League of Legends Championship Series (LCS) season. The team announced the lineup over time, the latest pickup announced Nov. 20 at 00:30 CET:
Top lane: Kim "ssumday" Chan-ho, contract expiring Nov. 2022
Jungle: Can "Closer" Çelik, from Golden Guardians, signed until Nov. 2023
Mid: Tanner "Damonte" Damonte, from Golden Guardians, pending Riot Games' approval
AD carry: Ian Victor "FBI" Huang, from Golden Guardians, signed until Nov. 2023
Support: Choi "huhi" Jae-hyun, from Golden Guardians, pending Riot Games' approval
100 Thieves emerge from the offseason with a plug-and-play lineup, its core stemming from Golden Guardians' 2020 LCS squad. Indeed, the players wished to remain together after nearly qualifying to the 2020 World Championship.
At the same time, GGS's primary investor, the National Basketball Association (NBA)'s Golden State Warriors, is facing a tougher 2021 year on the wake of the coronavirus pandemic impacting NBA revenues across the board. As they were unable to sign the entire roster, they facilitated their signing within another organization that was willing to keep most of the lineup together - with Kevin "Hauntzer" Yarnell's status uncertain at the time of writing this report.
As Golden Guardians are left to rebuild a roster from emerging talent, 100 Thieves have locked themselves a steady lineup. The moves were initially reported by Jacob Wolf on the free agency show on Nov. 17, with the status of Damonte and Huhi uncertain at the time. Later on, Esportmaniacos' Pablo "Bloop" Suarez dropped the scoop on Huhi, further indicating 100 Thieves' willingness to keep the lineup together.
Considering their offseason choices, 100 Thieves have avoided the commotion that is boiling over TSM's offseason moves, as the uncertainty surrounding Hu "SwordArt" Shuo-Chieh's arrival has thrown TSM and Evil Geniuses' free agency maneuvers in disarray; with Heo "Huni" Seung-hoon, Jung "Impact" Eon-yeong, Lawrence "Lost" Hui, and Yiliang "Doublelift" Peng's positions at stakes.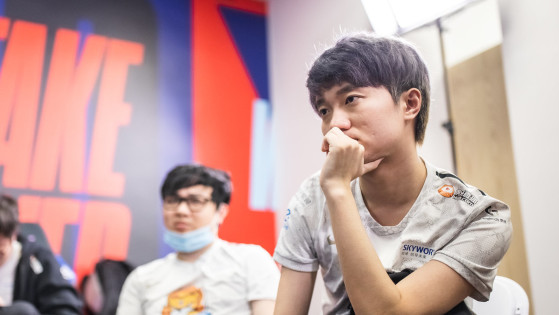 lolesports
TSM and veteran support Hu "SwordArt" Shuo-Chieh have yet to reach an agreement due to immigration concerns, putting deals between TSM and Evil Geniuses in jeopardy. As a result, Yiliang "Doublelift" Peng's future within TSM is also at stake.