Image credit: LoL Esports
Update: Nov. 26, 2020 at 16:20 CET — The situation has evolved since the article was written on Nov. 18. The article is set to stay as is for archiving purposes, but the current state of affairs is reflected in another article.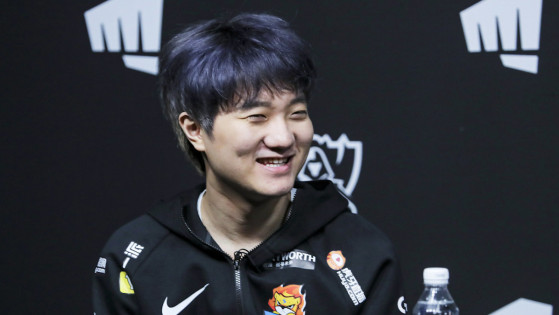 lolesports
Ho "SwordArt" Shuo-Chieh has joined TSM for the 2021 season, days after Jacob Wolf and Esportmaniacos reported on the deal. The player joins on a two-year contract, for $3 million per year.
Recent League of Legends World Championship finalist Hu "SwordArt" Shuo-Chieh and League of Legends Championship Series (LCS) franchise TSM have yet to agree to terms on a contract due to immigration-related roadblocks, according to investigative journalist Jacob Wolf. The situation may lead to significant impact upon the free agency market in the region.
TSM had reportedly approached SwordArt for their support position as AD carry Yiliang "Doublelift" Peng apparently wished to play with an international support, according to Wolf. However, the team has encountered roadblocks as the player would be taxed on his income in China, where he played for Suning in 2020, and in the United States of America (USA). Should the issue not be solved before a deal is inked, said deal would fall apart — and cause other deals to be in jeopardy.
TSM's acquisition of Heo "Huni" Seung-hoon hinges upon them sending Lawrence "Lost" Hui to Evil Geniuses. However, should SwordArt not arrive, TSM's starting AD carry, Doublelift, could instead part ways with the organization, forcing it to promote Lost to their main lineup instead of trading him.
In turn, should Huni not be traded, Evil Geniuses would be facing a situation where they would not have an AD carry, and where their verbally agreed deal with top laner Jung "Impact" Eon-yeong would be called off. Without a lane partner to pair with Lee "IgNar" Dong-geun, Evil Geniuses would focus on fixing that instead.
SwordArt's talks with TSM were initially reported by Esportmaniacos' Pablo "Bloop" Suarez, with Jacob Wolf confirming the fact but highlighting the immigration caveats. With several deals currently in the balance, TSM's situation may end up impacting their offseason as well as those of Evil Geniuses, Counter Logic Gaming (who have yet to fully settle their AD carry situation), and possibly Immortals.