With the end of the competitive year in Fortnite the new rules for Capter 2 - Season 5 are now available.
Macros in Fortnite
Any and all macros in Fortnite are forms of cheating. Simply put, a macro key is a single-press action that performs a sequence of key or button actions at once. We will continue to issue bans to players we catch using macros.
Fortnite Stream Sniping
We saw more reports of stream sniping accusations this past season. As a reminder, stream sniping (along with all other forms of unfair play) is prohibited by our official rules for Fortnite competitive tournaments. In particular, our rules prohibit "utilizing outside assistance regarding the location of other players, other players' health or equipment, or any other information not otherwise known to the player by the information on his or her own screen." As is the case with all other claims of unfair play, we review each report. Any player who witnesses or is subjected to stream sniping should notify Epic using the methods described under the "Reporting Bad Behavior" section below.
Report bad behavior in Fortnite
The best way to report bad actors in a Fortnite competitive tournament is through our reporting system. Players violating our official rules for Fortnite competitive tournaments can be reported in-game through our Report a Player system under "Feedback" or through our Fortnite Report a Player form.
SAC Eligibility Risks
Reminder that sharing or advertising in-game products (including accounts or outfits) by third-party vendors (not-Epic) is against Fortnite Terms of Service & the Creator Code of Conduct. Engaging or promoting these services will result in removal from the Support-a-Creator program.
Fortnite Account Name
We will continue to take action on inappropriate in-game names in Fortnite competitive events. If we discover that you changed your name to an inappropriate name before you participated in a competitive event, you will be subject to disqualification from that competitive event. Repeat offenders will also be subject to bans from future Fortnite competitive events.
Original content by Romain "Zorg" Becquelin.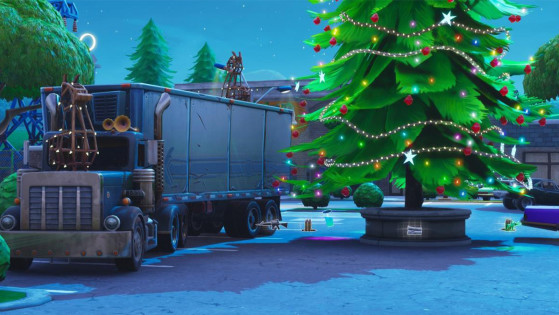 Dance at different Christmas trees in Fortnite is a challenge that concerns the Operation Snowdown quest for Season 5 of Chapter 2.