It isn't easy being Astralis — not in League of Legends.
Shortly after finishing 10th in the 2020 LEC summer split, and despite fielding a solid roster at the time, the organization underwent a rebranding (away from the vestiges of Origen) and overhauled its roster.
Although the resulting squad is nothing to write home about, expectations are low as a veteran-studded roster collapsed in the previous split. If there was an ideal moment in time for Astralis to revamp itself, "now" would be it.
Their money-saving moves during the coronavirus pandemic have yielded a roster that would crush (or come close to dominating)the European Masters circuit, but its viability in the LEC is debatable at best — a testament to the level of play across the league, rather than an indictment of the players' capabilities.
Lineup
| Position | Player | Previous team | Comparison to previous player |
| --- | --- | --- | --- |
| Top lane | Matti "Whiteknight" Sormunen | Berlin International Gaming (BiG) | ▼ |
| Jungle | Nikolay "Zanzarah" Akatov | AGO Rogue | - |
| Mid lane | Erlend "Nukeduck" Holm | Origen (Astralis) | - |
| Bot lane | Jesper "Jeskla" Klarin | mousesports (ERL) | ▲ as a duo |
| Support | Hampus "Promisq" Abrahamsson | mousesports (ERL) | ▲ as a duo |
Whiteknight takes over from Barney "Alphari" Morris. Few players in the Western scene can be considered an upgrade to the latter, but Whiteknight isn't one of them.
As is the case for junglers overall, context is key when rating players in the position. As Zanzarah cannot be considered a downgrade to Xerxe on an individual level, it falls upon the team to click.
Nukeduck is the sole returning player from the 2020 lineup.
As a duo, Jeskla and promisq have been tyrannical in the European Regional Leagues, and they are a cut above the Upset-Jactroll duo that floundered in the 2020 LEC summer split. Their preexisting synergy heading into 2021 will greatly help Astralis.
The organization has combined old reliables with fresh blood, with the veterans having fully developed their identities as players and the young talents capable of creative outbursts across the board. If Astralis is to punch above its weight, creative jungler Zanzarah and performance-focused AD carry Jeskla must outperform their matchup opponents.
Jeskla had proven his ability to contend with the best during his tenure on Excel Esports in the 2019 LEC summer split, and he has further developed alongside promisq on the European Masters circuit in 2020, as the pair dominated most of their lane opponents.
Alongside them lie solid players in their positions—players who rightfully thrived outside the LEC, but that would struggle greatly in it. For example, Whiteknight will be hard-pressed to create a leverage point on the map against his competitors, unless exceptional circumstances arise. The same applies to Zanzarah, although experience may help him ease into LEC-caliber play.
For Astralis to thrive, Nukeduck will need to take control—something that didn't happen often in 2020. It more than likely won't happen in 2021 either, unless the team facilitates his play, and unless the meta somehow fits a 1-3-1 scenario.
Even then, the burden of implementing such a formation, with the players they have, may prove difficult.
Rating: D+/C-
F at worst, B in the absolute best case scenario where their results match their work ethic.
In a league of B-tier teams with the potential to break into A tier, last year's C-tier just won't cut it. As usual, I would be delighted to be proven wrong, as was the case with H2K Gaming in the 2018 spring split.
However, although I tend to overrate teams from time to time, I seldom underrate—thus the dilemma we are facing: if I am not underrating a single team, Astralis are strong candidates for a 0-18 record.
Expectations
Astralis's goals were made obvious through their hirings, particularly the promotion of coach Baltat "AoD" Alin-Ciprian to headline the LEC squad: sustained player development at a budget.
The team's fans may be wise to temper expectations as their team likely gets bludgeoned by opponents, bar underperformance incidents or slow starts from other teams.
However, the latter occurrence will significantly raise the stakes for the lineup, as their players are good enough enough to feast on weakness and spiral an opposing team's slump into oblivion. Astralis' lineup is LEC caliber and could reliably beat European Masters lineups, as well as other LEC squads in due time and with the right coaching.
However, it will be extremely difficult—but within their ability—to overcome the likes of G2 Esports, Rogue, Fnatic, Schalke 04 Esports and MAD Lions in one-off showings.
Outlook: Grim, fighting for a playoff spot at best
Astralis's League of Legends team is good on paper, but a team needs to be better than "good"—sustainably so—to succeed in the LEC.
On an individual standpoint, Astralis are good enough to give their opponents a run for their money. However, LEC teams need to feature players that can create leads through either laning fundamentals or roaming, neither of which are Astralis's forte. Should team fights become the norm, the depth of their champion pools will instead throw wrenches at their opponents' plans.
Sometimes, one crucial victory can create momentum—as was the case with one of promisq's previous teams, the 2018 spring split's H2K Gaming. In that case, the players would be wise to seize that momentum and cause a ruckus. 
However, nothing replaces hard work, which Astralis will need in droves to thrive over Misfits Gaming, Team Vitality, Excel Esports and SK Gaming—the latter of which will prove particularly challenging on the road to a playoff spot.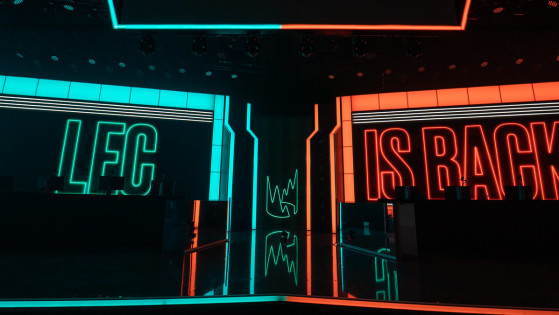 lolesports
The League of Legends European Championship (LEC)'s 2021 season is set to start January 22 as Riot Games announced the date on Twitter. The regional competition will see no format change, unlike its North American counterpart.